COL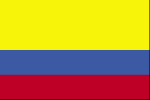 1,138,910 sq km.
Population 49,7 million;
Large cities: Bogota, Medellin, Cali, Barranquilla
General information
Colombia is a large country with a difficult terrain where buses play a prominent role in passenger transport. The railway system has been in decline for decades and, apart from a tourist steam train, there currently is no passenger service. While airlines provide frequent services between all major towns, most people keep relying on buses. Bogotá now has a very efficient bus rapid transit system, the Transmilennio, after long-discussed metro plans proved to be too expensive. Medellin has its metro since the 1990s and has some cable cars for public transport. The BRT system is being installed in more cities, such as Barranquilla. Privately operated urban buses can be found in all cities. Modern bus stations cater to quality long-distance coach services. At the same time, many old buses are in service and the "chiva" open bus with wooden bodywork can still be found in remote areas.
Colombia has a large number of local bus builders, some of which operate purely local. Some started as branches of US bus builders (Superior, Blue Bird). Recently Busscar and Marcopolo have established themselves in the country.
Many pictures from 1982 and more recent years are available and will be added to these pages.
Other sites on Colombian buses, with interesting information:
www.busesdecolombia.com
---
Colombia es un país extenso con un terreno difícil donde los autobuses juegan un papel destacado en el transporte de pasajeros. El sistema ferroviario lleva décadas en declive y, aparte de un tren de vapor turístico, actualmente no hay servicio de pasajeros. Si bien las aerolíneas brindan servicios frecuentes entre las principales ciudades, la mayoría de la gente sigue confiando en los autobuses. Bogotá ahora tiene un sistema de tránsito rápido de autobuses muy eficiente, el Transmilennio, después de que los planes de metro discutidos durante mucho tiempo demostraron ser demasiado costosos. Medellín tiene su metro desde la década de 1990 y cuenta con algunos teleféricos para el transporte público. El sistema BRT se está instalando en más ciudades, como Barranquilla. Los autobuses urbanos de operación privada se pueden encontrar en todas las ciudades. Las modernas estaciones de autobuses se adaptan a los servicios de autobuses de larga distancia de calidad. Al mismo tiempo, muchos autobuses antiguos están en servicio y el autobús abierto "chiva" con carrocería de madera todavía se puede encontrar en áreas remotas.
Colombia tiene una gran cantidad de constructores de autobuses locales, algunos de los cuales operan puramente locales. Algunos comenzaron como sucursales de constructores de autobuses estadounidenses (Superior, Blue Bird). Recientemente Busscar y Marcopolo se han establecido en el país.
Muchas imágenes de 1982 y años más recientes están disponibles y se agregarán a estas páginas.
Otros sitios en buses colombianos, con información interesante:
www.busesdecolombia.com
Contributions were made by:
John Veerkamp (1982, 2008, 2010)