Cairo Transport Authority
CTA
Cairo Transport Authority
Company website: xx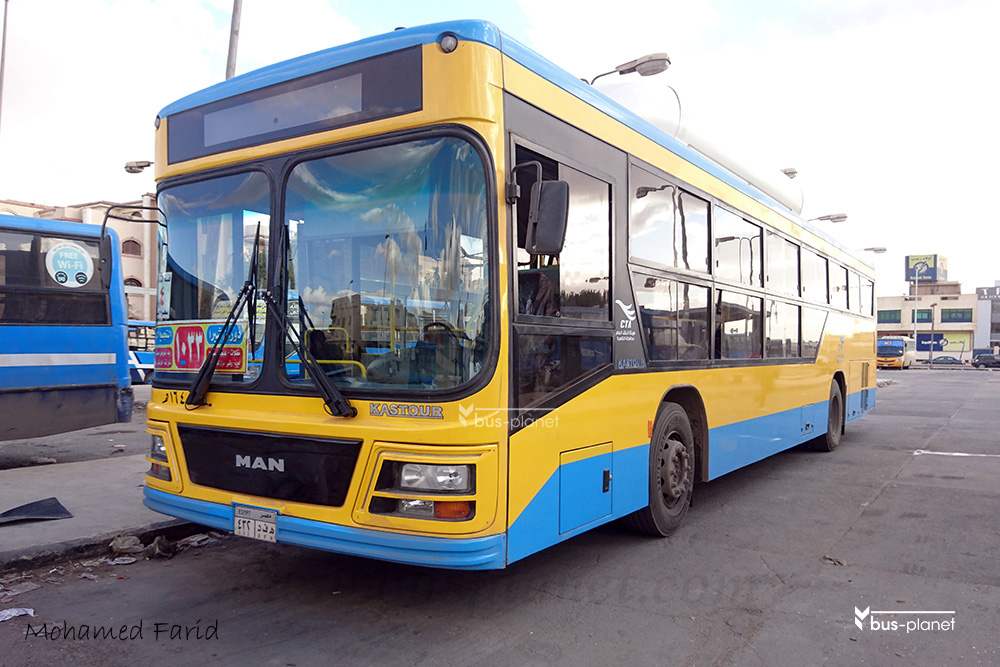 CTA was established in the 1950's. Until the 1970's its buses were a mix of locally built Nasr models (based on Magirus-Deutz) and various models of imported buses. Initially Chausson from France, Mercedes-Benz O321H buses from Germany and locally built Nasr 110 (a Magirus-Deutz Saturn license). During the second half of the 1960's, beginning of the 1970's came Ikarus 180 and 556 models, Saviem S45 and S105 and several batches of Pegaso -Van Hool from Spain (models 5032 and 6050), but the most successful and numerous imported model was the Mercedes-Benz O302 -Irannational, over 1000 of which were acquired during the 1970's. But from the 1980's onwards until the new millennium new buses were locally built Nasr on Magirus-Deutz/IVECO basis. In 2000 Nasr was privatised as EAMCO and became affiliated with Daewoo. CTA the bought large numbers of MCV and Kastour buses, both built locally, in addition to the EAMCO buses. In 1997 the first CNG buses cam on trial. More recently larger numbers of EAMCO CNG buses were bought.
Buses were painted red with varying amounts of white. During the 1990's a scheme of white with red and blue stripes was introduced but because of the dust buses started looking rather filthy soon. In 2002 a new scheme of various shades of green was introduced. In 2009 the company reverted to the old red colour, this time in combination with dark grey skirts. In 2014 new Scania -Nasr buses came in the blue livery. End of 2014 a series of MCV C120LE low-entry buses entered service, also in the blue livery.
The good relation between Egypt and the United Arab Emirates led to a project announced in August 2014 for the delivery of 600 new city buses to Cairo, financed by the UAE. This delivery consist of 300 buses built in the Ghabbour-Marcopolo GB-Polo plant in Egypt and 300 buses built by Hafilat in the UAE (Volgren). Beginning of March 2015 the first new buses were put into service.
In 2009 the Greater Cairo Bus Company was absorbed by CTA. It's blue buses were partly repainted in CTA's livery. The GCBC buses were numbered in order starting from 1 and had reached the 1400's. They retained their numbers and the CTA buses nunbered in the 1200/1300/1400 series are ex GCBA.
bus series
(click to go to pictures)
Chausson
Mercedes O321H
Nasr 110
Saviem S105
Saviem S45
Nasr 611
Ikarus 180
Ikarus 556
Pegaso-SAVA
Pegaso -Van Hool
Mercedes-Benz O302
Nasr 810
Nasr 811 (3000)
Nasr 811 (4000)
Nasr 871 (6000)
Nasr 966M (6400)
Nasr 871 (1200)
Nasr 935 (1400/7000)
TEMSA (demo)
MCV C120 (8/9000)
Kastour K315 (9500)
Nasr 2000-CNG
IVECO-Marcopolo CNG
IVECO -Nasr CNG
EAMCO 2911-CNG
Scania-EAMCO (8800)
MCV C120LE (85/600)
IVECO-Marc. (2000)
Hafilat (2300)
Foton BJ
MAN -Kastour 2019