--------------------------------------------------Click here for the latest news. Last update 2018-03-17.------------------------------------------
In December 2019 five new BYD electric buses arrived for Amstersfoort.
Mid March 2018 two new BYD buses arrived for Amersfoort city sevices, to replace the temporary 1900-1901.
In December 2017 four articulated Mercedes-Benz Citaro G C2 buses (1201-1204), nine Setra S416LE (1646-1654) and two Setra S418LE (1728-1729) were added to the fleet. They are operated by and belomg to subcontractor Pouw. In November 2017 Pouw bought two Mercedes minibuses (1813-1814) to replace the IVECO's on route 116 from Gouda as these were too wide for the narrow roads on which this line operates.
By the end of June 2017 all new buses had been delivered, except for some IVECO midibuses. By July 1, all temporary buses were withdrawn from service.
Mid May 2017 the first Setra S418LE Business was seen on trials in Amersfoort. The VDL buses 1170-1190 were ready at the Heerenveen factory beginning of May 2017.
On 28 April 2017, the six natural gas buses 9902-9907, that initially were meant for the Utrecht concession as 1102-1107, were transferred from Apeldoorn (Veluwe concession) to Amersfoort. They kept their numbers 9902-9907. Refueling can now take place in Amersfoort. The blue Veluwe buses 5147 and 5148 and white or white-red buses 3056, 4049 and 4144 were send to Apeldoorn in exchange.
In March 2017, blue Optare Solo 5313 and red Optare Solo 3312 were transferred from the Veluwe and Twente concessions to Utrecht for use in Woerden and Soest/Drieberegn-Zeist.
Buses 1183 and 1185 were withdrawn after accidents. A "new" 1185 entered service as a replacement. Bus 1183 was repaired and re-entered service mid-March 2017. Bus 1190 was replaced by a "new", similar 1190 end of March 2017.
Close
Syntus Utrecht (11-12-2016 to 09-12-2023)
Netherlands
company website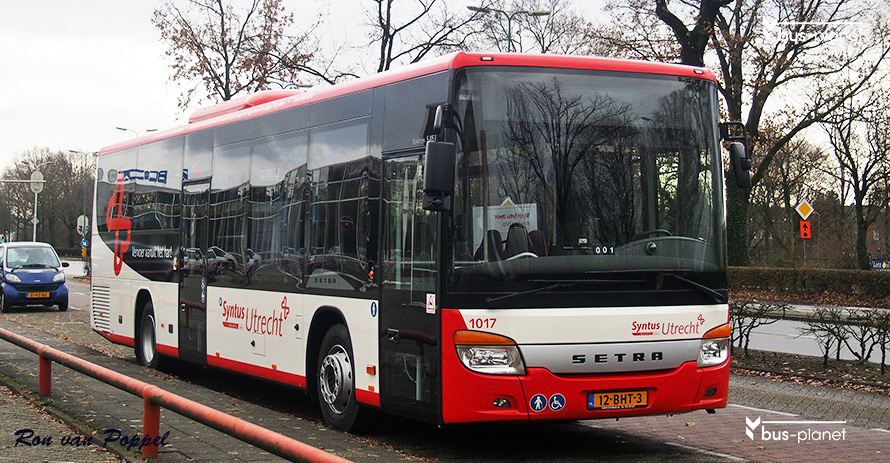 Syntus, a Keolis company, has been expanding greatly over the past years and added the concession Utrecht Province per 11 December 2016 for a period of seven years. This concession covers the province of Utrecht except for the city of Utrecht and neighboring towns (Nieuwegein, Zeist). It includes Amersfoort city services and stretches from Wageningen in the east to Rotterdam Capelse Brug, Gouda, Uithoorn in the west and Amsterdam Bijlmer and Hilversum in the northwest/north.
Syntus brings a fleet of new buses to Utrecht, including some innovative (electric) vehicles. However, as Connexxion contested the selection of Syntus and the final decision was only taken in November 2016, Syntus did not order all buses. Available for the start of the concession were 101 new Setra S415LE Business buses in a new white and red livery. the 1001-1025, 1027-1050 and 1101 have a single leaf exit door, the 1026 and 1051-1100 a double leaf exit door. Ordered were 44 more buses of the same model plus 28 14.6 meter buses of this model (S418LE Business). Also ordered was a batch if 13 IVECO-Rosero midibuses and a series of 21 VDL Citea LLE buses. The latter are needed for services in the east as a tunnel at station Veenendaal-de Klomp is too low for the Setra buses. The remainder of the fleet at the start of the concession was made up of different types of secondhand buses (series 1102-1204) and buses from Syntus Twente (3000-series), Syntus Overijssel (series 400/4000) and Syntus Gelderland (series 500/5000), which were replaced by the new buses in June 2017. The subcontractor Mercedes-Benz Integro and Setra buses on Uithof (Utrecht university and hospital) routes remained in service until the new buses arrived.
Numbering of the buses appeared to be a headache. Initially the intention was that the new buses would replace the temporary buses and receive the same numbers. This proved to be complicated as replacement was not one and one. So when the first new buses arrived, VDL Citea 1180-1190 end of May 2017, it was decided to renumber the existing temporary 1180-1190 to 9180-9190. This didn't work out well, and even some Mercedes Citaro (1132, 1137, 1140, 1144) became 9132, 9137, 9140 and 9144 for a few hours…. Then it was decided to change numbering completely. The VDL 1170-1190 became 1870-1890. The Setra S415LE numbers 1102-1145 became 1602-1645. The Setra S418LE, which were supposed to become 1200-1227, were delivered as 1500-1527 but finally became 1700-1727. Only some of the VDL effectively came into service with their 1100-series numbers, the other buses were renumbered before entering service, except for 1700 which was used for instructions with its 1500 number.
On 15 June 2017 the new 1700-series 15-meter buses were presented at the Provincial Government in  Utrecht. See our page.
Syntus started using two BYD electric buses in Amersfoort in 2017 on  pilot basis, though they were only sporadically used.
With the new timetable in December 2017 four Mercedes-Benz Citaro G C2 articulated buses are added to the fleet. They will be operated by subcontrater Pouw.
The bus network consists of:
City service Amesfoort: routes 1-8, 17 and 19
City service Mijdrecht: route M1
City service Woerden: routes 3 and 5
Night services: N3, N17, N50, N70, N76, N81, N102, N107, N120, N126
Regional services: 50, 56, 70, 74, 76, 80, 82, 83, 102, 106, 107, 120, 121, 123, 126, 130, 195, 295.
Services to Utrecht Uithof (university, hospital): 202, 203, 204, 206, 207, 217, 272, 299
Rush hour service: 280
Special services: 356, 381 (to national military museum)
Neighborhood services: 503, 504, 505, 522, 524, 526, 571, 572, 573, 575
School services: 603, 6023, 641, 642, 646, 647, 656, 680, 681, 682, 683, 690, 695.
The two new BYD electric buses for Amersfoort were officially presented 7 November 2018, though they already had been in service for several months. See site.
New buses
101-118: Mercedes-B.Sprinter/VDL neighb.bus
119-123=>126-130: Merc.-B.Sprinter/VDL n.b.
131-133: Mercedes-B.Sprinter neighb. bus
1001-25/27-50/1101: Setra S415LE Business
1026, 1051-1100: Setra S415LE Business
1201-1204: Mercedes-Benz Citaro G C2
1602-1645: Setra S415LE Business
1602-1609: Setra S415LE Business (grey)
1646-1654: Setra S415LE Business (Pouw)
1700-1727: Setra S418LE Business
1728-1729: Setra S418LE Business (Pouw)
1800-1812: IVECO -Rosero First
1813-1814: Mercedes-Benz -VDL MidCity (Pouw)
1870-1890: VDL Citea
1881-1890: VDL Citea (grey)
1900-1901: BYD K9C Electric
1902-1903: BYD K9U Electric
1904-1908: BYD K9UD Electric

Temporary buses
119-125: FIAT Ducato-Tribus Civita, ex CXX
1102-1107 (9102-07): MAN Lion' City CNG, ex Veolia
1108/9/10/14/15/18: VDL Amb. 200, ex Arriva
1111/12/13/17: DAF-Berkhof Amb. 200, ex Syntus
1116: DAF-Berkhof Ambassador 200, ex E&R
1119/21: VDL Ambassador 200, ex Arriva
1120: VDL Ambassador 200, ex Arriva
1122: VDL Ambassador 200, ex Syntus
1128-1152 Mercedes-Benz Citaro LE, ex Qbuzz
1153-1158: MAN -Salvador Caetano, ex Connexxion
1159-1164: Mercedes-B. Sprinter City 77, ex Qbuzz
1165…1182: VDL Ambassador 200, Tourquase
1166…-1181: VDL Ambassador 200, Tourquase
1183, 1185 (2): VDL Ambassador 200, ex Veolia
1184-1200,02-04: VDL Ambassador 200, ex Veolia
1205-1207: Mercedes-Benz Integro, Pauw
1510-1511: Setra S315UL, Besseling
Buses from other concessions
3046: VDL Berkhof Ambassador 200
3051/54/60: VDL Berkhof Ambassador 200
3248-3249: VDL Berkhof Ambassador 200
3256: VDL Berkhof Ambassador 200
3312: Optare Solo
452/3/5/6: Renault Master
4049/50/52: VDL Berkhof Ambassador 200
4142-4146: VDL Berkhof Ambassador 200
5102,5121: VDL Berkhof Ambassador 200
5147,5148: VDL Berkhof Ambassador 200
5313: Optare Solo
blue = withdrawn