--------------------------------------------------------------------------------------------------------------------------------------------------------------------------------------------------------
On 25 October 2018 RET announced that all new buses will be delivered by VDL: 103 (not 110) hybrid, 40 diesel en 55 electric buses, to be followed by 50, 50 and 110 electric buses in 2021, 2024 and 2019.
RET announced that from 2019 onwards the bus fleet will be modernised with 110 hybrid buses, 40 Euro 6 diesels en 55 electric buses.
RET announced further delays in opening the new metro line from Hoek van Holland. Opening is now foreseen end 2018, over a year late. Thise means the temporary buses will remain in service until then.
Close
RET, concession Rotterdam (9 December 2019 to 2034)
Netherlands
company website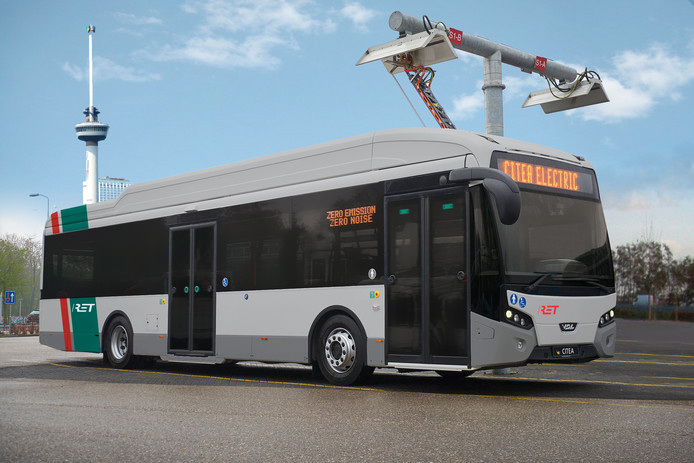 Series 1101-1140, the diesel buses, were delivered between November 2019 and February 2020.
Series 1201-1303, the hybrid buses, started being delivered in December 2019, but came only slowly. The first Rnet buses, 1287 and 1288, arrived in April 2020. 1287-1299 are Rnet buses for routes 170 and 173, numbers 1300-1303 are in the standard livery and can be used for instruction.
Series 1401-1455, the electric buses, were all delivered in December 2019.
Of the old series, the Den Oudsten went out of service before the start of the new schedules in December 2019, the 3400-series temporary buses were all exported in November 2019. Export of the 200-series Mercedes-Benz Citaro and 1000-series MAN Lion's City T buses started in February 2020.
Minibuses for neigborhood services (buurtbus and wijkbus) and some low-demand services remain operated by RMC.
---
RET will continue to operate the concession Rotterdam bus after the current concession ends. No tender was done as this is not mandatory for large urban areas under EU rules.
The fleet of Mercedes-Benz Citaro and MAN Lion's City buses will be renewed with 40 Euro 6 diesel buses (VDL Citea LLE120), 103 (110 were announced earlier) hybrid buses (VDL Citea SLE120H) and 55 electric buses (VDL Citea SLF120E). 50 existing buses will remain in service until 2022. On 13 July 2018 RET announced that the 55 electric buses had been ordered with VDL, on October 25, 2018, it was announced that the diesel en hybrid buses will also be delivered by VDL. In 2021, 2024 and 2029 more electric buses will be bought (50, 50 and 110) to replace all other buses.
The first two electric buses were presented in 18 April 2019 and are used for trials. Numbers are 1401 and 1402.
New Buses
1101-1140: VDL Citea LLE120 Euro 6
1201-1286: VDL Citea SLE120 Hybrid
1287-1299: VDL Citea SLE120 H Rnet
1300-1303: VDL Citea SLE120 H Inst
1401-1455: VDL Citea SLF120 Electric
Old buses
201…290: Mercedes-Benz Citaro
301-376: Mercedes-Benz Citaro
401-402: Mercedes-B. Citaro G DH
405: VDL CLF120 Citea E
406-407: Van Hool A330 FC
1001…1090: MAN Lion's City T
Minibuses (RMC)
1601…1610: Mercedes-Benz Sprinter
1602, 11-13, 15: Volkswagen Crafter
1620-1623: Mercedes-Benz Sprinter
1620-1623: FIAT Ducato -Tribus Civ.
1624-1625: FIAT Ducato -Tribus Civ.