Qbuzz Regio Utrecht (08-12-2013 to 09-12-2023)
Utrecht
company website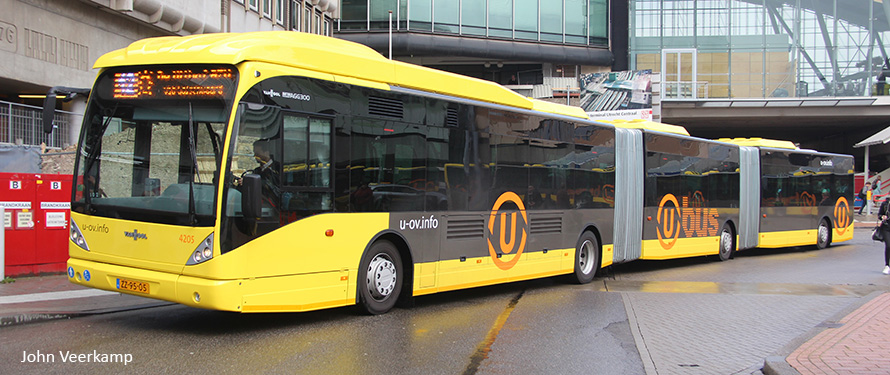 Fleetnews:
To replace the unreliable Optare electric buses 4301-4303 on inner-city route 2, three Heuliez GX137E electric buses have been ordered. As these will only arrive by the end of 2020 three secondhand Heuliez diesel buses are used temporarily since July 2020.
As a result of the Corona crises it was decided that the ex GD articulated buses series 3053…3077, 3078-3079, 3500-3517 and 3518-3523 would remain in Utrecht. Around June 2020 they were repainted yellow.
Beginning of July 2020 the ouble-artics 4201-4217 were brought into the grey Ulink colours.
The new Ebusco electric buses 4650-4669 entered service in June 2020 in the grey Ulink colours.
The first Heuliez electric bus arrived in July 2020 but these buses will only enter later in 2020. They are yellow.
2019-12-21: The new timetable with the U-Link lines started on 15 December 2019. In terms of equipment, this meant that tram line 22 started to run, as a result of which bus line 12 with its double articulated buses was cancelled (another line 12 was created). The double articulated Van Hool buses 4201-4217 and the also double articulated Hess buses 4218-4220 moved to line 28, which means that the Hess buses are finally deployed daily.
The Setra S418LE Business buses 4701-4715 were added to the fleet, for the time being in a brown-grey colour because the U-link colours have not yet been determined definitively. These buses are used from Wijk bij Duurstede on line 41 to Utrecht, but have also been spotted on line 50 that now operates to Doorn together with Syntus. The other new buses, 35 Heuliez GX … articulated electric buses numbers 4801-4835 and 20 Ebusco 12-meter electric buses series 4650-4669, have not yet been delivered.
The Mercedes-Benz Citaro G C2 buses 3424-3447 from Groningen cannot be missed there either, because the new Heuliez buses have not yet been delivered in Groningen. Instead of the 3424-3447, Qbuzz GD sent the older red-grey Mercedes-Benz Citaro G 2 buses numbers 3053, 3054, 3060, 3066, 3073, 3074, 3077 (city buses from 2009), 3500-3517 (regional buses from 2009) and 3518 (regional buses from 2010). It was previously reported that there would be 33 buses, which means that the 3078-3079 (city buses from 2010) and 3519-3523 (regional buses from 2010) may also come.
For the three small Optare Solo buses, three small Heuliez GX137E electric buses would come, but this is not yet certain nor confirmed.
33 Berkhof Ambassador 200 busses were retired: 4401, 4402, 4403, 4405, 4406, 4408, 4410, 4412, 4413, 4416, 4417, 4419, 4423, 4427, 4429, 4432, 4435, 4436, 4444, 4452, 4456, 4474, 4479, 4482, 4490, 4499, 4502, 4504, 4507, 4511, 4514, 4519 and 4520. More buses will follow when the new vehicles have arrived.
---
new buses for end of 2019:
-35x Heuliez 18m (delayed until 2020) (4801-4835)
-20x EBUSCO 12m (delayed until beginning of 2020) (4650-4669)
-15x Setra 15m (4701-4714)
Existing vehicles to be refurbished:
24x Mercedes-Benz Citaro G C2 (ex Groningen 3424-3447) (delayed until 2020)
50x Mercedes-Benz Citaro
50x VDL Berkhof Ambassador 200
11x Mercedes-Benz Citaro G
The Van Hool and Hess double artics stay for route 28)
---
News: a new transport plan was published in March 2019 to be implemented in 2020. See
---
Fleetnews: Qbuzz ordered 55 electric buses for the Utrecht region for delivery in 2020. Heuliez articulated buses will be used on the urban network (routes 3, 7 and 8) and Ebusco 12-meter buses will be used on urban routes.
---
-beginning of December 2018 Pouw received 13 minibuses in full U-OV livery.
-by the end of August 2018 secondhand articulated buses were added to cope with the heavy traffic to the Uithof. They will be withdrawn when the new light rail line is opened in 2019.
-On 21 August 2017 three new routes 14, 15 and 16 started operating, connecting Kanaleneiland, Leidsche Rijn and the city center (Janskerkhof), without passing by the central busstation. They provide directer connections between some neighborhoods, the center and the new location of the Antonius Hospital in Leidsche Rijn. Three Mercedes-Benz Sprinter 77, number 4360-4362, are used. These came from the Syntus Utrecht temporary fleet and had been traded in with EvoBus by Qbuzz Groningen.
-on 21 August 2017 the frist two EBUSCO electric buses, numbers 4602 and 4603, of a series of ten, were put into service on route 1.
-a new temporary route 22 started 4 February 2017 to serve stops of Utrecht inner city route 2 that cannot be served because of road works. This will last until April 2017, possibly longer. The route is served by a midibus rented from Pouw.
---
The Utrecht urban and suburban services provide for a dense and busy network. One light rail line connects the central station with Nieuwegein where it splits into two branches, one to Nieuwegein Zuid (60) and one to IJsselstein Zuid (61). A second light rail line is under construction with the opening delayed until the end of 2019. It will connect the central railway station with the Uithof area where the university and the university hospital are located. This route is now operated as number 12 with double articulated buses that run all day at a 2 to 5 minutes interval.
Inner city route 2 is operated by three electric Optare Solo buses used inductive charging.
Since mid 2017 route 1 is operated by ten Ebusco electric buses.
A route map can be found here.
Route schedules can be found here.
Buses
4001-4066: Mercedes-Benz Citaro C2, 2013
4101-4166: Mercedes-Benz  Citaro G C2, 2013
4167-4172: Mercedes-Benz Citaro G C2, 2014
4167-4172: Mercedes-Benz Citaro G C2, 2014 (grey)
4173-4176: Mercedes-Benz Citaro G C2, 2015
4173-4176: Mercedes-Benz Citaro G C2, 2015 (grey)
4201-4217: Van Hool New AGG300, 2014
4201-4217: Van Hool New AGG300, 2014 (grey)
4218-4220: Hess Lightram 3 Hybrid, 2013, ex GD
4251-4258: Van Hool New AGG300, 2002, ex GVU
4259-4270: Van Hool New AGG300, 2003, ex GVU
4301-4303: Optare Solo SR, 2013
4304-4305: Heuliez GX127, 2010/12, ex France
4306: Heuliez GX137, 2014, ex France
430x-430x: Heuliez GX137E, 2020
4320-4332: Mercedes-B. Sprinter City, 2018 (Pouw)
4351-4360: Mercedes-Benz Sprinter Mobility, 2014
4361-4362: Mercedes-Benz O513CDi, 2011, ex CTS
4363: Mercedes-Benz Sprinter City 35, 2014
4370-4372: MB Sprinter City 77, 2017, ex Qbuzz
4373-4375: Mercedes-Benz Citaro G, ex Connexxion
4376-4381: Mercedes-B. Citaro G, ex XX (Pouw)
4385-4387: Mercedes-Benz Sprinter, 2019 (Pouw)
4401-4499: VDL-Berkhof Amba. 200, 2008, ex XX
4500-4531: VDL-Berkhof Amba. 200, 2008, ex XX
4471, 4517: VDL-Berkhof Amba. 200, 2008 (grey)
4551-4561: Mercedes-Benz Citaro G 2, 2008, ex XX
4601-4610: EBUSCO, 2017
4611: EBUSCO, 2019, ex demo
4650-4669: EBUSCO 2.2, 2020
4701-4715: Setra S418LE Business, 2019
4801-4835: Heuliez GX437ELEC, 2020
3111…3316: Mercedes-B. Citaro LE, 2009/10, ex GD
3053/4/60/6/73/4/7: Mercedes-B. Citaro G 2, ex GD
3053/4/60/6/73/4/7: M.-B. Citaro G 2, ex GD (yell.)
3078-3079: Mercedes-B. Citaro G 2, ex GD
3078-3079: Mercedes-B. Citaro G 2, ex GD (yellow)
3500-3517: Mercedes-B. Citaro G 2, ex GD
3500-3517: Mercedes-B. Citaro G 2, ex GD (yellow)
3518-3523: Mercedes-B. Citaro G 2, ex GD
3518-3523: Mercedes-B. Citaro G 2, ex GD (yellow)
3424-3447: Mercedes-B. Citaro G C2, ex GD
6675/6664: Mercedes-Benz Sprinter
temporary buses
demo electric buses
Pouw (not in Qbuzz-livery)

trams
blue = withdrawn