Qbuzz Groningen-Drenthe (15-12-2019 to 12-2029)
Groningen
company website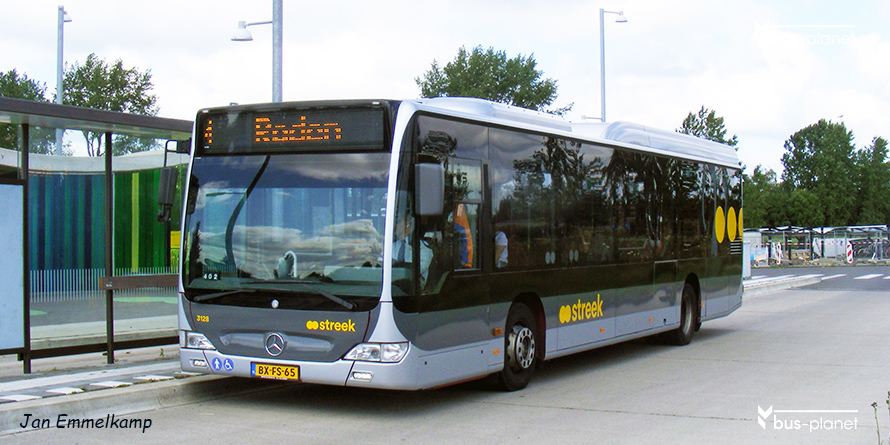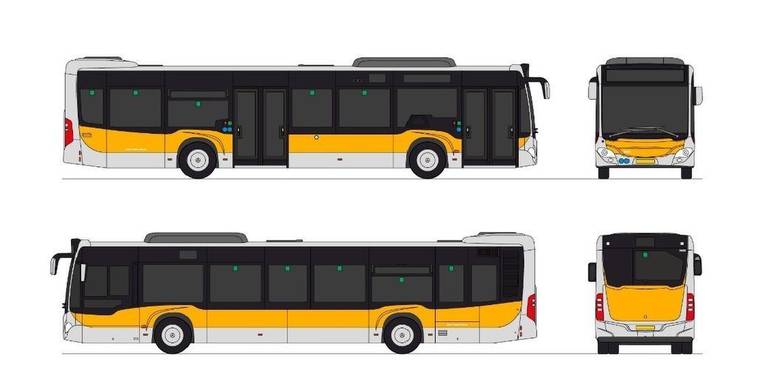 Fleet news:
November 2019: new Setra, Mercedes, EBUSCO and VDL buses are being delivered. The number of EBUSCO increases to 60, from 55.
On 6 July 2019 Qbuzz presented its first rebuilt bus on its Facebook page. Surpisingly, the bus was not yellow but light grey with only yellow lettering and a few yellow dots. Also, the bus presented, 3128, was a 10 year old Mercedes-Benz Citaro LE. According to the movie, the light grey will be the new colors for city- (stads) and regional (streek) buses, with lettering accordingly. In all, 40 buses of the series 3100-3301 and 8 buses of the series 3302-3326 have been selected for adaptation to the new concession. In addition to the gray color with yellow dots and bulbs, they also get larger information screens, USB chargers and Wi-Fi. Since this is a provisional classification, we only provide the numbers of buses that have already been modified.

The 3327-3368, Mercedes-Benz Citarlo LE C2, 2016, are also adjusted in this way and therefore turn gray. First appeared in July 2019 were the 3331 (98-BHP-3) and 3327 (89-BHP-3), followed by 3328 (88-BHP-3) and 3329 (92-BHP-3).
The 15-meter Qliners 3650-3675, Mercedes-Benz Integro L 2, 2014 and the double-decker Qliners 3691-3695, Van Hool TDX27 Astromega, 2017, remain. They are adjusted as necessary, whereby the blue paint also changes so that the buses are already clearly recognizable. The 3663 (92-BFD-3) and 3691 (23-BKB-9) were the first to be adjusted in July 2019.
The articulated Qlink buses also get an adjusted gray color scheme and the interior adjustments. 24 (numbers 3424-3447) Mercedes-Benz Citaro G C2 will go to Utrecht for the new U-Link network. The 3421 (80-BDL-4) was the first articulated bus in the new Qlink version on the road around July 20, 2019.

At the end of 2020, Qbuzz will receive 20 Van Hool hydrogen buses (increased to 30).

———————-
  On 5 March 2019 Qbuzz announced the numbers and models of new buses to be bought for the new concession:
-55 Ebusco electric regional buses (increased to 60)
-24 Mercedes-Benz Citaro dieselbuses for regional services
-22 Mercedes-Benz Citaro G articulated diesel buses for regional services
-32 VDL Citea SLF120 12-meter electric city buses
-11 VDL Citea SLFA180 articulated electric city buses (increased to 12)
-49 Heuliez articulated electric buses for Qlink services 3, 4 and 5 (option for 51 more)
-4 Van Hool Astromega 14-meter double deckers for Qliner services
-49 Setra 15-meter buses for Qliner services.
In total 246 new buses of which 147 are electric. In addition some 160 existing buses will continue in the new concession.
———————————————————————-
Qbuzz won the concession Groningen-Drenthe again, starting December 2019 and lasting for 10 years. As they are already holding the concession, there can be a smooth transition. Requirements to the new fleet include electric buses, fuel cell buses and biogas buses where electric or fuel cell buses are not viable. (note: the introduction of fuel cell buses has been postponed and no biogas buses have been ordered).
The changes in the organisation of public transport in Groningen-Drenthe in April 2018 mean that in the new concession there will be no other operator for large buses (which was the case for some Qliners), with all small bus transport being transfered to "Publiek Vervoer" (Public Transport or better "Civil Transport"), which brings together on-demand services, school services, neighborhood buses and "service bus routes".
With the new concession a new color scheme of yellow and light grey is introduced for normal buses. Qlink buses will retain their black-grey livery and Qliner buses their blue livery. The most recent buses of the old concession will remain in service.
Buses that stay in the new concession

3026-3027: EBUSCO 2.0 electric 2017
3028-3029: Van Hool A300 Hydrogen
3100…3301: Mercedes-Benz Citaro LE, 2009
3302…3326: Mercedes-Benz Citaro LE, 2010
3327-3367: Mercedes-Benz Citaro LE C2, 2016
3368: Mercedes-Benz Citaro LE C2, 2016
3400-3408: Mercedes-Benz CapaCity, 2013
3409-3412: Mercedes-Benz CapaCity L, 2017
3420-3423: Mercedes-Benz Citaro G C2, 2014
3448-3462: Mercedes-Benz Citaro G C2, 2016
3471-3480: VDL Citea SLF181 Electric BRT, 2017
3650…3675: Mercedes-Benz Integro L2, 2014
3691-3695: Van Hool TX28 Astromega, 2017

New buses
7001-7032: VDL Citea SLF120 electric
7050-7061: VDL Citea SLFA180 electric
7101-7124: Mercedes-Benz Citaro LE C2
7301-7360: Ebusco 2.2 electric
7401-7449: Heuliez GX437 electric
7501-7522: Mercedes-Benz Citaro G C2
7601-7649: Setra S419UL
7684-7687: Van Hool TX28 Astromega
7901-7923: Volkswagen-Tribus
30 Van Hool Hydrogen

blue = withdrawn