OV Regio IJsselmond (8 December 2013 to 9 December 2023)
Netherlands
company website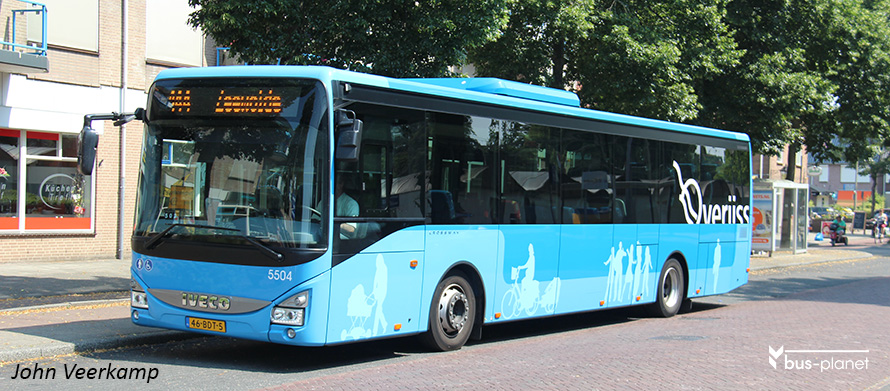 Fleet news:
Bus 4632 suffered an engine fire in August 2019 and was replaced by the white Connexxion 9209.
---
After a problematic tendering process that led to the separation of the Lelystad city services from the IJsselmond concession, OV Regio IJsselmond, a 100% Connexxion subsidiary, won the tender. It officially started on 8 December 2013 but because of the late approval it took some time to renew the fleet. As Connexxion was the previous operator the transition was fairly smooth. The new concession buses received a variation of the blue colours used for buses in Overijssel, which is also used by Syntus. They carry "Overijssel" text on the left-hand side of the vehicle and "Provincie Flevoland" on the right-hand side.
The concession covers the region between Zwolle, Harderwijk, Lelystad and Emmeloord, effectively operating in two provinces: Overijssel and Flevoland. There are 22 regional routes (70, 71, 74-77, 79, 140-149, 159, 160, 163, 164, 171) with a few major axis for which there are long (14.5 meter) and articulated buses. Route 160 is operated by Connexxion Almere. City services are provided in Dronten (two routes, 21 and 22) and Kampen (one route, 11). There is one neighbourhood service (506, Wilsum-Hattem) and five school service (625, 641, 663, 674 and 681) which are part of the concession. Serivces 625 and 663 are operated by Smit of Harderwijk, service 674 by Gebo Tours and 663 by TCE. Route 247, the Walibi Express route connecting Harderwijk station with the Walibi attrction park in Biddinghuizen, is operated by Smit of Harderwijk. For details on routes see http://wiki.ovinnederland.nl/wiki/Concessie_IJsselmond_(2014-2023) and the company website.
Within the region are some major school services which are not part of the IJsselmond concession but were contracted to Connexxion Tours, who used articulated Mercedes-Benz Citaro G buses on these services. Some of those were assigned to the public transport decision (OV Regio IJsselmond) which led to some confusion as they were in full Connexxion livery. Connexxion Tours lost the contract per December 2016, with coach companies taking over, bringing an end to the confusing situation. As a result one remaining Citaro G, 9170, was to be brought into the blue concession livery, but by the end of 2017 is still in full Connexxion livery.
Part of the fleet is secondhand with articulated Van Hool buses coming from Connexxion subsidiary GVU (4630-4636, Utrecht city services) and a series of Volvo buses coming from Breng (5729-5748, Nijmegen), also a Connexxion subsidiary. New buses were 39 IVECO Crossway LE (5500-5538) and six 14.5 meter VDL Citea (4312-4317). One new neighbourhood bus was bought (7300) and one old Connexxion one was transferred as a spare vehicle (7448).
Some Connexxion articulated Mercedes-benz O530G served on the OV Regio IJsselmond lines. In January 2015 one 13.7 meter VDL Citea was transferred from Connexxion to OV Regio IJsselmond to enlarge the fleet of long buses. In February 2015 the fleet was reduced when eight Volvos 5729-5736 were transferred to Connexxion Zeeland, later becoming driver training vehicles.
Buses
4312-4317: VDL XLE145.360 Citea, 2014
4630-4636: Van Hool New AG300, 2006
5500-5538: IVECO Crossway LE, 2014
5729-5748: Volvo B7R-LE –Volvo 8707, 2008
5760: VDL XLE137.360 Citea, 2011
7300: Mercedes-Benz Sprinter, 2014
7448: Mercedes-Benz Sprinter, 2008
Articulated buses in Connexxion-livery
9155/64/67/70/79: Mercedes-B. O530G Citaro, 2003/4
9209: Mercedes-B. O530G Citaro 2, 2007
9256: Mercedes-B. O530G Citaro 2, 2008
9259/60/62: Mercedes-B. O530G Citaro 2, 2008
Subcontractor
Smit, Harderwijk (1047, 1048, 9060, 9219, 9220)