Keolis Stads- en Streekvervoer Almere (10 December 2017  to 10 December 2027)
Netherlands
company website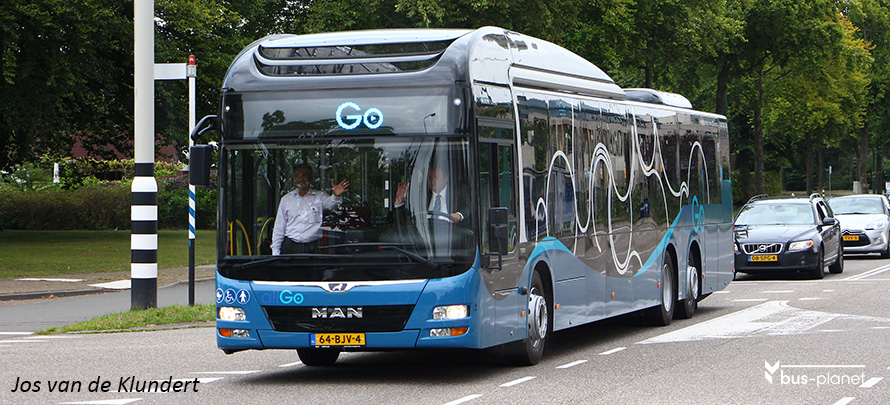 On 10 December 2017 Keolis took over the bus concession in Almere city and region from Connexxion for a period of 10 years. Keolis Netherlands hitherto operated under the name Syntus, but for this new concession it will operate as Keolis. The hand of the French parent company is now clearly visible in the branding, route names and livery of the buses.
The network has been completely revised and now consists of:
-seven major urban routes branded "Allgo" and using the route numbers M1 to M7, with the names Havenmetro (M1), Buitenmetro (M2), Muziekmetro (M3), Poortmetro (M4), Dansmetro (M5), Noorderplassenmetro (M6) and Parkmetro (M7), with the names referring to the neighborhoods the routes go to. Each route also has its own color.
-one minor urban route to an industrial area, number 22, branded "Flexigo", for which one electric IVECO -Rosero midibus is used;
-one minor urban route to a small area called Nobelhorst, numbered 25 and branded "Nobelgo". Mercedes minibuses are used for this route, which outside rush hours is operated as a neighborhood bus with route number 525.
The regional network now only knows R-net routes, the other additional routes Connexxion had have all been cancelled. Also, in Amsterdam there are only two destinations: Bijlmer Station and Amstel Station, eliminating Amsterdam Zuidoost (the AMC medical center is there) reasoning that this is easy to reach by subway from Bijlmer station. In Almere the various R-net routes start in different neigborhoods. Routes are 322, 323, 324, 327 and 328. Route 326 operates from Almere to Blaricum, carpoolsite. No direct services to Hilversum or Huizen exist anymore.
Under number 160 one regional route is operated as "Flevogo", from Almere to Amersfoort Vathorst. This route is part of the IJsselmond concession operated by OV Regio IJsselmond (which is Connexxion). However, given that it is easier to operate from Almere it was operated by Connexxion Almere and Keolis will continue operating it on behalf of OV Regio IJsselmond though with IJsselmond buses. Two VDL-Berkhof Ambassadors from Syntus Overijssel have been transferred to Almere for this service (4137 and 4139). With the new timetable in December 2018 the service was taken over by Connexxion Tours/TCR who maintain a fleet in Almere for school bus services.
Night routes are operated during the weekend from Amsterdam to Almere under the "Nightgo" branding using route numbers N21, N22 and N23.
A new set of tariffs and passes has been introduced. No tickets are sold by the drivers anymore in Almere.
A completely new fleet of buses has been bought, mainly MAN and mainly 14.7 meter long vehicles. Connexxion used mainly articulated buses in Almere but Keolis relies on the extra long vehicles. The fleet consists of:
57 MAN Lion's City A26 14.7 m low-floor buses in blue Allgo livery, numbered 6001-6057;
33 MAN Lion's City A44 14.7 m low-entry buses in red-grey R-net livery, numbered 6101-6133;
10 MAN Lion's City A37 12 m low-floor buses in blue Allgo livery, numbered 6201-6210;
7 BYD K9 electric buses which entered service on February 29, 2018, numbered 6301-6307;
1 IVECO-Rosero electric midi bus for route 25, numbered 6401 and branded "Nobelgo";
1 Mercedes-Benz Sprinter mini bus for route 525., numbered 6402 and branded "Nobelgo";
5 Syntus VDL-Berkhof Ambassador buses have been brought into the Allgo livery to temporarily replace the BYD buses, numbers 4046/47/48/52 and 4138;
2 Syntus VDL-Berkhof Ambassador buses in Overijssel livery are used for route 160, numbers 4137, 4139.
Keolis is renting two premises from Green, one at Aan de Steiger 47 in Almere with office, workshop and parking area, and one at Splijtbakweg 101 in Almere with offices and a covered stabling area for the buses.