-----------------------------------------------------------NEWS UPDATE 2018-08-02-----------------------------------------------------------------
-the first two electric buses arrived for trials end of July/beginning of August 2018. -the introduction of the electric buses has been delayed until Septemmber 2018. The buses appear to be VDL Citea SLFA181 models.
-In December 2017 EBS announced that bus route 316 would be operated by electric buses from mid 2018 onwards. The picture shows a Solaris articulated electric bus. For links see main text below.
-the new North-Southe metro in Amsterdam will open on 22 July 2018. EBS will introduce a completely revised network.
-the new schedule per 10 December 2017 saw only minr changes. The route network stayed the same.
Close
EBS Waterland
concession Waterland: 11-12-2011 to 08-12-2019, extended to 11-12-2021
company website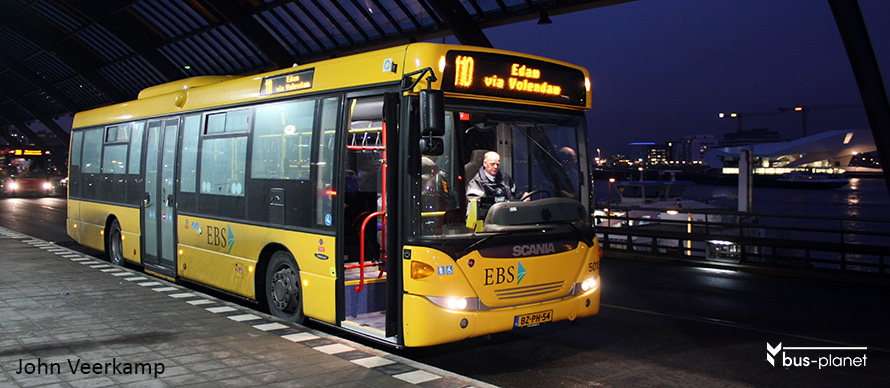 EBS (Egged Bus Services) first and so far only success on the Netherlands bus market was when it won the concession Waterland, north of Amsterdam, in 2011. The area's main towns and villages are Purmerend, Volendam, Monnickendam and Edam. To the north the network extends to Hoorn but the main passenger flow consists of commuters to Amsterdam. As Waterland is also a major tourist area (Volendam!) tourists are a client group during the summer months.
EBS established a network with red R-Net buses in the major routes, R-Net being a branding used in the whole region, yellow buses for normal routes, and express buses in the R-Net livery (called Bizzliners) to the eastern and western parts of Amsterdam.
EBS overestimated the potential number of customers for its extended services and miscalculated the (personnel) costs of its concession, leading to service reductions and the sale of buses. In 2015 20 of the 37 Bizzliner buses were sold to Egged owned operations in Poland after the Bizzliner routes 371-374 were abolished and a varying number of standard buses has been let to TCR and Arriva, though they still are owned by EBS.
On 22 July 2018 major changes to the network will take place when (if there are no further delays) the new North-South Amsterdam metro line will be opened, providing faster access from the area north of the IJ (the water body cutting Amsterdam in two) to the centre and southern part of the city. Many EBS lines will then connect with this new line.
EBS's fleet in the Netherlands is special as it consists almost entirely of Scania buses, a make that, apart for a few series for Arriva, has not managed to establish itself in the country. The company bought:
25 Scania Omnilink articulated buses in the red-grey R-Net livery, numbers 1001-1025
47 Scania –Higer H30 "business liners" in the red-grey livery, numbers 3001-3047
103 Scania Omnilink 12.8 meter buses in the red-grey R-Net livery, numbers 4001-4103
36 Scania Omnilink 12 meter buses in a yellow EBS-livery, numbers 5001-5036
7 yellow small buses for low-demand services, Mercedes-Benz City 65, numbers 8001-8007
3 yellow neighborhood buses, Volkswagen –Kutsenits, numbers 9001-9003.
In 2015 one new neighborhood bus was bought, number 9004, this time a Mercedes-Benz Sprinter.
As mentioned above 20 series 3000 buses were sold to Poland. Some 15 5000-series and a few 4000-series buses are let to other companies, mostly to and through TCR. Two 4000-series buses and eleven 5000-series buses are currently with Arriva Limburg and one is with a driving school. Three 8000-series buses are currently with Connexxion.
Already at the start of the concession EBS noted that the numbers of yellow and red standard buses did not match requirements and three red 4000-series buses became yellow. They also were renumbered but within the 4000-series. But when more red buses became yellow but then became red again they were taken from the highest numbers of the series. Then, to make things even more complex, four 5000-series yellow buses became red by September 2014, keeping their numbers. The buses in the "wrong" colors can be recognized from a distance as the roof air-conditioning unit kept its original color.
The network per 11 December 2016 consists of:
Normal services 101, 103, 105, 109, 110, 111, 121, 125, 129 (apart from 111 all call at Purmerend Tramplein)
R-Net services 301, 302, 304, 306, 308, 309, 312, 314, 315, 316, 319 (all except 302 and 314 call at Amsterdam CS)
R-Net Bizzliner services: 375, 376, 377, 378, 379 (all starting at Amsterdam Holendrecht station)
Neighbourhood routes 413, 416, 419
School services 610, 611, 614
Night services N01, N04, N10, N14 (all starting at Amsterdam CS, all night the whole week)
The new schedules per 10 December 2017 only saw minor changes, routes remained the same.
In December 2017 EBS announced that bus route 316 would be operated by electric buses from mid 2018 onwards. The picture shows a Solaris articulated electric bus. See the press release or the pdf.