EBS, concession Haaglanden (25 August 2019 to December 2030)
Netherlands
company website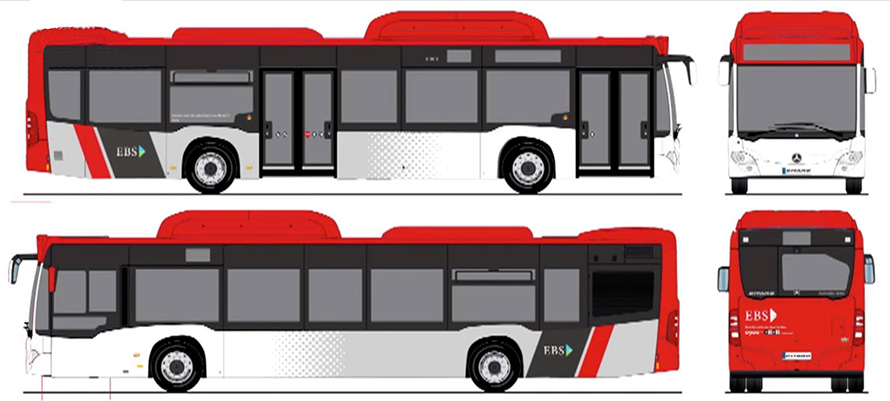 EBS won the concession Haaglanden Streek (Regional Transport Haaglanden), which includes Zoetermeer and Delft city services and regional services up to Schiedam, Hoek van Holland, Den Haag and Leiden.
The fleet will consist of 93 Mercedes-Benz hybrid biogas buses, 10 of which are articulated, and 23 VDL electric buses for Delft and Zoetermeer urban services. Spread over several years up to 2027 the biogas buses will be replaced by zero-emission buses. The livery presented with the diagonal bands at the rear end of the sides is derived from RET's livery while the white-red is derived from HTM's livery. Given long-term reconstruction of a bridge several routes will need to be diverted and a small fleet of MAN gas buses currently operated by Connexxion will remain in service.
Two routes will become Rnet-routes with a higher level of services. These are Den Haag Leyenburg – Naaldwijk – Maasland Viaduct – Schiedam Centrum (456, current route 36) en Delft – Pijnacker Centrum – Zoetermeer NS – Zoetermeer Centrum West (455, current route 55). The buses for these services will carry Rnet red-dark grey livery. Route 456 will  be operated by articulated buses. 
EBS offers a comprehensive service which will go beyond the bus routes. It will include electric shared bikes and electric share vehicles. Minibuses will be subcontracted to Noot.
EBS will use three locations: Zoetermeer (current location), The Hague (at HTM, current location), Den Hoorn (new facility).
Routes:
There will be a new line 42 from Wassenaar to Voorschoten (with Mercedes-Benz Sprinters, operated by Noot);
Rush hour service 34 from Monster to Naaldwijk is going to run continuously (with Sprinters in the evening and weekends);
Route 37 from Leyenburg to Delft will be extended to Zestienhoven airport (buses with special airport livery);
The part of city line 62 in Delft between the railway station and Tantof with route 33 will be replaced by the Delfthopper on demand-service;
Route 36 from Leyenburg to Schiedam becomes R-net line 456;
Route 55 from Zoetermeer to Delft becomes R-net line 455
Autonomous transport will be introduced in the future: Leidsendam and Lansingerland. There will also be additional transport such as shared bicycles and tuk-tuks.
EBS will be maintain the fleet in its own  Zoetermeer and Den Hoorn facilities.
Buses

Mercedes-Benz Citaro G C2 Hybrid-Biogas
1101-1104: Rnet livery and interior
1105-1110: MRDH livery and Rnet interior
Mercedes-Benz Citaro C2 Hybrid-Biogas
5101-5118: Rnet livery and interior
5119-5141: MRDH livery and Rnet interior
5142-5179: MRDH livery and interior
5180-5183: Airport livery
VDL Citea LLE99 Electric
6001-6023
small buses
7x Mercedes-Benz Sprinter-VDL Midcity (Noot)
temporary buses
6766-6775: MAN Lion's City CNG (ex Conn.)
service vehicles
various
blue = withdrawn