Connexxion, concession Zeeland (14 December 2014 to 13 December 2024)
Netherlands
company website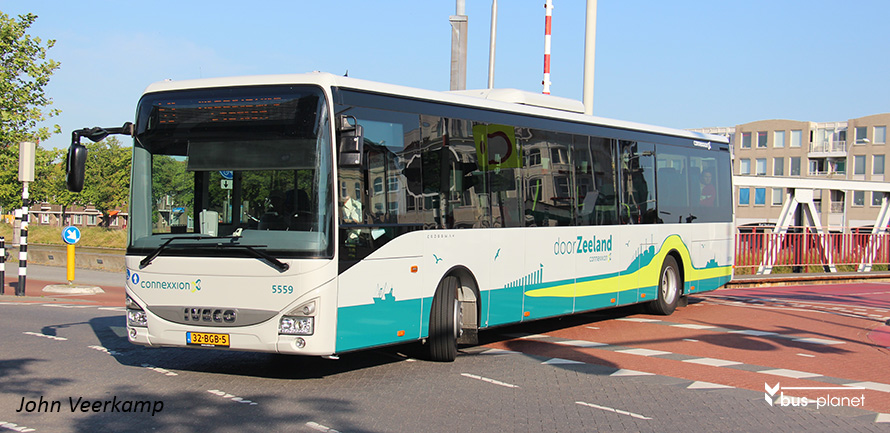 The Zeeland concession that started on 14 December 2014 was a merger of the concessions north Zeeland, central Zeeland and Zeeuws Vlaanderen. The last one was previously operated by Veolia, the two other ones by Connexxion. As Connexxion won the new concession it was possible to make a smooth transition, all the more important as there had been problems with the awarding process and there was little time to prepare and the renewal of the concession effectively took place in June 2015 when the new buses arrived and the new branding "Door Zeeland" (Through Zeeland) was introduced. During the interim period the existing buses of the concession north Zeeland (mainly MAN 8853-8882) and central Zeeland (MAN CNG 2956-2987 and 9264-9274) remained in service but the Veolia buses in Zeeuws Vlaanderen needed to be replaced and several older buses from other concessions were added, of which the grey Volvo buses 3511..3549 (20 in total) and the blue Volvo buses 5729-5736 were the most important ones.
Zeeland province consists of separate islands and regions, with large water bodies between them. All are now connected by bridges, dams and a tunnel, making ferries redundant, apart from a ferry service for pedestrians between Vlissingen and Breskens. The province is very rural with individual farms and smaller villages, with relatively few urban centers. It also is a major tourist area during the summer period, with nice beaches, historic villages and good cycling. There is only one rail service, connecting the port of Vlissingen, the provincial capital Middelburg and the town of Goes with the rest of the country. Bus services reflect this with few major routes, many neighborhood services with small buses operated by volunteers, and many school services that only operate a few times per day. During the summer there are special summer services for which open buses have been used, though these did not operate in 2016. TCR operates a free summer network around Renesse from the Transferium (bus station and parking) to the beaches. The main urban area is Middelburg-Vlissingen, which has a network of urban routes. Neighborhood services (18 in total) are numbered in the 500-series as is one Service bus route in Middelburg (569), school services (22 in total) are numbered in the 600-series, three rush hour services are numbered in the 200-series (206, 209, 225) and the express route Zierikzee-Rotterdam is numbered 395, a remnant of the former Interliner network. Route 19, Hulst-Antwerp (Belgium)-Breda is an old long-distance route and was the only connection over land between Zeeuws Vlaanderen and the rest of The Netherlands until the 6.6 km long tunnel under the Westerschelde was opened on 14 March, 2003. Two bus services operate through the tunnel, 20 Goes-Terneuzen-Axel-Hulst and 50 Middelburg-Terneuzen (which in the weekends and summer continues to Gent in Belgium).
In addition to the new fleet of IVECO buses the existing CNG MAN standard and articulated buses were retained. The core concession fleet consists of 84 standard buses, 11 articulated buses and 21 neighborhood buses. The series are:
2956-2987: MAN NL243 CNG (A21), 2008
5540-5588: IVECO Crossway LE, 2015
5590-5592: IVECO Crossway Pro, 2015 (for route 19 to Breda via Antwerp)
7460-7480: Mercedes-Benz Sprinter/Tribus (neighborhood buses)
9264-9274: MAN NG313 CNG (A23), 2009
For a special service in Middelburg, "Servicebus" route 569, a midibus is required. A CNG midibus formerly assigned to this was not performing well and Connexxion used an older Volkswagen "Frysker" midibus for this service. Two were available: 3779 and 3783. In 2016 a new bus replaced one "Frysker", with 3783 remaining in Middelburg.
Connexxion has three subcontractors in Zeeland: Van Oeveren of Zierikzee and AMZ-De Muynck, both long-established companies that had their own public transport services, and TCR, a young company that has become a major subcontractor in The Netherlands. These companies were already subcontractors under the previous concession. Van Oeveren has historical rights on the route Zierikzee-Rotterdam (395). All three companies have buses in the concession colours since June/July 2015. Van Oeveren had buses that already were integrated into the Connexxion system and retained their two-digit numbers but all other buses received 1000-series Connexxion numbers in addition to their own numbers. AMZ-De Muynck runs services around Goes (f.e. 23, 50, 643, 644) and TCR concentrates on school services (f.e. 604, 644), while Van Oeveren participates in services centred on its base Zierikzee (132, 133, 134), express route 395 Zierikzee-Rotterdam and some school services (f.e. 629, 634). Route 42, Breskens-Bruges (Belgium) is shared with the Flemish bus company De Lijn, for which two De Lijn buses received Connexxion numbers 1050 and 1051.
Buses, core fleet
2956-2987: MAN NL243 CNG (A21), 2008
3779, 3783: VDL-Berkhof "Frysker", 2007
5540-5588: IVECO Crossway LE, 2015
5590-5592: IVECO Crossway Pro, 2015 (for route 19)
7320-7321: Mercedes-B. (neighb.buses)
7383: Mercedes-Benz 515CDi, 2016
7460-7480: Mercedes-B. /Tribus (neighb.buses)
9264-9274: MAN NG313 CNG (A23), 2009
Older additional buses
3358/59/62/63: VDL-Berkhof Ambassador 200
4213-4215: VDL-Berkhof Ambassador 200
8282: VDL-Berkhof Ambassador 200
8496: VDL-Berkhof Ambassador 200
Temporary buses 2014-12/2015-07
3511…3549: Volvo 8700
5729-5736: Volvo 8700
6662…6758: MAN NL243 CNG (A21)
AMZ-De Muynck
447-448 (1071-1072): Volvo 8700
449 (1073): Mercedes-Benz Intouro M
453 (1074): Volvo 9500
456 (1055): Volvo 9500
Van Oeveren
75-77: Mercedes-Benz Integro
78-80: Mercedes-Benz Citaro LE
85-87: Mercedes-Benz Citaro LE
89: Setra S417UL
90: Mercedes-Benz Citaro LE
91: Mercedes-Benz Citaro G
95-99 (1060-1064): Mercedes-Benz Integro M
100-101 (1065-1066): Mercedes-Benz Citaro LE
102 (1059): Mercedes-Benz Integro
104 (1154): Mercedes-Benz Intouro
105-107 (1151-1153): Mercedes-Benz Citaro LE
TCR
92-95 (1067-1070): Mercedes-Benz Integro M
425/32/35 (1081/8/91): VDL-Berkhof Ambass. 200
548 (1094): VDL-Berkhof Ambassador 200
616 (3354): VDL-Berkhof Ambassador 200