Connexxion, concession Zaanstreek (12 December 2010 to 16 Dec. 2018, ext to  Dec. 2021)
Netherlands
company website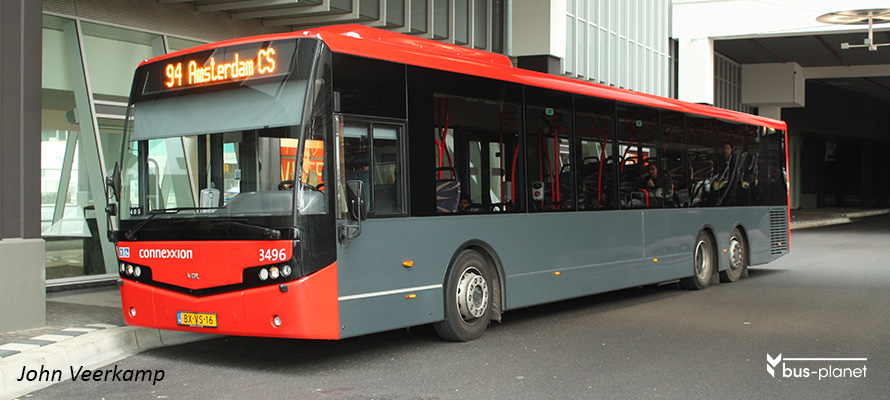 Fleet news:
On 4 September 2019 six VDL MidCity electric midibuses were presented. They operate on routes 64 and 65. The six buses are part of the large order for electric midibuses for Noord Holland-Noord that was cancelled
---
Concession news: the concession has been extended to December 2021, which coincides with the end of teh Waterland concession, with which it will be merged.
---
The concession Zaanstreek, with the town of Zaandam as the center, is a relatively small concessison north of Amsterdam. Connexxion won this concession in 2010 for a period of eight years, ending 16 December 2018.
Bus services are focused on fast services to Amsterdam, an urban network in Zaandam, mostly linked to some regional routes.
The route network per 10 December 2017 consist of:
-"normal" regional and urban routes 59, 64, 65, 67 and 69, all of which call at Zaandam railway station;
-R-net routes 391, 392 and 394, connecting Zaandam to Amsterdam Central Station along different routes, 395 connecting Zaandam to Amsterdam Sloterdijk and 398 connecting Zaandam to Amsterdam Riekerpolder;
-neigborhooud services 424 (Krommenie –Oost Knollendam) nd 456 (Krommenie-Assendelft-Zaandam);
-night services N92 and N94 connecting Amsterdam Leidseplein with Zaandam.
The completely new fleet in December 2010 consisted of:
3485-3489, VDL-Berkhof Ambassador 180: five shorter buses for less busy normal routes;
3490-3499, VDL Citea CLE137.360: ten 13.7 meter buses for fast services to Amsterdam, since December 2014 branded R-net;
3550-3563, VDK-Berkhof Ambassador 200: 14 12-meter buses for normal services;
3564-3596: VLD-Berkhof Ambassador 200: 33 12-meter buses in the red-grey livery for fast services, since December 2014 branded R-net;
Several Mercedes-Benz Sprinter buses for the neighborhood services.
In 2017 three green buses (3550, 3551 and 3563) went on loan to the Almere concession. When they returned in December 2017 number 3550 and 3563 received the R-net livery though the interior was not changed.
Buses
3485-3489: VDL-Berkhof Ambass. 180, 2010
3490-3499: VDL CLE137.360 Citea, 2010, R-net
3550-3563: VDL-Berkhof Ambass. 200, 2010
3550, 3563: VDL-Berkhof Ambass. 200, 2010, R-net
3564-3596: VDL-Berkhof Ambass. 200, 2010, R-net
7325, 7336, a.o.: Mercedes-Benz Sprinter
7573-7577, 7583: VDL MidCity LE 5.5T ZE