Connexxion Noord-Holland Noord

Connexxion, concession Noord-Holland Noord (22 July 2018 to 2028)
Netherlands
company website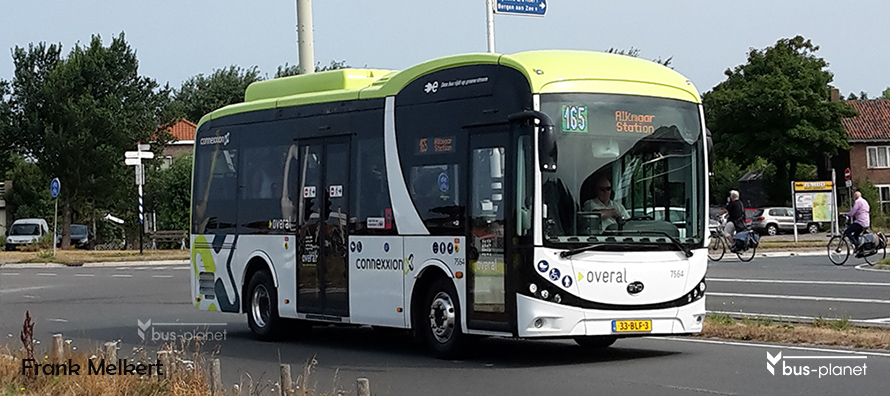 Fleet news:
-Saturday 8 February 2020 was offcially the last day that the Berkhof Ambassador buses were in regular service. A few will remain as back-up for the new electrical buses.
-articulated bus 9374 was transferred to the Haarlem-IJmond concession in January 2020.
-in December 2019 buses 3257-3259 were transferred from Noord Holland to HWGO for route 104.
-in October 2019 the first new electric VDL LLE99 buses entered service in Hoorn. Deliveries continued into 2020.
-in October 2019 midibuses 1952 and 1954 of the IJmond concession came temporarily to Hoorn.
-on 22 March 2019 the province, Connexxion and VDL announced that the order for the VDL Midcity electric minibuses had been cancelled and that larger VDL Citea LL99 Electric buses will be bought instead. Right from the announcement of their introduction there had been a lot of opposition, among others by drivers, mainly because they were considered too small. Also, production by VDL had been much delayed. This means that the old Berkhof Ambassador buses will remain in service longer.
-in December 2018 buses that became available from the concession Voorne-Putten-Rozenburg were transferred to Noord-Holland Noord to replace the olders Berkhof Ambassadors. Available were 4163-4168, 4185, 4186, 4207, 4209, 4222, 4237, 4238, 4246 and 4247 (15 buses).
-the VDL MidCity electric buses are slowly being delivered end of 2018, but have not yet entered service.
————————–
Connexxion has won the tender and will continue operating it for ten more years, until mid 2028. The branding of the buses will be "overal" without a special livery. For the Texel island services the blue livery with "Texel Hopper" branding will be continued and the "Kustbus" (Coastal Bus) summer service will have its own branding.
Around 30 buses are operated by TCR, who acts as a subcontractor. All services on the island of Texel are operated by TBO, both the small buses and the two articulated Solaris biogas buses.
The new VDL MidCity electric buses will only enter service by the end of 2018. In the meantime the existing Berkhof Ambassador 200 buses will remain in service.
New buses in standard Connexxion livery (white/yellowish-green roof):
21 BYD K7U, electric 10-meter buses, numbers 7550-7570
40 VDL LLE120 Euro 6 12-meter buses, numbers 3233-3272 (numbers 3263-3272 with TCR)
62 VDL MidCity electric small buses, numbers 7571-7632
4 Solaris Urbino 18, numbers 9374-9377
New buses in Texelhopper livery:
2 Solaris Urbino 18 Biogas, numbers 9378-9379
Existing buses:
5x mini for Texelhopper services
xx Mercedes-Benz -Tribus Civitas (neigborhood buses 7385-7388 (2015) and 7481-7494 (2016)
Temporary buses until end of 2018:
1836-1839, 1855-1860: VDL-Berkhof Ambassador 200
4153, 4170, 4213, 4215: VDL-Berkhof Ambassador 200
5101-5102, 5104-5110, 5112, 5113, 5115-5117, 5118-5120, 5122-5131: VDL-Berkhof Ambassador 200 (5101/2/4-10 with TCR)
8457, 8459, 8474, 8478: VDL-Berkhof Ambassador 200
8601, 8602, 8605, 8606: VDL-Berkhof Ambassador 200
8662-8664: VDL-Berkhof Ambassador 200
8681: VDL-Berkhof Ambassador 200
The temporary buses received a new colored route number display behind the windscreen.