-------------------------------------------------------------------------------------------------------------------------------------------------------------------------------------------------
  Connexxion Haarlem-IJmond

Connexxion, concession Haarlem-IJmond (3 September 2017 to 13 December  2025)
Netherlands
company website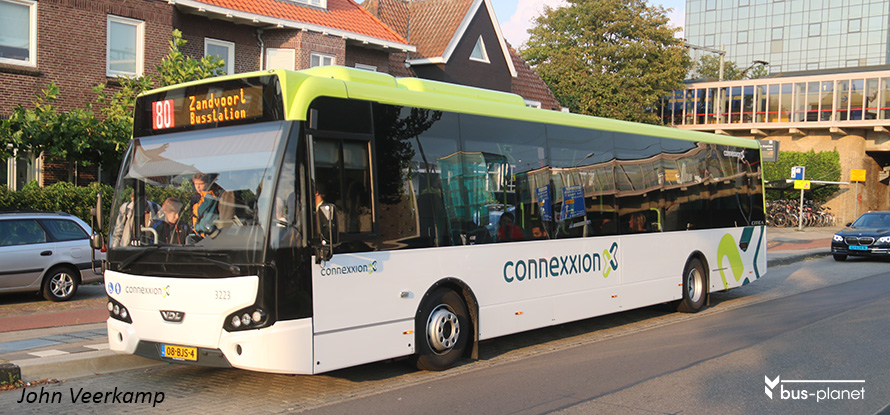 Fleet news:
-new Ebusco electric buses 2004-2032 in the white livery and 2108-2130 in Rnet-livery plus VDL Citea LLE99 Electric buses 7654-7666 enter service during the last quarter of 2020. They will replace the MAN CNG buses series 3600, which will be sold, and Mercedes-Benz Citaro CNG buses 4517-4524 wich will return to Nijmegen in the Breng concession.
-In February 2020 buses 1950-1957 re-entered service as 7667-7674. They are rebuilt and are now electric buses. 7646-7653 were withdrawn in April 2020.
-In February 2020 articulated Solaris Urbino 18 number 9374 was transferred from Noord Holland-Noord to Haarlem-IJmond, loosing its "Overal" logo's. It serves mainly in Beverwijk. It was followed by 9375.
-In February 2020 a 12 meter BYD K9UB electric bus was added to the fleet, number 2099.
-In October 2019, long buses 3230 and 3231 recieved Rnet livery. They were far too large for the school services they were meant for. Buses 3219 and 3220 of series 3200-3220 received the standard livery by the end of October 2019 in exchange.
---
On 3 September 2017 the new concession Haarlem-IJmond officially started, with a new network and a partially new fleet. Connexxion remains the operator.
A major change to the network is the start of R-net routes 382 (IJmuiden-Amsterdam Sloterdijk) and 385 (IJmuiden-Haarlem). In IJmuiden 382 and 385 use the new free busway that was already inaugurated on 2 April 2017. These R-net routes are operated by the concession Haarlem-IJmond, the other R-net routes that call at Haarlem (300, 340, 346, and 356) are operated by Amstelland-Meerlanden and will see major changes in December 2017. Routes 382 and 385 are operated by new VDL Citea LLE120 series 3200-3220, in R-net livery.
The route network with small buses is also reorganized and now has route numbers 4, 7, 9 and 14. These all call at Heemstede-Aerdenhout station. Only 14 calls at Haarlem station. It was announced that electric buses would operate these routes, but instead eight VDL MidCity on Mercedes Sprinter basis were purchased, series 1950-1957
Routes 75 and 82 were replaced by R-net routes 385 and 382. A new 82 provides a secial service to connect Amsterdam Sloterdijk with the Newcastle ferry in Ijmuiden. Most other routes saw minor changes.
Routes per 3 September 2017 are:
2, 3, 4, 7, 8, 9, 14, 15, routes centered on Haarlem-Heemstede
71, 72, 73, 74, 76, 77, 78, 79, regional routes centering on Beverwijk
80, 81, 82, 84, regional routes centering on Haarlem
382, 385, new R-net routes
481: neighborhood bus
N30, N80: night routes
567: seasonal route
680: school route
The fleet per 3 September 2017 consists of:
1950-1957: Mercedes-Benz Sprinter –VDL MidCity for routes 4, 7, 9, 14
2100-2107: BYD (will arrive later)
3600…3683: MAN Lion's City CNG (55 left)
4517-4524: Mercedes-Benz Citaro CNG
3200-3220: VDL Citea LLE for R-net routes 382 and 385
3222-3226: VLD Citea LLE for route 80
3230-3231: VDL Citea XLE for school route 680
7390-7391: Mercedes-Benz Tribus Civitas for neighborhood bus service 481.
The new buses are in the current Connexxion livery white with yellowish-green upper parts, the R-net buses are red and grey. The old CNG buses retain their green livery. Electric city buses for Haarlem, both large BYD and small buses, were announced, but the small buses delivered are diesels and the large buses still have to arrive. 63 CNG buses series 3600…3683 and 4517-4524 remain in service until 2020, when thwy will be replaced by zero-emission buses.