----------------------------------------------------------------------Click here for news. Last update: 2018-12-08-------------------------------------------------------------------
-in December 2018 the delivery of electric buses 9604-9628 started, which will make Maastricht city services fully electric.
-division of buses per August 2018:
*south: 0031-0043 (Scania, ex EBS), 7414-7424 (Limburgliner), 9026-9101 (12-meter), 9167-9178 (10-meter), 9301-9319 (city Maastricht), 9601-9604 (Maastricht electric)
*north and central: 7401-7413 (Limburgliner), 8508-8514 (ex Friesland), 9001-9025 (12-meter), 9151-9166 (10-meter), 9651-9662 (electric buses Venlo) In December 2018 there has been a reshuffling of buses between Roermond (10-meter) and Maastricht/Margraten (12m).
Close
Arriva Limburg (11-12-2016 to 13-12-2031)
CBS Weg 13, Heerlen
company website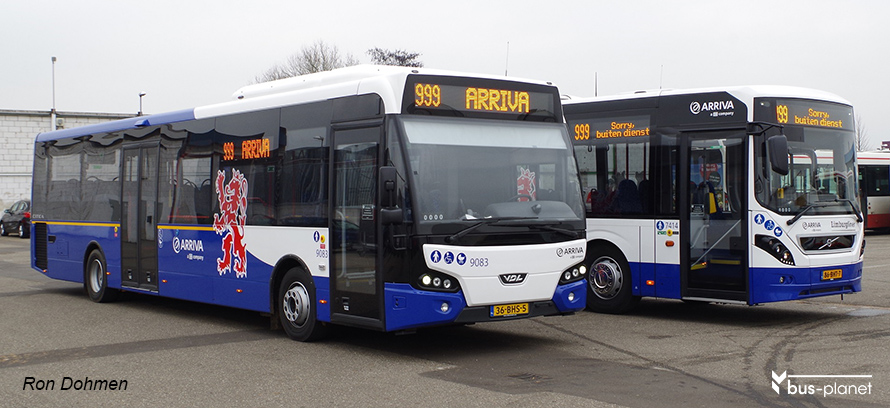 Fleet news:
-After the second group of electric city buses had been delivered to Maastricht the 9301-9319 went to Heerlen. When the 9700-serie electric buses came into service in 2019, 9304-9319 were re-assigned to Arriva Brabant for city services in Tilburg. They recieved Brabant livery and left Limburg by September/October 2019. Only 9301-9303 remianed, for the time being, in Heerlen.
-55 electric regional VDL Citea LLE115 are being built, series numbers 9701-9755, delivery is planned for mid-2019. The first vehicle was ready mid May 2019. A preliminaire division is Venlo 11, Sittard, 21, Heerlen 5, Maastricht 18.
-the short VDL buses 9151-9178 are (partly) leaving for the Achterhoek concession, 9151-9158 had left for conversion by the end of February 2019. In June 2019 55 more electric buses will be delivered and it is expected that more VDL Citea will leave for the Achterhoek, where a fleet renewal as been promised.
-in December 2018 the delivery started of series 9605-9628, VDL Citea SLF120 Electric buses for Maastricht. In January 2019 all were in service. With those the Maastricht city services routes 1, 2, 3, 5 and 6 are fully electric. All of the city buses 9301-9319 went to Heerlen. The Scania buses and the ex Friesland buses 8508-8514 will then leave Limburg. Numbers 0031-0040 had left by the end of February 2019 and are being prepared for Keukenhof services in ZHN.
-Arriva wanted to start the "three-country" train Aachen-Maastricht-Liège per 9 December 2018. However, problems with equipment approval delayed the start. In order to duplicate the service from Maastricht to Eijsden from 1 x hour to 2x per hour (as foreseen with the new train service), Arriva Touring 7174 runs once per hour as line 15 from Maastrciht to Eijsden. Since 9 February 2019 Arriva Touring 7791 is operating the service.
———————–
Arriva won the concession Limburg in 2016, with services starting on December 11, 2016. It took over all bus services in the province Limburg and the train services Maastricht-Heerlen-Kerkrade (electric, Heuvellandlijn=Hillcountry Line) and Roermond-Venlo-Nijmegen (diesel, Maaslijn) from Veolia. In addition, the train services Heerlen-Sittard and Maastricht-Sittard-Roermond (electric) are taken over from Dutch Railways. The Regiotaxi on-demand services with minibuses, which were administered by Veolia, are not part anymore of the new concession but were tendered separately and are now coordinated by Omnizbuzz. City services are provided in Maastricht, Heerlen/Kerkrade (Parkstad), Sittard/Geleen, Roermond, Venlo, Venraij and Weert.
Electric buses are introduced in Venlo and Maastricht. In Maastricht initially only four buses but in a few years, the whole city fleet will be electric. For this reason there are 19 temporary buses, 13 Scania rented from EBS and six VDL Citea from Arriva's Friesland concession, with one more ex Friesland bus added later. As back-up for the electric buses Maastricht had three old VDL Ambassador buses (0051/51/53) and Venlo nine (0207-0215), but these were all withdrawn by mid 2017. Several buses are assigned to subcontractors: Kupers of Weert has the new 6577-6580 and 9102-9103. It runs among others Weert city services with small buses and school services to Roermond and Venlo for which it uses five coaches to which it applied Arriva logos and which received Arriva call numbers 11-15. For the school year 2017/2018 an additional bus was added, this time a VDL LLE120 Citea, ex Arriva Brabant, which received call number 54. The small buses 6577-6580 are operated by Prince of Weert on behalf of Kupers (see Princen website). TCR has the new 6581 (TCR number 1060) and their own small buses 445, 591-593 and 594 (call numbers 270, 272, 271, 269 and 268) for specific low-demand routes 27, 29, 53, 54 and 59, and a large fleet of ex Veolia Berkhof Ambassador 200 buses for school services to Maastricht, Gulpen and Heerlen. This fleet of initially 24 buses prooved too large and eight were re-assigned to Brabant, leaving 567-582 in Limburg. Those all received Limburg livery and some received call numbers (273-279). A third subcontractor is Taxi van Dijk who runs service 85 from Boxmeer with Mercedes midibus 1807.
For the train services the existing Veolia fleet is taken over. On the electrified network 15 new Flirt trains have been added. For the diesel line Roermond-Venlo-Nijmegen nine "Lint" trains are added to the fleet, partly to replace four trains that Veolia had rented and partly as an extension. The Lints are ex Syntus and leased from NS as the line will be electrified in 2020 (?) and all diesel trains will be replaced by electric ones. Arriva plans to introduce a through international service Aachen (Germany)-Heerlen-Maastricht-Liège (Belgium) for which three-current trains will be needed. This would replace the DB service Aachen-Heerlen and the NMBS service Maastricht-Liège. While this service was supposed to start on 9 December 2018, the introduction of the service to Aachen was delayed for around tow months due to type approval procedures and the service to Liège has been delayed for an unknown period of time because of  a dispute on the security system to be used.
Buses (blue = withdrawn)
0031-0041: Scania Omnilink 12m (temp.ex EBS)
0042-0043: Scania Omnilink 13m (temp.ex EBS)
0050/51/53: VDL Ambassador 200, ex Veolia
0207-0215: DAF -Berkhof Ambssador 200, ex Conn
727: Mercedes-Benz eCitaro (demo)
6561-6567: Mercedes Sprinter Neighborhood bus
6568: Mercedes Sprinter Neighborhood bus
6569: Mercedes Sprinter Neighborhood bus
6570: Mercedes Sprinter
6571-6581: Mercedes Tribus
6582: Mercedes Sprinter
6583-6584: Mercedes Sprinter
7401-7424: Volvo 8900 "Limburgliner"
8508-8514: VDL Citea LLE120, ex Friesland
9001-9103: VDL LLE120 Citea 12-meter
9151-9178: VDL LLE99 Citea 10-meter
9301-9319: VDL SLF120 Citea, city buses Heerlen
9601-9604: VDL SLF120 E Citea Electric, Maastricht
9605-9628: VDL SLF120 E Citea Electric, Maastricht
9651-9662: VDL LLE99E Citea, 10-m electr., Venlo
9701-9755: VDL LLE115 Citea, electric

TCR buses
445 (270): Mercedes Sprinter City 65
567….590 (273-279): VDL Ambass. 200, ex Veolia
591-593 (272,271,269): Mercedes Sprinter City 35
594 (268): Mercedes Sprinter City 65, ex demo
606: VDL Ambassador 200, ex Veolia
1060 (6581): Mercedes Tribusx
Kupers buses
11-15: BOVA Futura Classic
333-334 (9102/03): VDL LLE120 Citea 12-meter
342 (54): VDL LLE120 Citea 12 meter

Taxi Princen, Weert
6577-6580: Mercedes Tribus
Taxi Van Dijk buses
1807: Mercedes Sprinter City 65
Arriva Touring
7167, 7174, 7182: Mercedes-Benz Integro
7789, 7792: Volvo 8900
1630: VDL SLF120 Citea
8202: VDL Ambassador 200
8057: VDL Ambassador 200
8370: VDL Ambassador 200

Taxibuses
xxxx: Mercedes-Benz Sprinter
Trains (diesel)
276-281: Stadler GTW 2/6 ex Veolia 7201-7206
382-391: Stadler GTW 2/8 ex Veolia 7351-7360
24-26, 28-30, 32, 35: Coradia "Lint", ex Syntus
Trains (electric)
426-430: Stadler GTW 2/6 ex Veolia 7501-7505
531-533: Stadler GTW 2/8 ex Veolia 7651-7653
450-464: Stadler "Flirt 3"
550-557: Stadler "Flirt 3" (multisystem)