Arriva Lelystad (5 September 2011 to 11 December 2021)
Netherlands
company website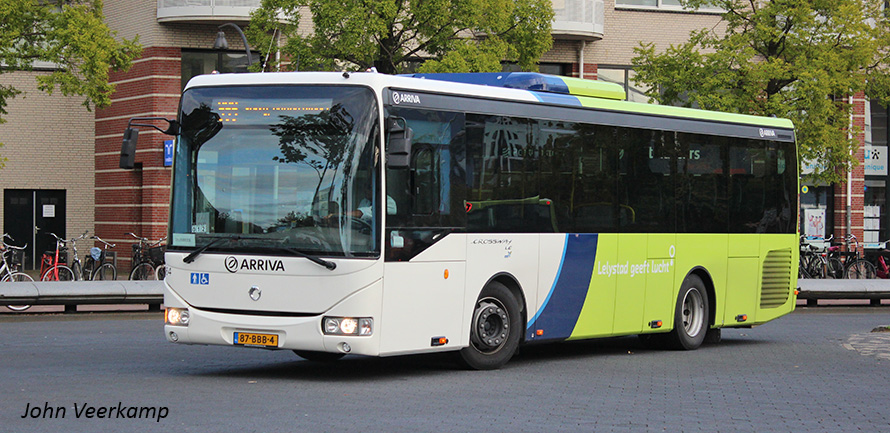 A problematic tendering process for the region IJsselmond/Flevoland led to the separation of the Lelystad city services from the new IJsselmond concession. Arriva won the tender for this service which started in September 2011. Because of the short notice initialy older buses were transferred, with new ones arriving in August 2012.
This is a small concession with 14 11-meter buses and one small bus. Routes are 1, 2, 3, 5, 7 and 9. The concession has one school bus route, 612, with one service per day when schools are open.
Buses
6212…6299: DAF -Wright Commander, 2003
6296…6297: DAF -Wright Commander, 2003
6451-6464: Irisbus Crossway LE, 2012
6032: Heuliez GX127
6034: Heuliez GX127
Minibuses
6129: Mercedes-Benz Sprinter
6427: Mercedes-Benz Sprinter
6522: Mercedes-Benz Sprinter
7323: Mercedes-Benz Sprinter
6720: Mercedes-Benz Sprinter
Temporary buses
9151: VDL Citea LLE99, 2016
8201: VDL-Berkhof Ambassador 200
8222: VDL-Berkhof Ambassador 200
8231: VDL-Berkhof Ambassador 200
8370: VDL-Berkhof Ambassador 200
8664: VDL-Berkhof Ambassador 120