Arriva N en ZW Friesland en Schiermonnikoog

Arriva N en ZW Friesland en Schiermonnikoog (9 December 2012 to 11 December 2022)
Netherlands
company website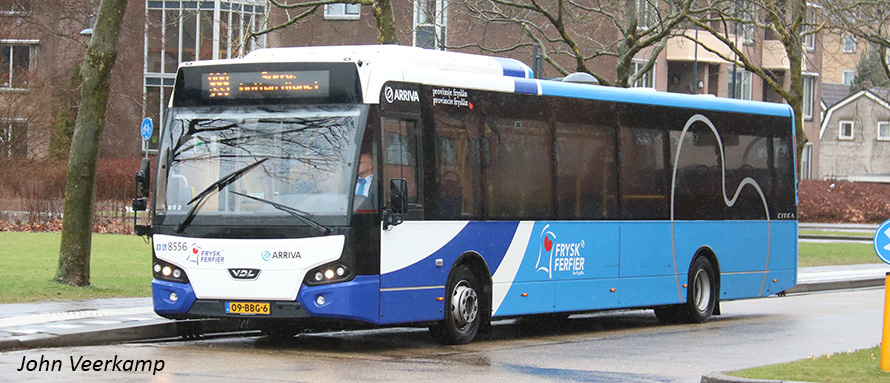 In October 2017 Friesland province announcd that its two concessions, which will be tendered as one next time, have been extended with two years, form 12 December 2020 until 11 December 2022. This will permit experimenting with a revised network with "stretched routes", eliminating detours through villages. The resulting saving will be used to intesify services on main routes.
By the end of 2018 six articulated electric VDL buses were added to the fleet, partly to replace some of the articulated MAN diesel buses.
By 29 December 2018 one short VDL Citea LLE99 electric bus with nymber 0726 appeared on Leeuwarden city services on a trial basis. It will be replaced by a permanent VDL MidCity electric bus and is operated on route 9 in Leeuwarden.
Buses
0251-0254: MAN NG313 Lion's City G CNG
0726: VDL Citea LLE99 Electric
3001-3006: BYD Ebus 12
6431: FIAT Ducato -Tribus Civitas
6471-6475: Irisbus Citelis CNG 10,5 m
6501-6502: Mercedes-Benz Sprinter
6503-6504: Mercedes-Benz Sprinter
6601-6612: Irisbus Citelis CNG 12 m
6613-6615: Irisbus Citelis CNG 12 m
7501-7519: Mercedes-Benz Intouro M
8028/55/57: VDL -Berkhof Ambassador 200
8501-8609: VDL Citea LL120.225
8610: VDL Citea LLE120.245
8611: VDL Citea LLE120.245
8651-8670: VDL-Berkhof Ambassador 200
8691: VDL Citea XLE145.360
8621-8626: VDL Citea SLFA180 Electric
demobuses 2017
0044: Mercedes-Benz Citaro LE
0045: Setra S416LE Business
temporary buses at start concession
79-84: Mercedes-Benz Integro
232: Mercedes-Benz Citaro G
275: TEMSA Tourmalin Interncity
276: MAN Lion's City T
554: Mercedes-Benz Citaro
6032/3/6/40: Heuliez GX127
6201…6301: DAF -Wright Commander
7806: Mercedes-Benz Citaro G
7852: Scania Omnilink Art.
8301: VDL -Berkhof Ambassador 200
8402/3/7/13/35/36/42: VDL-Berkhof Ambassador 200
8851: VDL-Berkhof Ambassador ALE106
9042-8043: Volvo B10MA -Berkhof
blue = withdrawn