----------------------------------------------------------------------------------------------NEWS, LAST UPDATE 2018-03-11-----------------------------------------------------------------
2018-03-11: in 's-Hertogenbosch nine new VDL SLF120E Citea electric buses are being added to the fleet, similar to the existing 9501-9503 and numbered 9504-9512. They will be used on routes 8 and 9 and P&R routes 60-70. They will become operational on April 2, 2018.
2018-01: by December 2017 the temporary buses 51, 53, 0086-0087 were replaced by five Mercedes-Benz Citaro LE buses, ex Syntus Utrecht exex Qbuzz, in a white livery with Bravo lettering. They carry fleet numbers 0741-0745 and are ex Syntus 1130, 1145, 1139, 1131, 1151 exex Qbuzz 3298, 3179, 3191, 3294 and 3176.
2017-10-02: bus 52 from the ZHN region has been transferred to Brabant as one of the replacement buses.
2017-09-16: Early in the morning, around 3 AM, of Saturday 16 September, 2017, a fire damaged seven buses on Tilburg's open air garage space. Buses 8903, 8904, 8909, 8911 and 8920 were destroyed by fire. Number 8909 might be built up again. Numbers 8905 and 8915 were also damaged but will be repaired. 8905 had a molten front, 8915 has damage on the doorside. Replacemnet buses came from teh DAV concession (0085-0087) and the ZHN concession (51) of which 51, 0086, 0087 were assigned to Den Bosch. After one week 0085 was replaced by 53, similar to 51.
2017-08-28: In Tilburg werden per 28 augustus 2017 de gelede Mercedes-Benz Citaro bussen 0285-0288 in dienst gesteld, ex Qbuzz 3070, 3061, 3064, 3055 uit 2009. Ze rijden op lijn 601 en hebben "branding" voor de "Stappegoor Shuttle", die in een 10-minutendienst gereden wordt. In Tilburg four Mercedes-Benz Citaro G, numbers 0285-0288 entered service. They are ex Qbuzz 3070, 3061, 3064, 3055 of 2009. They are used on route 601 on a 10-minute frequency. The route is branded "Stappegoor Shuttle". It took a bit of time before they were all in service. Three are needed, one is reserve. In the morning there is also one in service on route 1.
Close
Arriva Noord Brabant
concession Midden-Brabant, Oost-Brabant and Meierij: 14-12-2014 to 14-12-2024
concession West Brabant and Breda/Oosterhout-Utrecht: 14-12-2014 to 11-12-2022
company website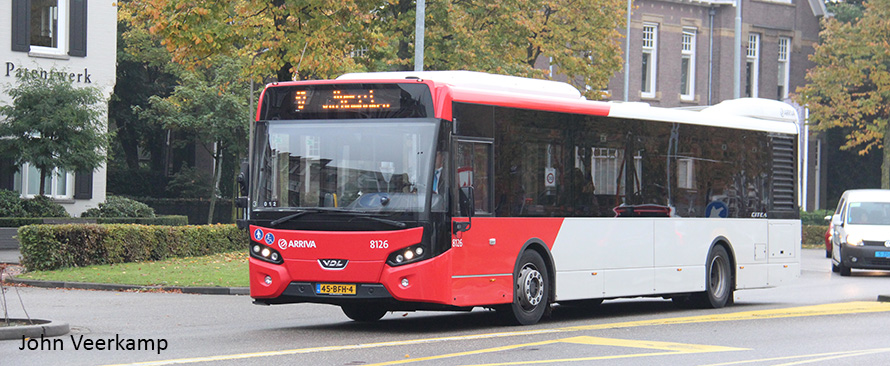 Fleet news:
-in September-October 2019 city buses 9304-9319, VDL Citea SLF120, moved from Heerlen in Limburg to Tilburg, to replace the ageing 700-series Mercedes-Benz Citaro buses.
-in 2019 the 8200-series will be replaced by similar but younger 8400-series buses coming from the Achterhoek-concession.
-beginning of 2019 buses 0291 and 0292 arrived, MAN Lion's City Artic. They originally belonged to the same Veolia batch as 0281-0283 but served with Pouw Vervoer for several years.
-Setra 0725 was withdrawn beginning of 2019.
-beginning of 2019 VDL Citea 8506, 8516, 8538, 8701 and 8702 were transferred from ZHN to replace Mercedes 0741-0745.
-in December 2018 Volvo 8700 number 7787 was transferred from the ended DAV concession to Uden, still in Qliner blue, repainted in Brabant colors after a few weeks.
———————-
After a rather confused tendering process with objections and court cases, Arriva was declared the winner of both the concessions west Brabant, including the express services Breda/Oosterhout-Utrecht (Brabantliner) and oost Brabant, which itself was a combination of the concessions midden Brabant, Meijerij and oost Brabant. Arriva already operated Meijerij and oost Brabant, Veolia operated midden Brabant, west Brabant and Brabantliner. While both concessions have the same starting date, 14 December 2014, they have different ending dates, with west Brabant ending 31 December 2022 and oost Brabant 31 December 2024. City services in east Brabant are 's-Hertogenbosch (or Den Bosch) and Tilburg, in west Brabant they are Breda, Roosendaal and Bergen op Zoom, though the latter two are small.
On 11 December 2016 the concession SRE (Eindhoven, operated by Hermes) came under the responsibility of the province and was renamed zuidoost Brabant (south-east Brabant). It is still operated by Hermes. However, all three concession are rebranded by 11 December 2016 as "BRAVO" (Brabant Vervoert Ons= Brabant Transports Us) and all buses will have the BRAVO logo's added to the otherwise retained red and white livery. The Arriva and Hermes names are added only in small letters to the buses.
Arriva bought a fleet of new buses for the Brabant concessions. Numerically the buses for east and west Brabant are separated, model and liveries are exactly the same. The city buses are 75 VDL SLF120.310 in two-door layout: 8101-8130 for Den Bosch, 8131-8142 for Tilburg and 8151-8183 for Breda. Regional buses are 89 VDL LLE120.255 Citea, 8901-8930 for east Brabant, 8931-8936 for Roosendaal city services and 8941-8993 for west Brabant. For express services 85 Volvo 8900 were purchased, 7201-7238 for east Brabant, 7241-7279 for west Brabant and 7280-7286 for express service 100 from Bergen op Zoom to Rotterdam. These buses are branded "Volans" (which has no meaning but implies something fast), except for 7280-7286 which have no branding. For the Brabantliner services 24 Mercedes-Benz Intouro M were bought, 7301-7324. Finally, there are the neighborhood buses, Mercedes-Benz Sprinter, 6701-6734 for east Brabant and 6741-6768 for west Brabant.
In addition, two series of existing buses were retained in east Brabant, 751-784, the Den Bosch city buses, which were transferred to Tilburg, and 8201-8244, VDL-Berkhof Ambassador 200 regional buses. Furthermore 13 buses were transferred from other concessions to Brabant, 8382, an older VDL-Berkhof Ambassador from HWGO, and new VDL LLE120 Citea 8461-8465 (from Achterhoek) and 8501-8505, 8507 and 8610 (from Friesland).
Electric buses 6050-6052, used in Den Bosch on an inner city service, and 6666, an experimental Volvo used in Den Bosch, also remained in service. In 2016 three more electric buses, 9501-9503, were added to the Den Bosch fleet. Initialy the intention of the province had been to make Breda city services fully electric but because of the tendering problems this did not happen.
A few old buses of the 8000-series remained in service at the start of the concession, with 8066 still being used for instructions in 2016, and a few older neighborhood buses of the 7331-series may also be present.
Surprisingly Arriva did not buy any articulated buses for the new concession, while predecessor Veolia had 48! Arriva wanted to compensate this with higher frequencies but this did not always work and subcontractor TCR is now using articulated buses around Breda. Arriva itself assigned two old Scania articulated buses to Tilburg service 601. In January/February 2017 Arriva bought three MAN Lion's City articulated buses from Veolia Limburg for Breda route 9 and numbered them 0281-0283. in August 2017 Arriva bought four articulated Mercedes Citaro buses that came from Qbuzz, for Tilburg route 601, now branded "Stappegoor Shuttle" and numbered them 0285-0288.
Subcontractors are TCR in west Brabant, Van Driel north of 's-Hertogenbosch and Van Dijk on service 99 in east Brabant.
New Buses
0725: Setra S415LE Business (demo)
4852-4858: Volvo 7900LH Electric (east)
6701-6734: Mercedes-Benz Sprinter (neigh., east)
6741-6768: Mercedes-Benz Sprinter (neigh. west)
6769-6801: Mercedes-Benz Sprinter (neigh.)
7201-7238: Volvo B8RLE 8900 (Volans, east)
7241-7279: Volvo B8RLE 8900 (Volans, west)
7280-7286: Volvo B8RLE 8900 (Exp. Berg.op-Z.-Rott)
7280 as Brabantliner
7296-7297: Volvo B7RLE 8700 (ex Connexxion)
7298: Volvo B8RLE 8900 (Breda, demo)
7299: Volvo B5LH 7900 (Breda, demo)
7301-7324: Mercedes-B. Intouro M (Brabantliner)
8101-8130: VDL SLF120.310 Citea (Den Bosch)
8131-8142: VDL SLF120.310 Citea (Tilburg)
8151-8183: VDL SLF120.310 Citea (Breda)
8901-8930: VLD LLE120.255 Citea (East)
8931-8936: VLD LLE120.255 Citea (Roosendaal)
8941-8993: VLD LLE120.255 Citea (West)
9501-9503: VDL SLF120 Electric (Den Bosch)
9504-9512: VDL SLF120 Electric (Den Bosch)
Existing Brabant buses, retained
751-784: Mercedes-Benz Citaro (Tilburg)
6050-6052: IVECO 65C First Electric (Den Bosch)
6666: Volvo BLE 7700 Electric (Den Bosch)
8201-8244: VDL-Berkhof Ambassador 200
Buses from other concessions
035/36/38/39/44: Scania Omnilink 12 m (ex Limb.)
0045: Scania Omnilink 12,7 m (ex Limb.)
4883-4886: Van Hool A300 (ex ZHN)
6407/8/20/23/24: Merc.-B. Sprinter (ex Achterhoek)
7787: Volvo 8900 (ex DAV)
7791-7792: Volvo 8900 (ex Touring)
7852, 7855: Scania CL94UA Omnilink (ex.var.)
8382: VDL-Berkhof Ambassador 200 (ex HGWO)
8401-40/2-3: VDL-Berkhof Amb. 200 (ex Acht/Riv)
8461-8465: VDL LLE120.225 Citea (ex Achterhoek)
8501-8505, 8507: VDL LLE120.225 Citea (ex Fri.)
8506,8516,8538: VDL LLE120.225 Citea (ex ZHN)
8610: VDL LLE120.245 Citea (ex Friesland)
8701-8709: VDL LLE120.225 Citea (ex ZHN)
9304-9319: VDL SLF120 Citeas (ex Limburg)

Old Brabant series, partly used at start
7331-7353: Mercedes-Benz Sprinter
8001/14/28/29/55/56: VDL-Berkhof Amb. 200
8057-8063: VDL-Berkhof Ambassador 200
8064-8069: VDL-Berkhof Ambassador 200
ex Veolia articulated buses, 2017/9
0281-0283: MAN Lion's City G
0291-0292: MAN Lion's City G
ex Qbuzz articulated buses, 2017
0285-0288: Mercedes-Benz Citaro G
Temporary buses 2017-09/2019
51-53: VDL-Bus Ambassador 200
0085-0087: VDL-Bus Ambassador 200
0741-0745: Mercedes-Benz Citaro LE