----------------------------------------------------------------CLICK HERE FOR NEWS. LAST UPDATE: 2018-09-03---------------------------------------------------------------------------
-around 23-25 August 2018 seven VDL Citea LLE120.255 from Brabant were re-assigned to the Achterhoek area where they replaced the Scania Omnicity buses that were getting too old and had a high fuel consumption. The 8948 and 8954-8959 received the new blue corporate livery. Thet are supposedly staying until December 2018.
-buses 0159, 0161 and 0162 were part of the series 0158-0163, bought secondhand for Keukenhof services in 2018. 0159, 0161 and 0162 were re-assigned to the Achterhoek by August 2018 and initailly were stabeld at Gelderesch. They are identical to 0151-0157.
-on March 31, 2018, Juijn replaced the 5031-5037 with the new 5041-5047, Setra S415LE Business, in the new Arriva corporate livery blue.
-beginning of 2018 seven secondhand VDL-Berkhof Ambassadro 200 buses, numbered 0151-0157, were bought to replace the not much-liked Optares. These buses are ex Connexxion Utrecht concession.
-In May 2017 it was announced that the concession would be extended with five years, until December 2025. This possibility was included in the original concession and contingent on Arriva's results. As the concession includes train services a long duration is justified. The bus fleet will have to be renesed.
Close
  Arriva Achterhoek-Rivierenland

Arriva Achterhoek-Rivierenland (12 December 2010 to 11 Dec. 2020, extended 11 Dec. 2025)
Netherlands
company website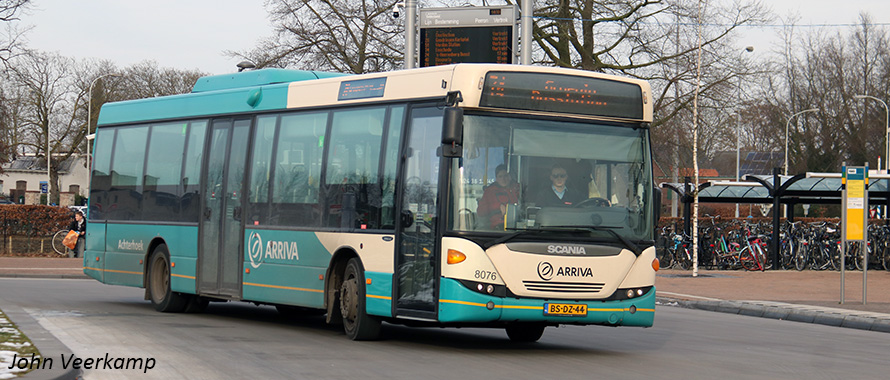 Fleet news:
-in March 2019 short VDL buses 9151-9158 came from the Limburg concession. They were brought into the enw colors first.
-December 2018: the ex Connexxion buses 0151-0157, 0159, 0161 and 0162 are replaced by ex DAV 8300-series buses, (some of) which will be brought into the new colors first. 8353 was the first one to enter service. By February 2019 all ten were in service (8341-8344, 8349, 8353, 8355, 8356, 8364, 8365), with 8355 as the second one in the new colors.
-in November 2018 old buses 50 and 51 came temporary (from DAV) to replace 8900-series buses that are being painted, replacing their temporary wrap. They left beginning of 2019.
—————–
The two regions Achterhoek ("Back Corner", East of Arnhem) and Rivierenland ("Riverland", between Gorinchem and Nijmegen, between the Maas and Rhine/Waal rivers) are physically separated but are both part of Gelderland province. Both regions are fairly rural and lack large urban centres. The major cities Zutphen, Doetinchem, Tiel, Geldermalsen, Zaltbommel and Culemborg are all small.
The concession Rivierenland was first tendered in 2003, when it was won by Arriva at the cost of Hermes. The concession Achterhoek was only tendered in 2010, together with Rivierenland, and won by Arriva at the cost of Syntus. Train services were added on 9 December 2012, when Arriva took over Tiel-Arnhem, Arnhem-Winterswijk and Winterswijk-Zutphen from Syntus. At the same time, the bus services in the corridor Zutphen-Winterswijk were transferred to Arriva. On 12 December 2004 the train service Zuphen-Apeldoorn was taken over from NS. The concession was initially ten years but on 11 May 2017, it was announced that it would be extended with five years, until December 2025. This will permit Arriva to make investments in the bus fleet.
The bus network and fleet reflect the rural character of the region, which focuses on the small urban centres, connections to large cities bordering the concession areas (Enschede, Deventer, Arnhem, Den Bosch) and connections with the rail services. Especially in Rivierenland school services, numbered in the 600-series, are important. Neighbourhood buses,  8-passenger vehicles manned by volunteers, are common in the area.
In the Achterhoek area, Doetinchem has two short urban routes, number 1 and 2, operated with minibuses. Of the 17 regular regional services eight focus on Doetinchem and five on Zutphen. Only two services do not come to one of the major cities Doetinchem, Zutphen, Enschede, Deventer or Arnhem. Normal regional services are numbered between 23 and 83. There are eight neighbourhood services, numbered 191 and 193-199. Three school services, 656, 682 and 697 and two night services, 880 and 890, complete the network. The night services are called "Nachtvlinder", which would translate into English as "Moth Services". However, a moth in Dutch is literally a "Night Butterfly", which is also a nickname for people going out at night. In the Achterhoek Arriva Touring has a few buses for, among others, the school services. A few buses are/were stabled at Gelderesch in Groenlo.
In Rivierenland, the East-West railways Arnhem-Tiel (Arriva, diesel), Tiel-Geldermalsen (NS, electric), Geldermalsen-Dordrecht (Arriva, diesel) are the backbone of public transport. They connect with the main North-South lines in Elst (Arnhem-Nijmegen), Geldermalsen (Den Bosch-Utrecht) and Dordrecht (Breda-Rotterdam). Regular bus services are few: routes 42, 44, 45, 47, 49, 85, 146, 165 and 166. The 165 and 166 are busy routes connecting small villages with 's-Hertogenbosch. There are eight neighbourhood and two phone services, numbered in the 200-series. The existence of no less than 17 school services is indicative of the main user group of public transport. In Rivierenland, Juijn of Zaltbommel, formerly Rossum, is a major subcontractor, both on school services and regular services. It has a fleet of buses in Arriva livery for regular services and buses in its own white-blue livery for school services. A few services with small buses were sub-subcontracted to Jan Hol and Krol, two local taxi- and bus operators, but those are now operated by Juijn itself.
The backbone of the new bus fleet in 2012 were 51 Berkhof Ambassador 200 buses, numbered 8401-8451. Some older  Berkhof Ambassador 8000-series buses were also used but are now gone. For the Zutphen-Deventer extension in December 2012 eight new VDL Citea 12-meter buses, 8461-8468, were diverted from a Friesland order. As they only came in January/February 2013 temporary vehicles were lent from TCR and Arriva Touring. In December 2014, 8461-8465 were sent to the new Brabant concession and three 10-meter vehicles VDL Ambassador (8651-8653) were transferred from Friesland. Seven small Optare Solo, 6061-6067, are used in the Achterhoek. In the Achterhoek a small batch of Scania Omnilink buses, originally bought for the Waterland concession, now completes Arriva's own fleet of 12-meter buses.
The Optares were not much liked and in February 2018 a fleet of seven secondhand VDL-Berkhof Ambassador 200 buses, ex Connexxion, was bought to replace them. The "new" buses were numbered 0151-0157.
A large fleet of small buses, mainly Mercedes-Benz Sprinter, but also a few FIAT Ducato, are used on neighbourhood services, phone services and regular services. A few older articulated vehicles have been used for a while on school services in the Achterhoek but now only Mercedes Integro high floor vehicles are used by Arriva Touring.
Arriva tested some interesting vehicles in the Achterhoek: a King Long and a Hess bus and trailer combination, the latter on a special permission. The trials did not lead to orders.
Juijn bought a fleet of buses for the Rivierenland concession, which received 5000-serries numbers. They include 5031-5037, Setra S415NF and 5091-5092, Mercedes-Benz O530GÜ articulated vehicles. All those can be found on services 165 and 166 to Den Bosch.  Additionally, there is a fleet of small vehicles in Arriva colours and a fleet of mainly Mercedes and Setra coaches in Juijn livery for school services. On March 30, 2018, Juijn replaced the 5031-5037 with the new 5041-5047, Setra S415LE Business, in the new Arriva corporate livery blue.
Buses
0031-34/37/40/41: Scania Omnilink
50-51: VDL-Berkhof Ambassador 200
0151-0157: VDL-Berkhof Ambassador 200
0159, 0161, 0162: VDL-Berkhof Ambassador 200
223, 227: Mercedes-Benz Citaro G
3154: Berkhof Ambassador 200
6061-6067: Optare Solo
7809: Mercedes-Benz Citaro G
8019, 21-25, 27: Berkhof Ambassador 200
8072-8080: Scania Omnilink
8341….8365: VDL Berkhof-Ambassador 200
8401..8451: Berkhof Ambassador 200
8461-8468: VDL Citea LLE120
8509-8516:  VDL Citea LLE120
8651-8653: VDL Berkhof-Ambassador ALE106
8948, 8954-8959: VDL Citea LLE120
9075-9101: VDL Citea LLE120
9151-9158: VDL Citea LLE99
Minibuses:
6080-6086: Mercedes Sprinter
6401-6426: Mercedes Sprinter
6427: Mercedes Sprinter
6428-6429: Fiat Ducato -Tribus Civitas
6431-6432: Fiat Ducato -Tribus Civitas
6441: Mercedes Sprinter
6438-40/42-49: Mercedes Sprinter
6526-6541: Mercedes Sprinter
6802-6804: Mercedes Sprinter
7321-24/7355-56: Mercedes Sprinter

rented buses:
277: MAN Lion's City T
467..485: MAN Lion's City TU
Demobuses:
3101: King Long
170/502: Hess bus and trailer
Shopping Shuttle: Mercedes-B Sprinter

Arriva Touring
7169, 7172: Mercedes Integro

Juijn
5031-5037: Setra S415NF
5041-5047: Setra S415LE
5091-5092: Mercedes Citaro GU
5101-5105: Mercedes Sprinter City 65
small buses
school services
Trains
252-264: Stadler DMU 2/6
365-375: Stadler DMU 2/8
text in blue=withdrawn