Veolia Transport Haaglanden

Veolia Transport  Haaglanden

30 August 2009- 10 December 2016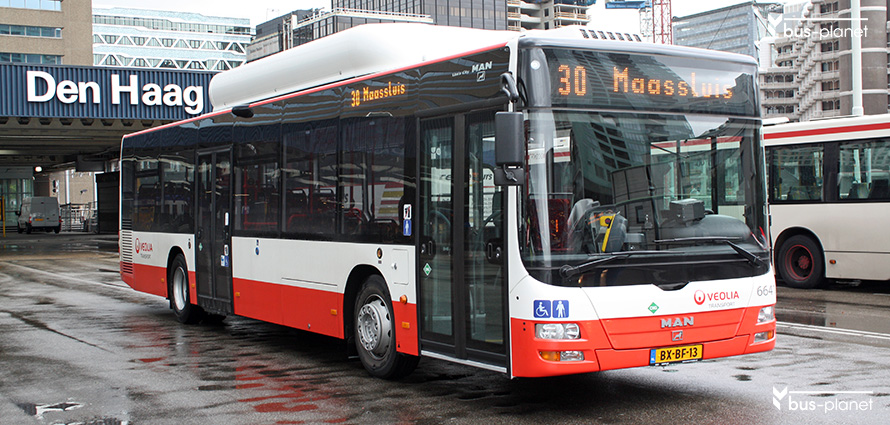 Veolia won the concession Haaglanden and started operating 30 August 2009. The concession includes the city services of Delft and Zoetermeer and extends to The Hague, Leiden en Hoek van Holland. The concession ran through 27 August 2017. However, as Veolia and Connexxion are now part of the same group Veolia-Transdev and Veolia lost all other large concessions in the Netherlands (Brabant and Limburg), Haaglanden would be the only bus operation from December 2016 onwards. Veolia-Transdev proposed to bring Veolia Haaglanden under Connexxion in December 2016 and extend the concession with two years. With the new timetable on 11 December 2016 the Veolia network was presented as Connexxion and by mid-January 2017 all buses had been rebranded. The Veolia name disappeared from the Netherlands after just over nine years of operations.
The Veolia Haaglanden fleet started with 128 MAN Lion's City CNG buses and a number of small buses. Initially a mixed fleet of rented and old vehicles from other concessions was used for the fleet of small buses, until the ten new Mercedes-Benz –Joost midibuses arrived. But soon services were reduced and the midibuses were withdrawn in December 2012. Only one neighborhood bus service continues to be operated, for which some Mercedes-Benz minibuses are used. 15 MAN CNG buses were also sold because of service reductions and one bus was destroyed in a spectacular fire.
As a low railway underpass and high bridges in the city center of Delft could not be negotiated by the MAN gas buses, a few diesel buses are used for services 60 and 61 in Delft. These were Van Hool A360 buses from BBA-Connex Brabant, numbers 168-174 and some Volvo 7000 coming from BBA-Connex, numbers 250, 252, 255 and 256 were also used for some other services at the start of the concession. Two Mercedes Citaro from BBA-Connex arrived in November 2009 but did not enter service (662, 664). The Van Hools on the city service were replaced by two secondhand short Berkhof Ambassador (5392-5393), which in turn were replaced by MAN Lion's City TU, initially rented from MAN (200-202) and then from TCR (300-302).
For 2010 to 2015 every summer the Duinrell Express from The Hague central station to the Duinrell Amusement park, required large capacity buses. Articulated buses were rented from trader Womy (ex HTM Den Oudsten Alliance B93), came from the Veolia fleets in other concessions (an MAN from Limburg and a Volvo from Brabant), were rented from TCR (Mercedes-Benz Citaro G) and Connexxion (Mercedes-Benz Citaro G). In 2016 the special service did not operate anymore.
During this concession the elevated railway line which traversed Delft was replaced with a tunnel, which meant extensive construction works, a new railway station and bus station. The new bus station was only accessible from the railway station by a long walk and a flyover. A shuttle service from the station entrance to the bus station was operated in 2011 with two minibuses but hardly used.
The transport authority was Stadsgewest Haaglanden when the concession started. On 1 January 2015 this became Metropoolregio Rotterdam-Haaglanden. The Stadsgewest Haaglanden logos on the rear end were replaced by the new Metropoolregio logos on the rear end around June 2015.
MAN Lion's City CNG
6631-6758
Mercedes midibuses
4608-4617
Special Delft buses
168-174
250, 252, 255, 256
5392-5393
200-202
300-302
Minibuses
Mercedes Sprinter
rented small buses
Duinrell Express
902-903
6762, 5819
918-919
497-499
9106, 9155
Station Shuttle
94, 97