Syntus Veluwe / Gelderland

Syntus Gelderland / Veluwe
concession Veluwe: 12-12-2010 to 12-12-2020
company website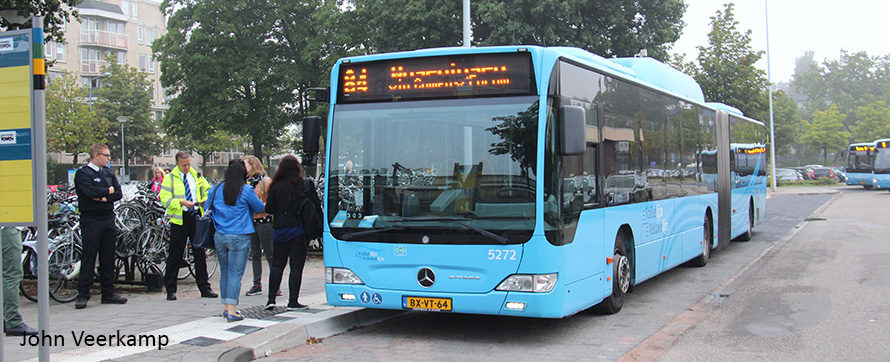 Fleet news:
-in September 2019 three ex Connexxion MAN Lion's City natural gas buses were added to the fleet and numbered 5412-5414 (ex Connexxion 6688, 6714, 6648). A fourth bus (5411) was planned but did not come. The buses are operated by Van Kooten.
-in June 2019 Syntus bought two secondhand buses to replace withdrawn vehicles. They are Berkhof Ambassador 200 number 5157 (ex Veolia 5267) and MAN Lion's City 5415, ex Connexxion 5145.
-beginning of 2019 a second hydrogen bus was put into service for a prolonged etst together with 5500. The 5501 is an Ursus City Smile from Poland, rebuilt by Hymove.
---
Winning the Veluwe concession in 2010 was a big success for Syntus, that again expanded its operating area after winning the Overijssel concession in mid-2010. The Veluwe concession, in Gelderland province, covers a large area that includes the national park De Hoge Veluwe, which is a main tourist area but with a relatively low population density. The main urban centers are Apeldoorn, Harderwijk and Ede. The concession includes two high quality services, which have specific branding and use CNG buses. The Veluwelijn connects Apeldoorn with Zwolle. There is no direct railway between those cities. The other one is much shorter and connects the Ede-Wageningen railway station with the town of Wageningen, which houses the important agriculture university and calls itself "City of Life Sciences". It is called the "Valleilijn". Initially separate series of articulated buses were branded for either the Veluwelijn or Valleilijn, but to
A large city service is operated in Apeldoorn, smaller ones in Ede and Harderwijk. The livery is "ice blue" for all buses except for Apeldoorn city buses, which are green, and the Veluwelijn/Valleilijn buses, which are in a darker shade of blue.
The basic fleet consists of:
VDL-Berkhof Ambassador buses 5001-5024 in Apeldoorn green livery, 5101-5126 and 5127-5152 in "ice-blue" livery. 5101-5126 were transferred from the Achterhoek concessions that Syntus had lost. They were only one year old.
Optare Solo midibuses 5306-5325 in the "ice blue" livery and 5351-5355 in Apeldoorn green livery.
Mercedes-Benz Citaro CNG buses 5201-5211, for Ede city services and regional services from Ede.
MAN NG313 CNG articulated buses 5251-5257, initially for the Valleilijn. Those were taken over from Veolia who used them on the same service.
Mercedes-Benz Citaro G CNG articulated buses 5258-5279 for the Veluwelijn service.
More secondhand buses arrived later, their history can be found on the bus pages.
Special mention needs to be made of the experimental Whisper buses. Those used "the wheel", an electric drive wheel developed in Apeldoorn. Testing already started during Veolia times and continued, intermittently, for a while during Syntus times. While the initial idea to develop a fleet of buses for Apeldoorn never materialized, "the wheel" is now being used commercially. In 2016 a Solbus hydrogen vehicle (5500) started trials with Syntus, using the "the wheel" drive.
The route network in 2017 consists of:
Apeldoorn city service routes 1-12, 14-19
Ede city service routes 1, 2, 5
Harderwijk city service routes 1, 2
Regional services 43, 84, 85, 86, 88, 91, 100, 102-109, 112, 170, 171, 200-203, 205, 231, 293
Neigborhood bus services: 501-513
School services: 609, 511, 620, 651-654, 657, 658, 660, 674, 676, 679, 685, 686, 687
Kolibrie services are on-demand services, some replacing normal services at certain time, while others are always on-demand. The numbers are 1 (Harderwijk), 2 (Harderwijk), 6 (Ede), 15 (Apeldoorn), 103, 104, 107, 170, 191, 506, 507, 508, 509.
Apeldoorn city services are operated by VDL-Berkhof Ambassador and Optare Solo, Ede uses Mercedes-Benz Citaro CNG, Harderwijk Optare Solo. Neighborhood buses are minibuses with volunteer drivers. School services are generally operated by contractors using their own buses without concession branding (except 609 which is operated by Syntus).
Several normal services and rush hour extras are operated by subcontractors Noot, Besseling and Van Kooten, mostly with buses in Veluwe colours.
Buses (blue=withdrawn)
5001-5024: VDL-Berkhof Ambassador 200 (city)
5101-5126: VDL-Berkhof Ambass. 200 (ex Achterh.)
5127-5152: VDL-Berkhof Ambassador 200
5153-5156: VDL-Berkhof Ambass. 200 (ex Overijs.)
5157: VDL-Berkhof Ambass. 200 (ex Peereboom)
5196-5199: VDL-Berkhof Ambass. 200 (ex Veolia)
5201-5211: Mercedes-Benz Citaro CNG
5201-5211: Mercedes-Benz Citaro CNG (white)
5245-5250: MAN NG313 CNG Lion's City (ex Arr.)
5251-5257: MAN NG313 CNG Lion's City (ex Veol.)
5258-5279: Mercedes-Benz Citaro G CNG
5298-5299: MAN NG313 CNG Lion's City (ex Arr.)
5301-5304: VDL-Berkhof Ambass. 180 (ex Acht.)
5305, 01-02: VDL-Berkhof Ambass. 180 (ex Acht.)
5306-5325: Optare Solo
5351-5355: Optare Solo (city)
5401-5402: Volvo 7000 "Whisper" trial
5401-5410: MAN NL273 CNG Lion's City (ex HTM)
5412-5414: MAN NL243 CNG Lion's City (ex Conn)
5415: MAN Lion's City (ex Connexxion)
5500: Solbus Solcity (demo hydrogen)
5501: Ursus City Smile (demo hydrogen)
2146: VDL-Berkhof Ambassador 200 (ex Veolia)
2147-2148: VDL-Berkhof Ambass. 200 (ex Veolia)
7800: Volvo B10MA-Berkhof (ex Veolia)

Temporary buses and ex other concessions
–(2x): Mercedes-Benz Citaro (ex Qbuzz)
1001-1005: Setra S415LE Business (ex Utrecht)
3256: VDL-Berkhof Amb. 200 (ex Utr/Twente)
4042,47-50, 52: VDL-Berkhof Amb. 200 (ex Utr/Ov.)
4049: VDL-Berkhof Amb. 200 (ex Twente)
4136,38, 40-46: VDL-Berkhof Amb. 200 (ex Utr/Ov.)
4137, 4139: VDL-Berkhof Amb. 200 (ex Twente)
5108…5126: VDL-Berkhof Ambass. 200 (ex Twente)
9102-9107: MAN NL243CNG Lion's City (ex Veolia)
9993: Mercedes-Benz Citaro LE (ex Qbuzz)

Minibuses
501: Renault Master/BUSiness
502: Renault Master/Tribus
503-509: FIAT Ducato/BUSiness
551-555: Mercedes-Benz Sprinter, ex 113-117
556-568: FIAT Ducato/BUSiness
569-572: FIAT Ducato/BUSiness
801-825: Mercedes-Benz Sprinter/VDL
1500…1541: Mercedes-Benz Sprinter (rented)