RET, concession Rotterdam (9 December 2012 to 8 December 2019)
Netherlands
company website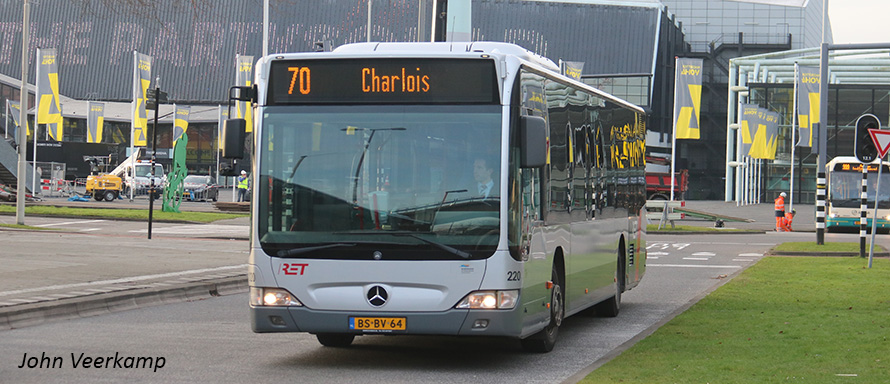 From the end of 2019 onwards RET will start to go for zero-emission buses. 55 VDL Citea SLF120 electric buses will enter service, together with 103 VDL Citea SLF120 Hybrid buses and 40 VDL Citea LLE120 diesel buses. In 2021, 2024 and 2029 50, 50 and 110 electric buses will enter service, making the fleet 100% zero-emission. See news.
---
In 1904 the electric tram was introduced in Rotterdam. A new company, RETM (Rotterdamsche Electrische Tramweg Maastschappij = Rotterdam Electric Tramway Company), was formed. On 15 October 1927 the municipality took over the shares of the company and the new RET was a municipal company. In the context of the new concession system RET became an independent limited company on 1 January 2007, with Rotterdam municipality as the sole shareholder. As the concession extends beyond the municipal boundaries the Stadsregio Rotterdam (City Region Rotterdam) became the owner in 2008. As the so-called "Plus Regions", among which Stadsregio Rotterdam, were abolished in 2015, a new legal entity was formed which includes the areas from Rotterdam to The Hague: Metropoolregio Rotterdam-Den Haag. This entity includes the bus/tram companies of The Hague (HTM) and Rotterdam (RET) and is also responsible for the concessions Haaglanden (operated by Connexxion) and Voorne-Putten (also operated by Connexxion). In 2019 the concessions will be tendered again.
RET won the concession Rotterdam city and Rotterdam region in 2012 taking over Rotterdam region from Qbuzz and integrating the Qbuzz fleet.
The bus fleet at the start of the new concession in December 2012 consisted of 43 Den Oudsten Alliance City, new in 2001-2002, 165 Mercedes-Benz Citaro buses bought new in 2006 and 2008, and 89 MAN Lion's City T taken over from Qbuzz in December 2008. In addition there are four hybrid trial buses, two VDL and two Mercedes-Benz. The bulk of the Den Oudsten Alliance have been withdrawn, the remainder are used by the rail-division on replacement services. No fleet renewal has taken place since 2008, giving Rotterdam a rather old fleet.
On 1 April 2017 the railway line (Rotterdam)-Schiedam-Hoek van Holland was closed. It is being converted into a metro line and will be part of the Rotterdam metro system. For the replacement services RET rented 40 MAN Lion's City built in 2008, which had become redundant in Eindhoven. The closure would initially be for six months only but has been extended to February 2018. In December 2017 it was announced opening would be further delayed until the end of 2018.
901-938: Den Oudsten Alliance City. 2001
939-945: Den Oudsten Alliance City, 2002 (except 944)
201-290: Mercedes-Benz Citaro, 2006 (except 232)
301-376: Mercedes-Benz Citaro, 2008
401-402: Mercedes-Benz Citaro G DH, 2010
404-405: VDL CLF120.250 Citea Hybrid, 2010
1001-1090: MAN Lion's City T, 2008, ex Qbuzz in December 2012 (except 1057)
3406…3473 (40 buses): MAN Lion's City, 2008, ex Hermes per April 2017.
On 7 December 2012 all buses were officially transferred to RET Bus BV. 23 of the Den Oudsten Alliance were sold in 2013, the remaining buses were transferred to RET Materieel BV, indicating their intended use as rail replacement vehicles. Number 901 became RET Federation bus.
The livery of the buses is metallic grey with green and red stripes (200, 300, 400 and 1000-series). The 3400-series ex Hermes buses happened to be metallic grey with some blue and retained their colors. The 900-series buses were the last ones delivered in the former white-green RET livery and retain those colors, except for 901, 940, 943 and 945 that received the new metallic grey livery.
The bus network and bus numbers have been reduced over the years, mainly due to extensions of the metro and tram network, though frequencies of bus routes have also been reduced. The bus network supplements the rail network. As from December 2016 onwards the most frequent routes are called 6-4-2 routes (six times per hour during rush hours, four times per hour in normal service and twice an hour during evenings and Sundays). The other routes are called "Gemaksbus", something like "Easybus". There are a few express services and two neighbneighbourhood services. The latter and some other services are operated by subcontractor RMC with Mercedes Sprinter buses in RET livery.
The numbering of bus routes does not distinguish between the 6-4-2 routes and Gemaksbussen. Bus routes of the urban network are numbered between 30 and 98. The regional (former Qbuzz) network are numbered in the 100-series and express buses in the 200-series. The neighborhood bus routes are 601 and 602.
Night buses are operated on the nights from Friday to Saturday and Saturday to Sunday. Night services are numbered B1 to B19. The B stands for BOB, the expression used during campaigns against drunk driving (Bewust Onbeschonken Bestuurder = Purposely Not drunk Driver).
The rail replacement services between Schiedam, Vlaardingen, Maassluis and Hoek van Holland, starting 1 April 2017, are numbered 711-713.
Buses
901-938: Den Oudsten Alliance City, 2001
901: Den Oudsten Alliance City, 2001 (grey)
939-945: Den Oudsten Alliance City, 2002
940/3/5: Den Oudsten Alliance City, 2002 (grey)
201-290: Mercedes-Benz Citaro, 2006
301-376: Mercedes-Benz Citaro, 2008
401-402: Mercedes-Benz Citaro G DH, 2009
404-405: VDL CLF120.250 Citea H, 2009
405: VDL CLF120 Citea E, 2009
406-407: Van Hool A330 Fuel Cell, 2017
1001-1090: MAN Lion's City T, 2008, ex Qbuzz
3406…3473: MAN Lion's City, 2008, ex Hermes
Subcontrated
1601-1610: Mercedes-Benz Sprinter, 2009 (RMC)
1620-1623: IVECO-Tribus Civitas (RMC)
1624-1625: IVECO-Tribus Civitas (RMC)
Service vehicles
507: Information bus
834: ticket inspection bus