----------------------------------------------------------------------------------NEWS: LATEST UPDATE: 2018-09-06----------------------------------------------------------------------
2018-08-06: the driverless Navya suttle to the new Ommelander Hospital in Scheemda started operating.
2018-07-12: Qbuzz remains the operator in Groningen-Drenthe until the end of 2029
2018-04: it was announced that Qbuzz, Arriva and Connexxion have submitted offers for the tender for the new concession starting December 2019.
2017-11-03: the first two of ten VDL SLFA181 electric buses to serve the Qlink route between Groningen and Zuidhorn were presented today. See https://www.facebook.com/Qbuzz/posts/1503565006400176?hc_location=ufi
2017-11-01: The first of five Van Hool double-decker buses is in service on route 300, Groningen-Emmen since 1 November 2017.
2017-09-03: In Emmen three of the four new Mercedes-Benz Citaro Hybrid buses entered service, with the fourth one arriving a few days later. The buses are numbered 3030-3033. They will be officially presented at Busworld Kortrijk in October 2017.
2017-09-03: The new inner-city service in Groningen started, running from Gedempte Zuiderdiep via Akerkhof to Westerhaven, where a new bus station was created. The bus is a secondhand Gruau Microbus and belongs to Groningen municipality where it received number 11517. A new hydrogen-fueled bus has been ordered, after which the current bus will be the back-up.
By the end of January 2017, an EBUSCO and a Van Hool hydrogen bus arrived in Groningen for tests. The EBUSCO received the Airport Link livery by 5 February 2017 and number 9991. It was in use for a short while only. Two new EBUSCO, supposedly numbered 3026-3027, will arrive in May 2017 and will be used on route 100 during morning and evening rush hour.
A second Van Hool fuel cell followed. The two Van Hool are numbered 3028-3029 and will only enter regular service in December 2017. They are part of the High V.LO-City project that started earlier in Aberdeen, Antwerp and San Remo. The Groningen buses were originally destined for San Remo but the number there was reduced from five to three and two came to Groningen. The buses will be tested in normal service. The project will run until the end of 2019. See: http://highvlocity.eu
New in Decmber 2017 will be ten Van Hool double deckers for the very busy Qliner service Groningen-Emmen.
Close
Qbuzz Groningen-Drenthe (13-12-2009 to 14-12-2019)
Groningen
company website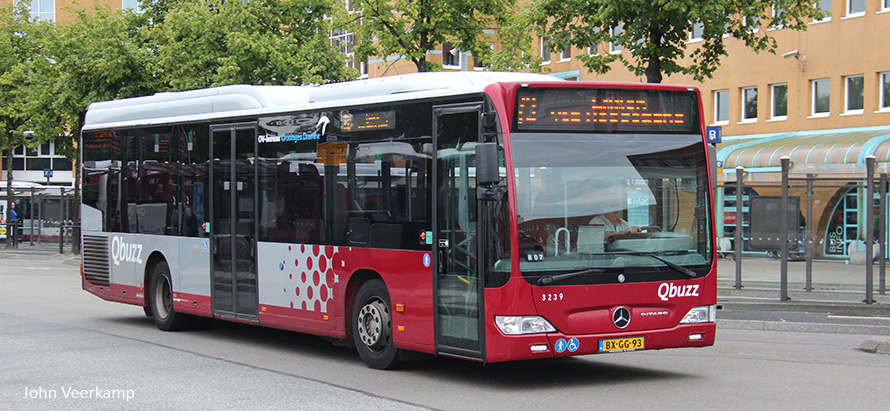 Fleet news:
From July 2019 onwards buses started being adapted for the new concession that starts end of 2019. Buses recieve a new livery, large information screens, WiFi and USN chargers. This concerns 40 buses of series 3100-3301, 8 buses of series 3302-3326, and all buses of series 3327-3367, 3368, 3400-3408, 3409-3412, 3420-3447, 3448-3462, 3471-3480, 3650-3675 and 3691-3695, though part of the series 3420-3447 is said to be transferred to Utrecht for the new Ulink network. Pictures of buses that have been adapted can be found on the page for the new concession.
Articulated Mercedes-Benz Citaro G number 3078 (BX-SX-98), 2009, received in 2019 a special covering in bright green with the big letters "Free shuttle bus home games".
——————————————————————————
In 2009 newcomer Qbuzz won the large concession Groningen Stad, Groningen Streek, Drenthe (Groningen City, Groningen and Drenthe Province). In December 2009 it took services over from Arriva with a large fleet of new buses. Mercedes-Benz was the bus builder of choice and at the start of the concession the new buses were presented in a large parade.
For Groningen city services came 54 buses: 20 Mercedes-Benz O530 Citaro 2 numbers 3001-3020, 28 articulated Mercedes-Benz O530G 2, numbers 3050-3077 and six identical articulated buses in blue Citybus livery, numbers 3090-3095.
For regional services came 202 Mercedes-Benz O530LE Citaro, numbers 3100-3301 and 18 articulated Mercedes-Benz O530G Citaro, numbers 3500-3517. For express services, which received the name Qliner, came 37 Mercedes-Benz Integro in Qliner blue colors, numbers 3600-3636.
As it was clear more buses were needed EvoBus supplied 24 temporary buses in an allover white livery: Mercedes-Benz O530 Citaro, numbers 3701-3724.
44 more buses of all models were supplied in 2010 to increase the fleet, with numbers following on from the initial series: 3021-3025, 3078-3079, 3096-3097, 3302-3326, 3518-3523 and 3637-3640.
In December 2013 a new network was created in Groningen, called Qlink, for which dedicated buses in a black livery with a colored trim, different per route, were brought into service. Direct routes, high capacity and high frequencies characterized the new network. 40 new buses were bought: 3400-3408, Mercedes-Benz CapaCity, 3420-3447, Mercedes-Benz Citaro G C2 and 3490-3492, Hess Lightram 3 Hybrid double-articulated buses. In addition, 13 older Mercedes-Benz O530G Citaro received the new outfit: 3050-3052, 3056-3058, 3062, 3063, 3067, 3071 and 3075 of series 3050-3076 and 3096-3097 of series 3096-3097. In August 2014 numbers 3068 and 3072 also became black for the Qlink system. At the same time the Citybus system was abandoned and buses 3090-3095 were sold, as were 3059, 3065, 3069 and 3076. The Hess buses took some time to enter service and proved to be difficult to integrate into the system. Mid 2016 they were transferred to the Utrecht concession.
In September 2016 the Qlink network was further enlarged when the service Groningen-Delfzijl was rebranded as Qlink. 15 new Mercedes-Benz Citaro G C2 were bought, numbered 3448-3462, with four Mercedes-Benz CapaCity L buses, 3409-3412, ordered for 2017.
The regional fleet of 227 regional buses, numbers 3100-3302, 3303-3326, has been decimated since 2014, due to service reductions. But by the second half of 2016 there also was a fleet renewal with 41 new Mercedes-Benz Citaro LE C2, numbers 3327-3367, entering service. These buses also sport a new very attractive livery. In total 99 buses of the old series had been withdrawn by the end of 2016.
The Qliner services proved to be quite successful and often extra buses had to be used on rush hour services. To reduce costs Qbuzz replaced most of the buses 3600-3640 in September 2014 with 26 15-meter Mercedes-Benz Integro L2, numbered 3650-3675, retaining eight of the 12-meter buses (3632-3635 and 3637-3640).
Six small Mercedes-Benz Sprinter City 77 (3880-3885) were put into service around Winschoten in 2014 but proved unsuccessful and were withdrawn by the end of 2016.
In 2017 a range of innovative buses were tested and put into service. Two EBUSCO electric buses, one carrying number 9991, have been tested and two buses, 3026-3027, were bought for Airportlink service 100. Two Van Hool New A330 Hybrid buses are part of a European project. They received numbers 3028-3029 but they still have to enter service because of delays in establishing the hydrogen refueling system. In September 2017 Qbuzz had the honor of putting four Mercedes-Benz Citaro C2 Hybrid buses in service on Emmen city services. They are numbered 3030-3033.
In November 2017 Qbuzz presented the Van Hool Astromega double-decker for Qliner route 300 between Groningen and Emmen. Five, numbers 3691-3695 will be in service in December 2017.
Also in November 2017 Qbuzz received the first of ten VDL Citea SLF181 BRT electric buses for the Qlink service between Groningen and Zuidhorn. They will enter service on 10 December 2017.
Bus services in Groningen-Drenthe are highly concentrated on the city of Groningen, with Assen and Emmen as secondary centers. While Qbuzz is responsible for the coordination of all bus services, the Public Transport Bureau decided to tender smaller concessions separately so small, local companies would also have an opportunity to bid. One concession concerns part of the express services (Qliners), which was won by Arriva Touring. The other ones are local services with mainly small (8 passenger) vehicles in six regions, including city services in Hoogeveen, Meppel, and part of Assen city services. They also include neighborhood buses and school services. Because of this arrangement Qbuzz does not operate small buses.
Buses
3001-3020: Mercedes-Benz O530 Citaro, 2009
3021-3025: Mercedes-Benz O530 Citaro, 2010
3026-3027: EBUSCO 2.0 electric 2017
3028-2029 Van Hool New A330 Hydrogen 2017
3030-3033: Mercedes-Benz Citaro Hybrid, 2017
3050-3077: Mercedes-Benz O530G Citaro, 2009
3050…3075 in Qlink livery
3078-3079: Mercedes-Benz O530G Citaro, 2010
3090-3095: Mercedes-Benz O530G Citaro, 2009
3096-3097: Mercedes-Benz O530G Citaro, 2010
3096-3097 in Qlink livery
3100-3301: Mercedes-Benz O530LE Citaro, 2009
3211-3212 as parking shuttle
3246, 3247 as Airportliner
3125…3293 as "Zomerbroezz'n"
3302-3326: Mercedes-Benz O530LE Citaro, 2010
3327-3367: Mercedes-Benz Citaro LE C2, 2016
3368: Mercedes-Benz Citaro LE C2, 2016
3400-3408: Mercedes-Benz CapaCity, 2013
3409-3412: Mercedes-Benz CapaCity L, 2017
3420-3447: Mercedes-Benz Citaro G C2, 2014
3448-3462: Mercedes-Benz Citaro G C2, 2016
3471-3480: VDL Citea SLF181 Electric BRT, 2017
3490-3492: Hess Lightram 3 Hybrid 2013
3500-3517: Mercedes-Benz O530 Citaro G, 2009
3518-3523: Mercedes-Benz O530 Citaro G, 2010
3600-3636: Mercedes-Benz O550 Integro, 2009
3637-3640: Mercedes-Benz O550 Integro, 2010
3650-3675: Mercedes-Benz Integro L2, 2014
3691-3695: Van Hool TX28 Astromega, 2017
3701-3723: Mercedes-B. O530 Citaro, 2001, ex BBA
3724: Mercedes-Benz O530 Citaro, 2000, ex Juijn
3800-3803: Mercedes-Benz Sprinter, 2010
3880-3885: Mercedes-Benz Sprinter City 77, 2015
2x: Volkswagen Crafter, 2008, ex Qbuzz ZO Friesl.
9991: EBUSCO 2.0 electric demo 2017
NAVYA shuttle to Ommelander Hospital

blue = withdrawn