Qbuzz Zuidoost Friesland
Netherlands
company website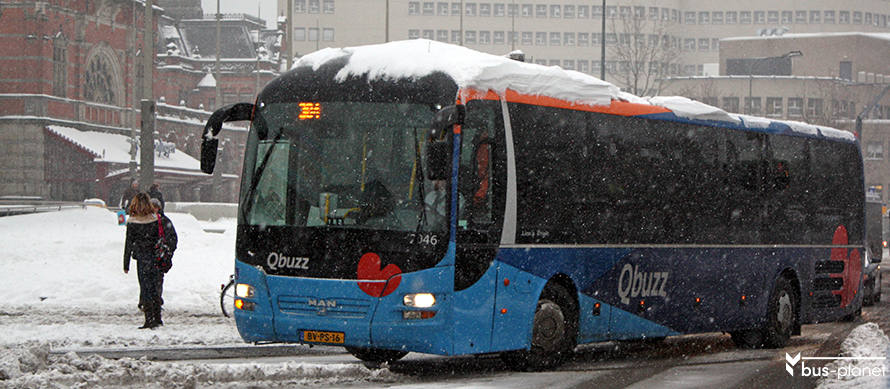 The (small) concession South-East Friesland (Zuidwest Friesland or Fryslan) was one of the two first concessions won by the new company Qbuzz, starting December 14, 2008. The other concession was Rotterdam regional. Later Qbuzz won a very large concession in Groningen-Drenthe and one in Utrecht. As the authorities in Rotterdam, Groningen/Drenthe and Utrecht determine the concession colors, South-East Friesland is the only area where buses are in Qbuzz's corporate livery of white and light blue, with, in Friesland (or Fryslan in the local language) orange yellow water lily leaves are added (the yellow water lily leaves are called "pompeblede" in Frysian and can be found on the provincial flag, among others).
The concession South-East Friesland ran for a period of eight years and ends December 10, 2016. The city of Drachten is the center of the operations with services to Leeuwarden and Heerenveen being the most important. It includes some fast services and neighborhood buses.
Qbuzz uses a numbering system by concession, with the 2000 series used for South-East Friesland (1000 for Rotterdam, 3000 for Groningen/Drenthe and 4000 for Utrecht). The buses used in Zuid-Oost Friesland were initially all MAN, leased from MAN. In 2015 a small series of Mercedes buses was purchased. A few buses from the Rotterdam and Groningen fleets ran in Friesland and retained their original liveries.
Not part of the concession but operated by Qbuzz for a short while was an unsuccessful parking shuttle in Leeuwarden, called Hemriksein Shuttle or "vrij-baan", for which three buses of the Groningen-Drenthe concession received a dedicated livery. In spite of a high frequency it did not attract many passengers.
The bus series are:
2001-2041: MAN Lion's City TU (A78) (2008)
2042-2048: MAN Lion's Regio (R14) (2008), replaced by 2601-2607
2050-2056: MAN Lion's City U CNG (A21) (2009)
2101-2104: Den Oudsten B95 Alliance (temporary, ex Connexxion) (1999, in service 2010-2011)
2601-2607: Mercedes-Benz Intouro (2015), replaced 2042-2048
(4)01-(4)07, 408-410: Volvo 8700 (temporary for 2050-2056) (2008)
– (4x): Volkswagen Crafter (2008), neighborhood buses
– (4x): Mercedes-Benz Sprinter (2013), neighborhood buses, replacement for Volkswagens
1043, 1088, 1091, 1093, 1099: MAN Lion's City TU (A78) (2008), ex Rotterdam concession
3097: Mercedes-Benz O530G Citaro (2010). Short presence in Leeuwarden for shuttle service.
3132, 3137, 3221, 3234, 3235, 3301: Mercedes-Benz O530LE Citaro (2009), temporarily from Groningen/Drenthe concessions
3210-3212: Mercedes-Benz O530LE Citaro (2010), for parking shuttle in Leeuwarden.
3302-3308: Mercedes-Benz O530LE Citaro (2010), temporarily from Groningen/Drenthe concessions