Connexxion Haarlem-IJmond

Connexxion, concession Haarlem-IJmond (13 December 2015 to 02 September 2017)
Netherlands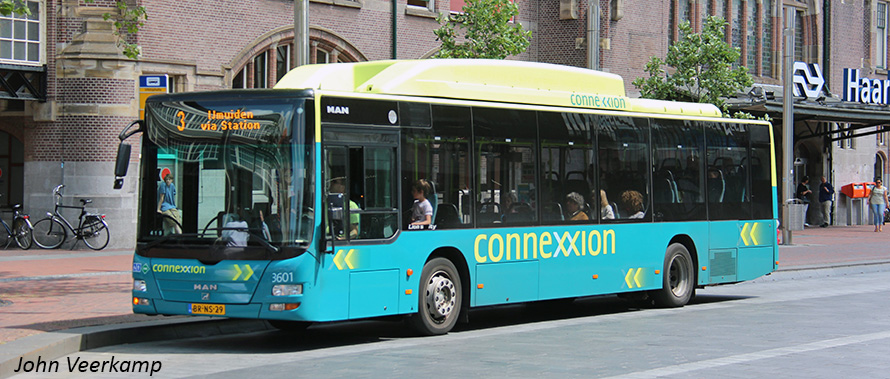 Connexxion won the concession Haarlem-IJmond, which was first tendered in 2005, starting 11 December 2005, initially for a period of only five-and-a-half years, until 1 July 2011.  It was renewed until 1 July 2013, than again, because of budget cuts, until 12 December 2015. The renewal of the concession in 2015 was complicated and Connexxion was allowed to continue with the old fleet, awaiting final decisions, on an interim concession. The new concession finally started 3 September 2017.
Connexxion continued in 2015 with the old fleet, though it transfered some newer Mercedes-Benz CNG buses from the Nijmegen concession to replace part of the agingMAN CNG fleet.
The fleet until 2 September 2017 consisted of:
3600…3683: MAN Lion's City CNG, 2005 (74 remaining, 3600-3643, 3677, 3678, 3682 and 2683)
3728/34/68/84/94/95/3800/02: Volkswagen T5 -VDL-Berkhof "Frysker", 2007, midibuses ex concession Friesland, routes 4, 9 and 14
4517-4524: Mercedes-Benz Citaro CNG, 2009, ex Nijmegen (Breng concession) beginning of 2016 to replace some 3600-series buses
7386: Mercedes-Benz 313CDi Sprinter -Tribus Civitas, 2015. Neighborhood bus for route 481. (48472 Mercedes-Benz Sprinter as reserve)
8606: VDL-Bus SB200 -VDL-Berkhof Ambassador 2005 (reserve)
8770: MAN Lion's City T, 2006 (reserve).
The fleet for the  basic network for Haarlem and regional services consisted of the MAN and Mercedes CNG buses. A few midibuses were used on routes 4, 9 and 14 and one neighborhood bus, new in 2015, on route 481, with an older vehicle as spare. R-net routes 300, 340, 346 and 356 all call at Haarlem but were included in the concession Amstelland-Meerlanden, even the 346 which had no stops in that concession.
The network at the start of the concession consisted of:
see: http://wiki.ovinnederland.nl/wiki/Dienstregeling_concessie_Haarlem-IJmond_2006
The network at the end of the concession consisted of:
see: http://wiki.ovinnederland.nl/wiki/Dienstregeling_concessie_Haarlem-IJmond_2017
2, 3, 4, 8, 9, 14, 15, centered on Haarlem-Heemstede
71, 72, 73, 74, 75, 76, 77, 78, 79, routes centered on Beverwijk
80, 81, 82, 84, regional routes centered on Haarlem
481: neigborhood bus (was new 1 October 2013)
680: school route
Buses

3600-3683: MAN Lion's City CNG
3728…3802: VW T5 -VDL-Berkhof "Frysker"
4517-4524: Mercedes-Benz Citaro CNG
7386: Mercedes-Benz 313CDi-Tribus
8606: VDL-Berkhof Ambassador 200
8770: MAN Lion's City T
48472: Mercedes-Benz Sprinter