Connexxion, concession Haaglanden (11 December 2016 to 24 August 2019)
Netherlands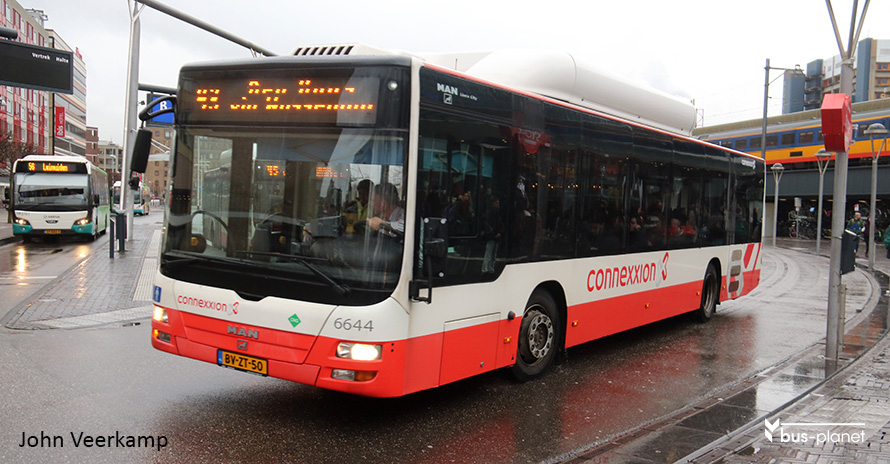 In 2016 Veolia Netherlands lost its last large concession, leaving only the Haaglanden area, around Delft and Zoetermeer, with services extending to The Hague, Leiden and the northern part of Rotterdam. As Veolia and Connexxion belonged to the same group it was decided to drop the Veolia name altogether and integrate Haaglanden into the Connexxion concern. At the same time, a two-year extension of the concession was approved (which was possible under the contract with Veolia). Connexxion took over the fleet of MAN Lion's City CNG buses from Veolia but retained the white and red livery, designing a Connexxion logo for it. It took to mid-January 2017 before all buses had been treated. The two neighborhood buses 1533 and 1539 also kept running. The three MAN Lion's City TU, 300-302, which were rented from TCR and used on Delft city route 61 where the CNG buses are not allowed, lost their Veolia logo's but kept running awaiting buses that Connexxion transfered from other regions.
Haaglanden was a "City Region" (Stadsgewest), but this administrative construction was abolished and the concession is now managed by Metropoolregio Rotterdam-Den Haag, which is also mentioned on the rear end of the buses.
In February 2017 the three TCR buses 300-302 were returned to TCR and four MAN Lion's City T, 2005, were assigned to Delft. Numbers are 8830, 8855, 8865 and 8871. They retained their Connexxion green livery. In October 2017 they were replaced by two silver-grey MAN Lion's City T buses coming from the Voorne-Putten concession, numbers 5150-5151. 8855 stayed as backup. Later 5152, 5160, 5164-5166 were added to the fleet and 8855 was withdrawn.
In September 2017 ten secondhand MAN Lion's City were leased from HTM. They date from 2011 and are two years younger than the similar vehicles in use in Haaglanden. They have a slightly stronger engine (200 kW instead of 180 kW) and differ in having three doors instead of two. Their main assignment will be on the 43 and 45 from The Hague to Leiden.  The HTM buses were never used as HTM had ordered too many buses. Connexxion numbered them 6766-6775, retaining the Veolia numbering of MAN buses, in which 6759-6765 had already been occupied. Eight MAN buses of the ex Veolia fleet will be witdrawn when the "new" vehicles enter service.
BAB-VIOS acted as a subcontractor for the routes to the flower auction in Maasdijk en on rush hour extras on routes 36 and 51.
Fleet:
1149, 1533, 1539: Mercedes-Benz Sprinter, 2014, ex Veolia
6631-35/38-45/48-54/56-57/59-74/78-6712/14-18/20-44/46-49/51-58: MAN Lion's City CNG, 2009
6766-6775: MAN Lion's City CNG, 2011, ex HTM 1116-1120, 1130, 1132-1135 in 2017
8830/55/65/71: MAN Lion's City T, 2005, ex Connexxion
Total: 132 buses, though eight to be witdrawn and including three minibuses.
Depots: Zoetermeer, Delft, Maasland
Routes:
30, 31, 32, 33, 34, 35, 36, 37
43, 44, 45, 46, 444
50, 51, 52, 55
60, 61, 62, 64, 69 (city service Delft)
70, 71, 72, 74 (city service Zoetermeer)
424, 425, 426, 427, 429, 431 (one trip very early early to arrive at Flora Holland, Honselersdijk, at 05:50).
484 (neighborhood bus).
Buses

300-302: MAN Lion's City TU, 2007, rented TCR
1149, 1533/39: Merc.-B. Sprinter, 2014, ex Veolia
6631…6758: MAN Lion's City CNG, 2009, ex Veolia
6766-6775: MAN Lion's City CNG, 2011, ex HTM
8830/55/65/71: MAN Lion's City T, 2005, ex Conn.
5149-52/60/64/66: MAN Lion's C. T rest., '09, ex Conn.
Subcontractor
BAB-VIOS
blue = withdrawn