Connexxion Gooi en Vechtstreek

Connexxion, conc. Gooi- en Vechtstreek (17 July 2011 to 30 June 2019, extended to 17 July 2021)
Netherlands
company website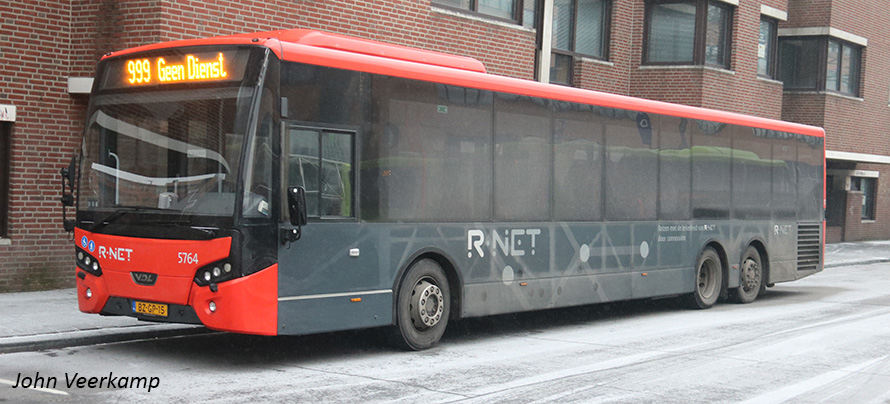 On April 23 2020 it was announced that the new concession will go to Transdev (so the current operator). As the new concession will be all-electric the current Connexxion fleet will be retired.
The network in this concession focusses on the town of Hilversum. There are three urban routes (1, 2, 3) and  ten regional routes (100, 101, 104, 105, 106, 107, 108, 109, 110, 206). 206 was a rush hour only route but has been upgraded into an all-day route, retaining its 200-series route number.  Rush hour only services are 202 and 210, 602 is a school route, and N32 is a Saturday night only night service. R-net service 320 from Hilversum to Amsterdam Amstel Station is a high quality service.
Connexxion was already the operator in the Gooi area when it won the tender in 2011. The fleet renewal consisted in the purchase of new 13.7 meter VDL Citea XLE numbers 5760-5781 for the R-net services to Amsterdam. There were no other new vehicles, but part of the existing fleet of Berkhof Ambassador buses (8255-8258, 8271-8276) and MAN Lion's City T buses (8729-47, 49-75, 77-91) was replaced by small Berkhof "Frysker" buses, based on Volkswagen components. Those were available bccause Connexxion had lost the Friesland concession, but they were much disliked. Eventually all MAN and Frysker buses were replaced by VDL Berkhof Ambassador 200 buses, bought secondhand from sister company Veolia when it lost the Brabant concession (5810-5843) and transferred from Utrecht when Connexxion lost that concession (4181-4184), leaving Hilversum with a rather old fleet.
Buses 5777-5781 are operated by subcontractor Pouw. These buses have the name Pouwr in small letters next to the entrance door but are otherwise indistinuishable from the Connexxion-operated buses.
Buses
3701/3/4/8/12/4-7/24/40/53: VW -Berkhof "Frysker"
4181-4184: VDL-Berkhof Ambassador 200, 2008
5760-5776: VDL Citea XLE137.360, 2011
5777-5781: VDL Citea XLE137.360, 2011 (Pouw)
5810-5829: VDL-Berkhof Ambassador 200, 2007
5830-5843: VDL-Berkhof Ambassador 200, 2007
8755-8775/77-91/8833-34: MAN Lion's City T, 2006
8795: VDL-Berkhof Ambassador 200, 2005
temporary buses
8241: VDL-Berkhof Ambassador 200, 2003