Connexxion Amstelland-Meerlanden

Connexxion Amstelland-Meerlanden (9 December 2007 to 9 December  2017)
Netherlands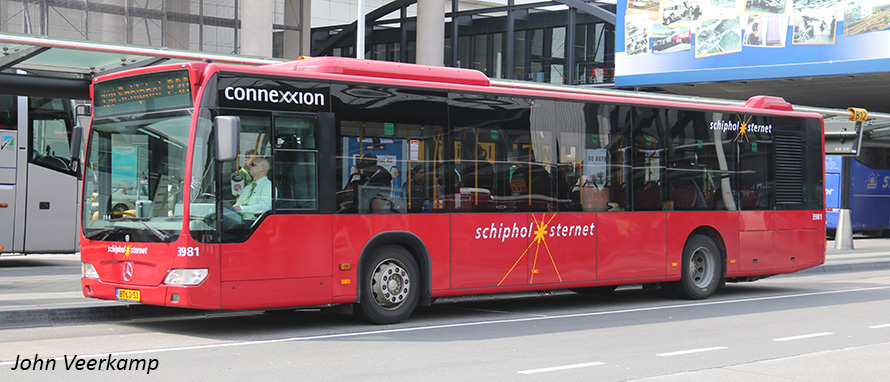 Connexxion won the important concession Amstelland-Meerlanden in 2007, and was thus able to continue its presence.
In this concession the "Zuidtangent" BRT-route from Schiphol to Haarlem was important. Another important network in this concession is the Schiphol Sternet, a range of routes around Schiphol Airport that carry a special red livery.
The new fleet consisted of:
3813-3941, 4002: MAN Lion's City TU in the standard green livery, for normal routes;
3942-4001: Mercedes-Benz O530 Citaro, in the red livery for the Schiphol Sternet services;
9182-9226: Mercedes-Benz O530G Citaro, in a red and grey livery for the Zuidtangent sevices.
In December 2014 the R-net (Randstad network) was introduced, a regional network covering various concessions and operators with upgraded bus routes. The new livery was the red and grey of the Zuidtangent. The Zuidtangent buses were rebranded as R-net and 33 buses of the series 3813-3941, 4002 were painted in R-net livery for service 356. For service 346, which runs from Haarlem to Amsterdam and in fact is outside Amstelland-Meerlanden concession but still operated by it, 16 older 14.5 meter Volvo buses, 5670-5674 and 4301-4311, were painted red.
In 2009 Connexxion subcontracted B&R for one route, and let some 3813-series buses to the company. However, in 2010 they went bankrupt. In 2011 Connexxion subcontracted TCR for several routes around Hoofddorp, for which 20 MAN buses were sold to TCR. In 2012 TCR replaced those with 20 new Mercedes-Benz Citaro LE.
Over the years there has been some shifting around of buses. Several articulated buses from other concessions have been allocated to the Sternet and R-net, with some buses changing colors three times!
A few small buses are employed around Amstelveen. Initially these were VDL "Fryskers" 3789-3791, in 2014 these were replaced by three Mercedes Sprinter City 65, 3697-3699, which were rented from EBS.
The concession ends December 2017 and all buses, many of which are 10 years old, will be replaced by a new fleet, with just a few Mercedes-Benz Citaro G as reserve. However, as the infrastructure for the electric buses was not ready in time, the introduction was postponed to April 2018. Also, the new Amsterdam North-South metroline opens only mid 2018, which als means a revision of the bus network, with some routes being curtailed. For these reasons around 100 old buses remained in service after December 10, 2017. These are MAN Lion's City T in R-net colors, MAN Lion's City G in Sternet colors, Mercedes-Benz Citaro buses in Sternet colors and Mercedes-Benz Citaro G buses in R-net ans Sternet colors. For details see the new Amstelland-Meerlanden page.
Buses
3697-3699: Mercedes-Benz Sprinter City 65
3789-3791: VDL "Frysker"
3813-3941, 4002: MAN Lion's City TU
3822..3935, 4002: MAN Lion's City TU, Rnet
3942-4001: Mercedes-Benz Citaro, Sternet
3951-3954: Mercedes-Benz Citaro, Rnet
4301-4311: Volvo 8700, Rnet
5670-5674: Volvo 8700, Rnet
8830…8882: MAN Lion's City T
9100/2/3/7/8/9: Mercedes-Benz Citaro G
9100/7/8/9: Mercedes-Benz Citaro G, Rnet
9100/7/8/9: Mercedes-Benz Citaro G, Sternet
9122…9139: Mercedes-Benz Citaro G, Sternet
9144: Mercedes-Benz Citaro G, Sternet
9182-9225: Mercedes-Benz Citaro G, Rnet
9226-9227: Mercedes-Benz Citaro G, Rnet
9241-9247: MAN Lion's City G, Sternet
9248-9252: Mercedes-Benz Citaro G, Rnet
9253: Mercedes-Benz Citaro G, Sternet
9256: Mercedes-Benz Citaro G, Sternet
9261-9262: Mercedes-Benz Citaro G, Sternet
9263: Mercedes-Benz Citaro G
Subcontrators
B&C 38xx: MAN Lion's City TU
TCR 466-485 (3824…3940): MAN Lion's City TU
TCR 500-519 (1011-1030): Mercedes Citaro LE