Arriva Touring HOV Groningen-Drenthe

Arriva Touring HOV Groningen-Drenthe (13 December 2009 to 14 December 2019)
Netherlands
company website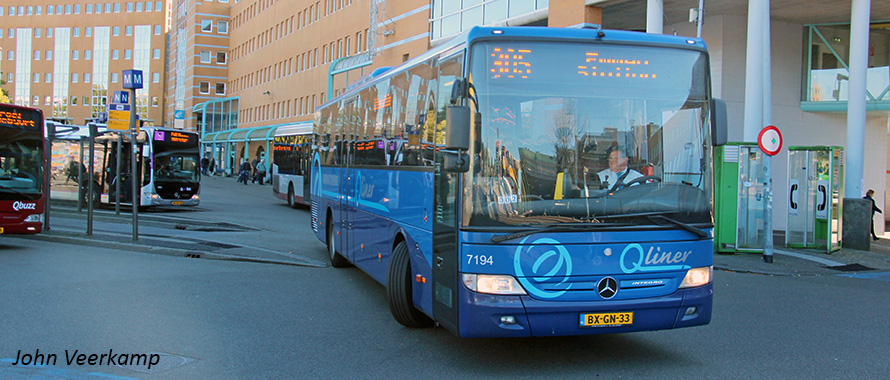 Fleet news:
-in December 2018 bus 7787 (of the same series as 7788-7792) came over from the terminated DAV-concession.
———————-
Arriva Touring is Arriva Netherland's subsidiary for tour operations and contracts work, sometimes also for Arriva itself. Since 13 December 2012 Arriva Touring has its own concession: Groningen-Drenthe HOV (High Quality Lines), branded Qliners. From 3 July 2011 to 12 August 2012 it also operated HOV route Groningen-Heerenveen-Lelystad on  behalf of Arriva.
All buses are in Qliber blue livery. The fleet consists of buses transferred from Arriva and new buses 7191-7195 and 7530-7531. The buses are numbered in the Arriva series and not ll of them carry Arriva Touring lettering. In practice there is some exchange with Arriva Friesland Qliner buses.
As Qbuzz also operates Qliner services under the main Groningen-Drenthe contract with buses in Qliner livery, there is little to distinguish the operators. Arriva Touring operates:
304: Groningen-Drachten, since 11 December 2016
314: Groningen-Drachten (direct)
324: Groningen-Drachten-Heerenveen-Emmeloord.
305: Groningen-Gieten-Borger-Emmen (until 10 December 2016)
327: Emmen-Hoogeveen (until 7 January 2012).
In December 2016 Qbuzz and Arriva Touring exchanged routes 304 and 305 and as a result all Arriva Touring Qliner routes now connect Groningen and Drachten, with the latter located in Friesland province, where Arriva is the operator, which also explains the mix-up of buses with Friesland concession.
Buses
7155, 7167-7174: Mercedes-Benz Integro, 2004
7181-7183: Mercedes-Benz Integro, 2005
7184: Mercedes-Benz Integro, 2006
7191-7195: Mercedes-Benz Integro, 2009
7519: Mercedes-Benz Intouro M, 2012
7530-7531: Mercedes-Benz Intouro M, 2013
7532: Mercedes-Benz Intouro L, 2014
7788: Volvo 8900, 2014
7789-7792: Volvo 8900, 2014