Besseling
De Stuwdam 5, 3815KM Amersfoort, Netherlands
company website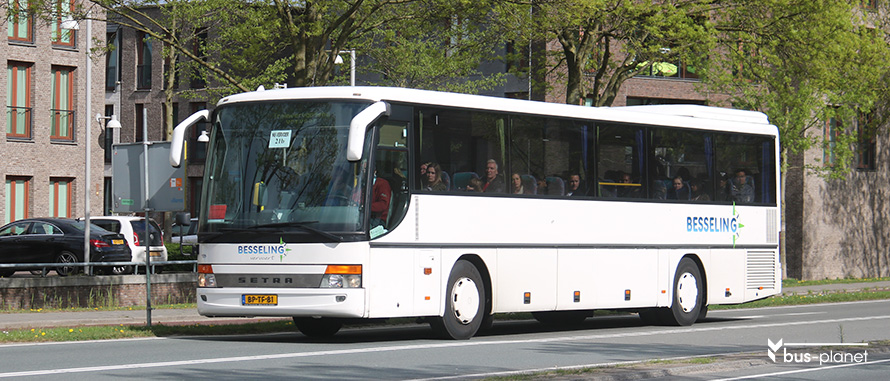 Besseling operates under the slogan "Besseling vervoert", meaning not just "Besseling moves" in the sense of transporting goods and persons, but also "moves" in an emotional way.
Besseling is a family business located in the town of Amersfoort. It started in 1985 with courier services and steadily grew.  In 1994 taxi services were added, under the name Bestax.
In 1995 the first buses arrived when the three buses of a company called Dorrestijn were taken over. Since then the fleet grew rapidly and new buses were purchased annually. The company standardised on Setra buses and coaches, though in 2016 five Mercedes-Benz Tourismo coaches were added. The company currently has some 65 buses and coaches, and a large number of taxis, minibuses and vans.
The buses are used for coach tours, contracts, railway replacement services and on public transport services as a subcontractor to Syntus. In December 2004 a fleet of 15 Besseling Setra S315UL was contracted by SVN for its new concession around Amersfoort, which was the first entry of Besseling into the regular public transport market.
Besseling now also is a contractor for Meinfernbus-Flixbus and has several coaches in the Flixbus bright green livery. Corporate livery is otherwise allover white. Four public service buses, 301-304, were/are in the Syntus Veluwe blue livery.