Syntus/Keolis present 15-meter Setra buses in Utrecht

Syntus / Keolis present 15-meter Setra buses
Utrecht, Netherlands
14 June 2017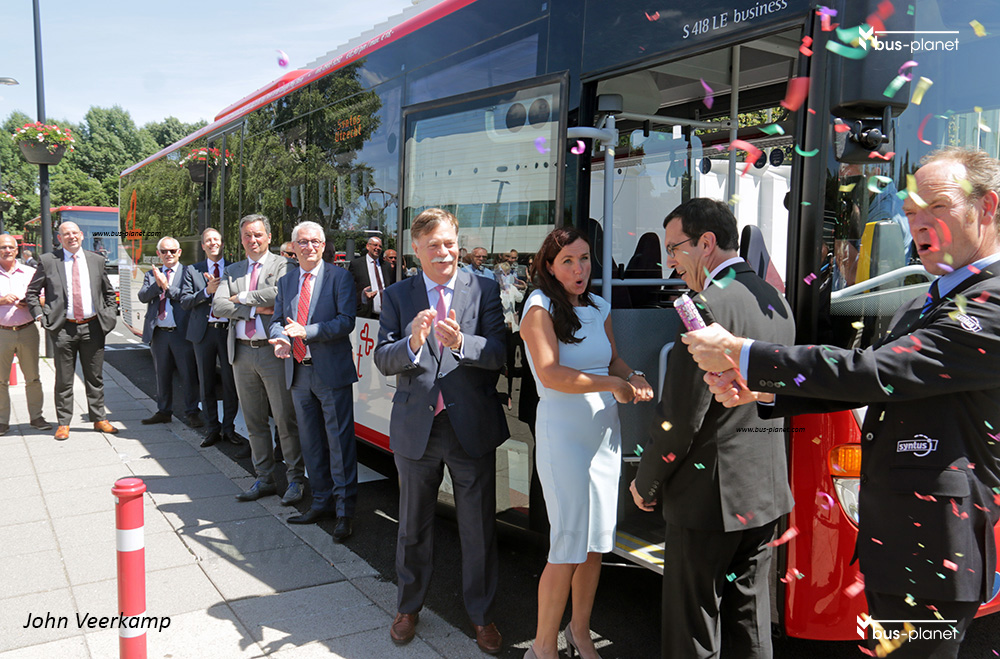 (voor Nederlandse tekst scroll naar onderen)
Syntus, a Keolis company, started operating the Utrecht Province concession in December 2016. Unfortunately the start was complicated as the final decision on the award of the concession came only weeks before the start. Keolis and EvoBus had taken  the risk of starting the production of 100 new Setra 12-meter buses, but as around 200 buses are required for the concession, old secondhand buses had to be used, waiting fort the new buses. These started arriving in May 2017 and will all be in service by the end of June 2017. Syntus used the occasion of the presence of the Keolis CEO, Jean-Pierre Farandou, to organise an official presentation of its new 15-meter Setra S418LE Business buses at the Provincial Government of Utrecht, the authority responsible for the concession. On 14 June 2017 ten new buses were present in Utrecht. Speeches were held by Mrs Jacqueline Verbeek-Nijhof, Deputy for Mobility of Utrecht Province, Mr Cees Anker, Director of Syntus Netherlands, and the CEO of Keolis, Mr Jean-Pierre Farandou.
Mrs Verbeek-Nijhof stressed the importance of public transport and applauded the introduction of the high capacity 15-meter buses on the express routes to and from utrecht Science Park. She recognised the difficulties Syntus had to face starting the concession and expressed her confidence that the concession would be successful. Mr Cees Anker confirmed the difficulties that were maybe not fully but at least to a large extend due to the objection by a competitor and following court cases, leading to the late confirmation that Syntus had won the concession. He appologized for this and thanked his personnel, the passengers and the province for their patience. He stressed that Syntus would do verything to make the concession a succes. The new buses show the innovation and quality Syntus stands for. Mr Jean-Pierre Farandou stressed the importance of the Dutch market for Keolis, being advanced, well organised and innovative.
After a ribbon was cut a tour around the Science Park area was made with the new buses.
Syntus, een Keolis-bedrijf, startte in december 2016 in de concessie Provincie Utrecht. Helaas was het begin ingewikkeld, omdat de definitieve beslissing over de toekenning van de concessie pas weken voor het begin kwam. Keolis en EvoBus hadden het risico genomen om de productie van 100 nieuwe Setra 12-meter bussen te starten, maar omdat er ongeveer 200 bussen nodig zijn voor de concessie, moesten oude, tweedehands exemplaren worden gebruikt in afwachting van de nieuwe bussen. De eerste kwamen in mei 2017  en tegen eind juni 2017 zullen ze allemaal in gebruik zijn. Syntus gebruikte de aanwezigheid van de CEO van Keolis, Jean-Pierre Farandou, om een officiële presentatie van zijn nieuwe 15-meter Setra S418LE Business bussen te organiseren bij de provincie Utrecht, de autoriteit die verantwoordelijk is voor de concessie. Op 14 juni 2017 waren er tien nieuwe bussen in Utrecht aanwezig. Toespraken werden gehouden door mevrouw Jacqueline Verbeek-Nijhof, gedeputeerde voor mobiliteit van de provincie Utrecht, de heer Cees Anker, directeur van Syntus Nederland, en de directeur van Keolis, de heer Jean-Pierre Farandou.
Mevrouw Verbeek-Nijhof benadrukte het belang van het openbaar vervoer en verwelkomde de invoering van de 15-meter bussen met een hoge capaciteit op de sneldiensten naar en van het Utrecht Science Park. Ze erkende de problemen waarmee Syntus de concessie moest starten en uitte haar vertrouwen dat de concessie succesvol zou zijn. De heer Cees Anker bevestigde de  uitdagingen, die misschien niet volledig maar in ieder geval grotendeels te wijten waren aan de bezwaren van een mededinger en lange daaropvolgende rechtsgang en de late bevestiging dat Syntus de concessie had gewonnen. Hij verontschuldigde zich daarvoor en bedankte zijn personeel, de passagiers en de provincie voor hun geduld. Hij verzekerde de aanwezigen dat Syntus er alles aan zal doen de concessie tot een succes te maken. De nieuwe bussen tonen de innovatie en kwaliteit waar Syntus voor staat. De heer Jean-Pierre Farandou benadrukte het belang van de Nederlandse markt voor Keolis, die hij geavanceerd, goed georganiseerd en innovatief noemde.
Nadat een lint was doorgenknipt, werd een rondrit door het Science Park-gebied gemaakt met de nieuwe bussen.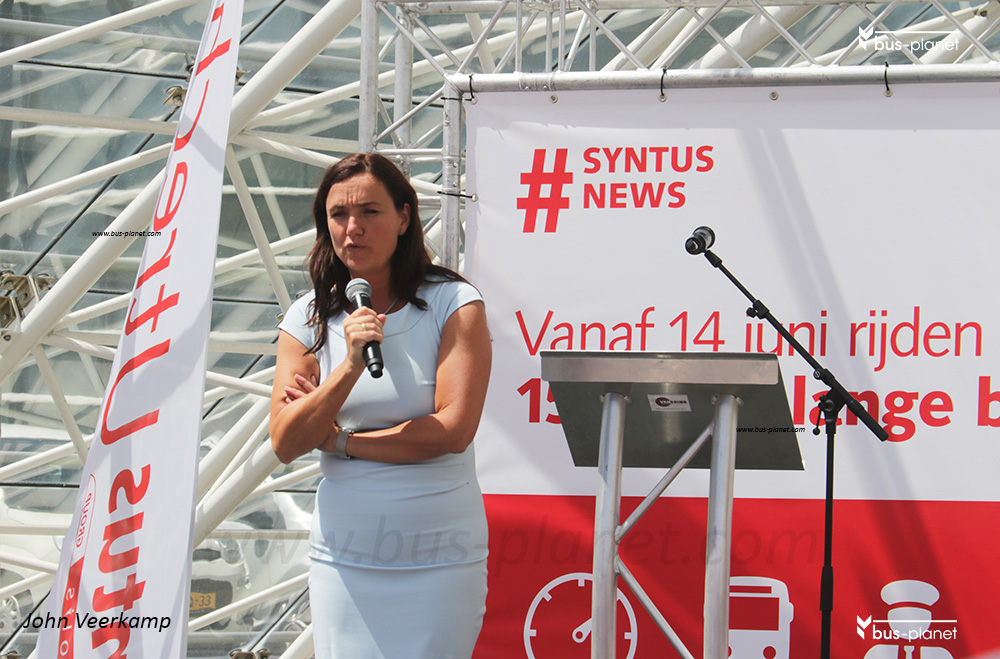 Mrs Jacqueline Verbeek-Nijhof, Utrecht Province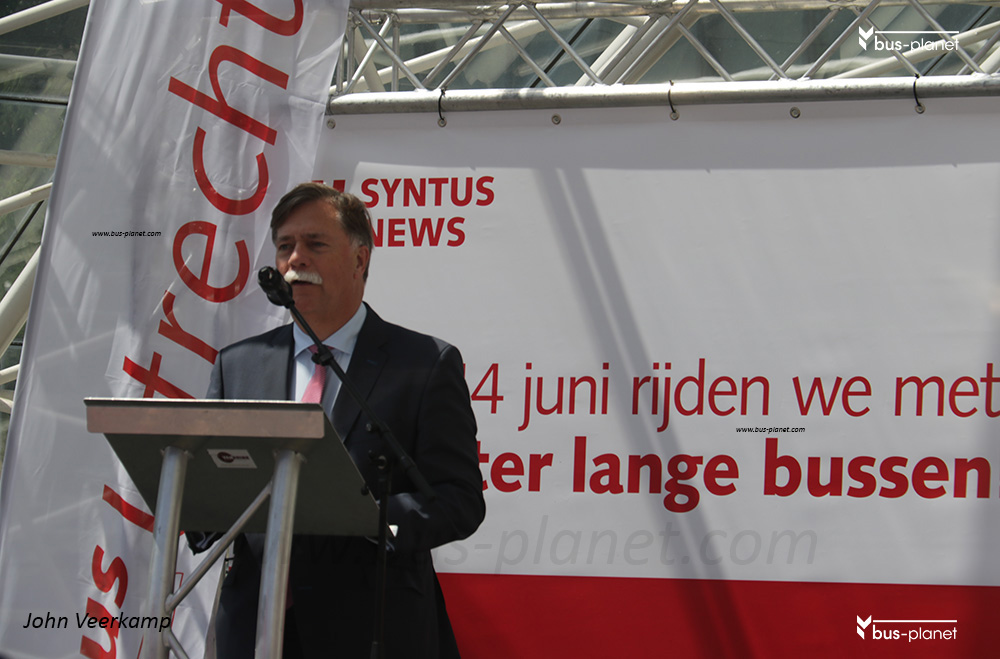 Mr  Cees Anker, directeur Syntus Nederland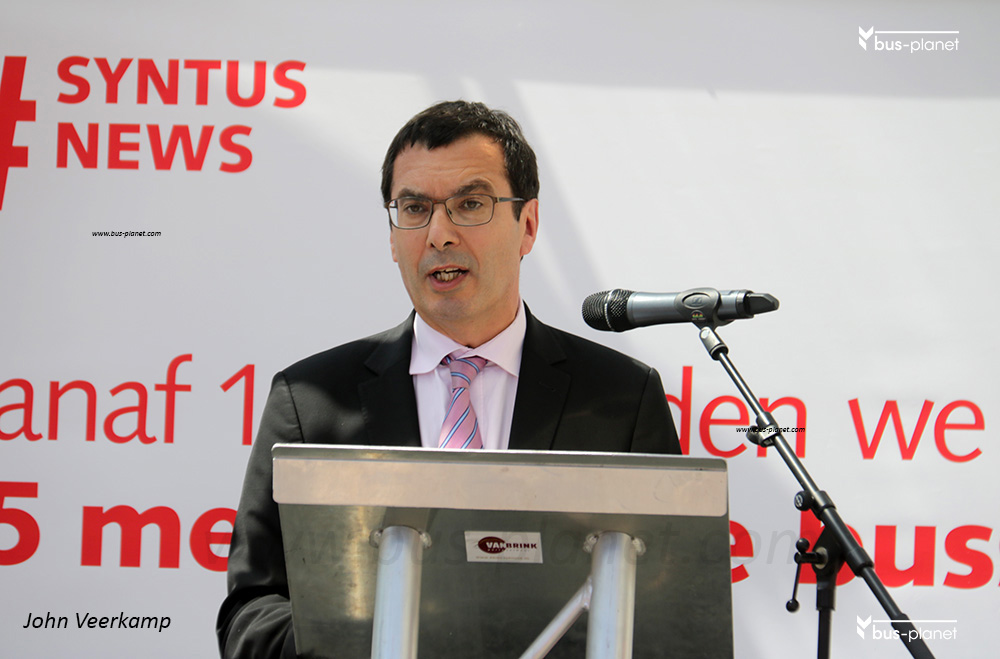 Mr Jean-Pierre Farandou, CEO Keolis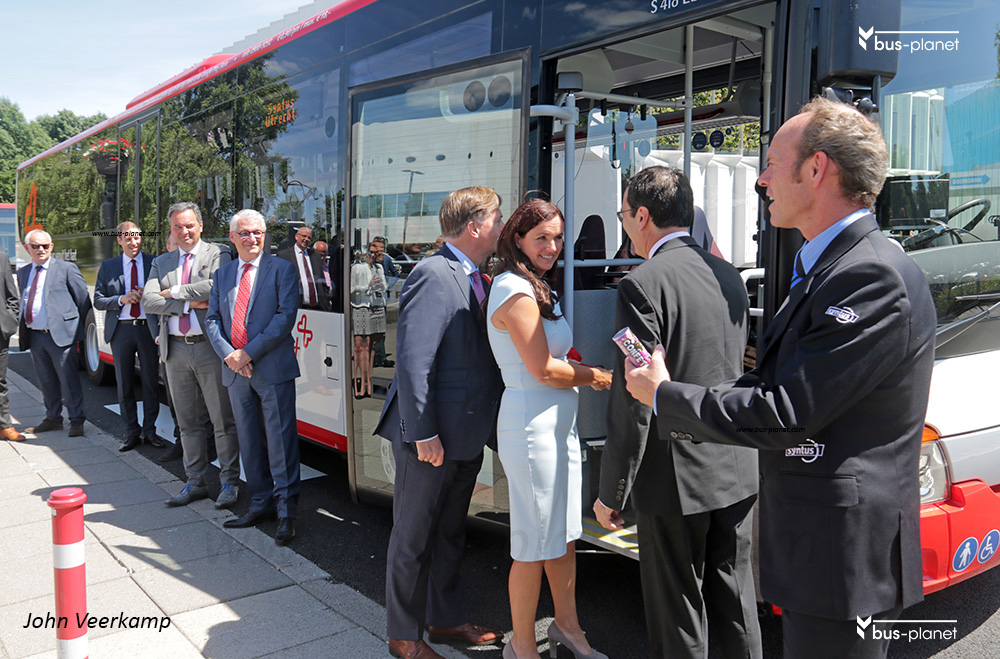 Cutting the ribbon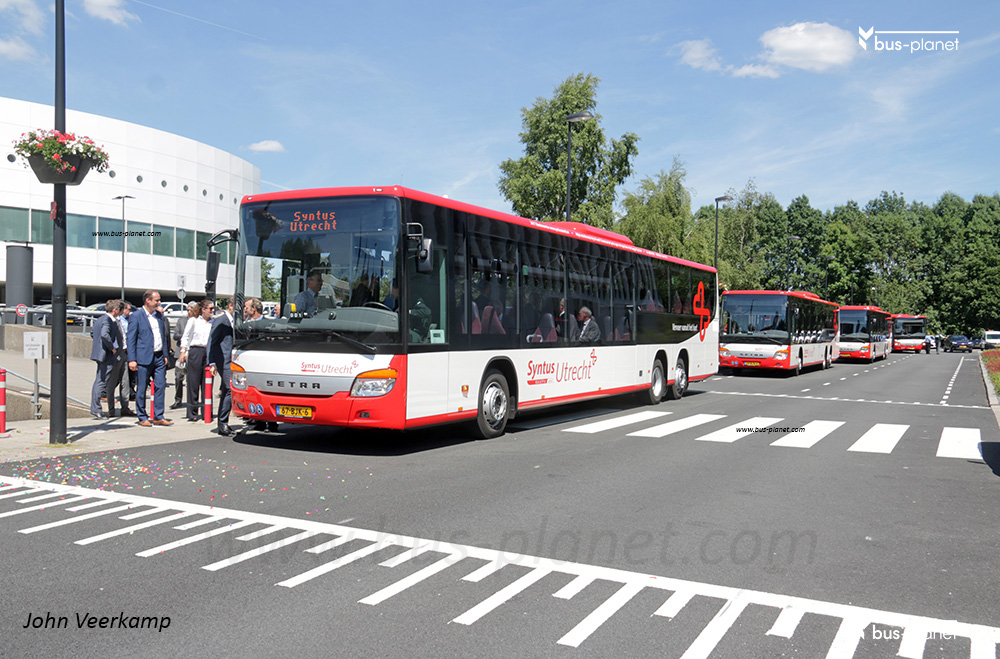 The new 15-meter buses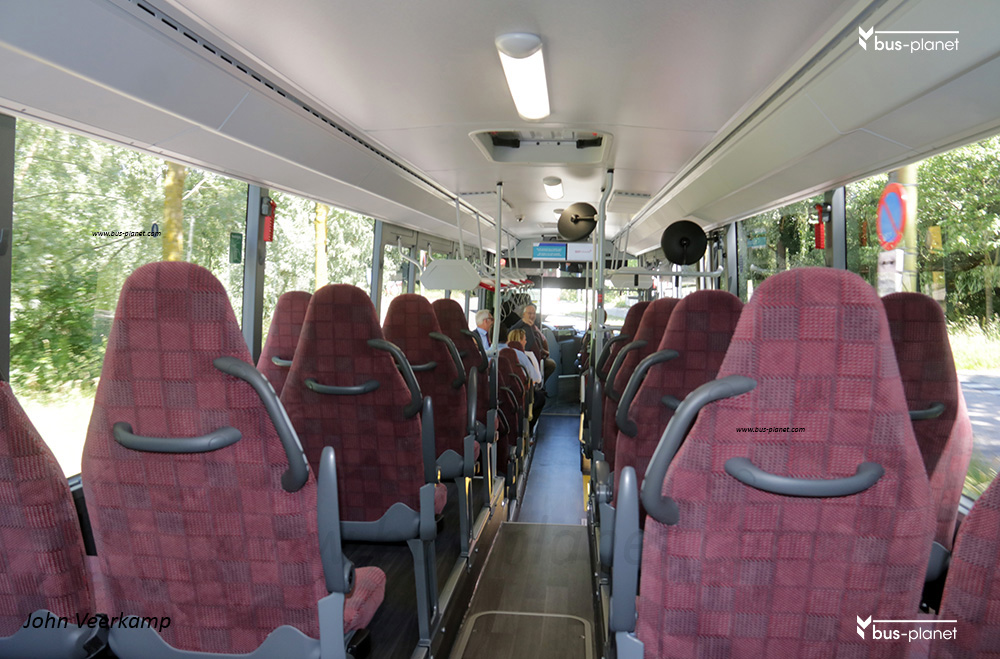 The interior of the new 15-meter buses. They have Wifi and chargers.