Syntus Midden Overijssel (29 August 2010 to 25 August 2020)
Netherlands
company website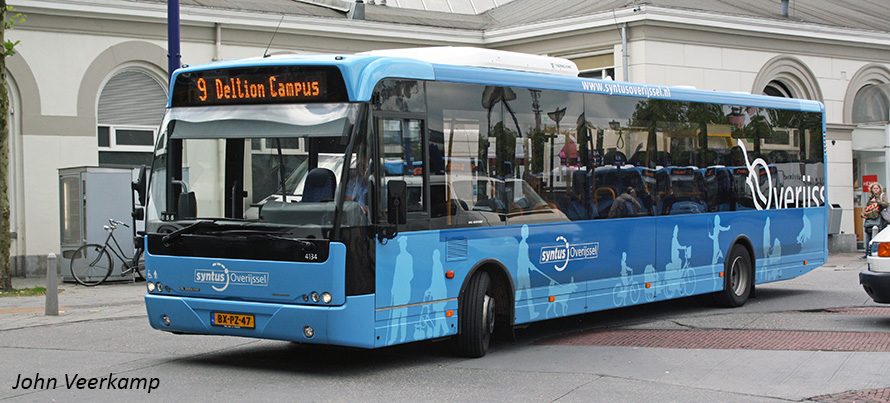 Fleet news:
-in July 2019 neigborhood bus 307 was transfered from Twente to service on route 518 from Raalte. It received Syntus Overijssel lettering but remained red.
---
Syntus has been operating the concession Midden Overijssel since 29 August 2008. It includes the city services of Zwolle and Deventer and regional services around Zwolle (Vechtdal) and Deventer (Salland). The concession is a mergr of former concessions Noordoost Overijssel and Zwolle, and Salland, which were operated by Connexxion. The concession ends 25 August 2020.
The concession livery is different shades of blue with drawings of people, of which there are different variations. The fleet at the start of the concession consisted of:
401-403, Renault Master, 08/–, for the center city route in Devener, abandoned December 2015 after which 402 was sold.
451-457, Renault Master, 08/–, neighborhood buses, withdrawn 2015 (457) and beginning of 2016.
461, Mercedes-Benz Sprinter, 08/–, ex Syntus 112, built 2005. Used on a school service in Heino in its old yellow-white-blue livery, withdrawn December 2014.
4001-4052: VDL SB200 –VDL-Berkhof Ambassador 200, 32/48, for city services Deventer and Zwolle
4101-4154: VDL SB200 –VDL-Berkhof Ambassador 200, 35/45, regional buses
4155-4156: VDL SB200 –VDL-Berkhof Ambassador 200, 35/45, regional buses, 2012. These were the last VDL Ambassador 200 buses built.
In 2015 the Renault neighborhood buses were replaced by more standard Mercedes Sprinter buses, numbers 826-835. These were bought in one series with the Veluwe concession (801-825) and, for some unknown reason, received 800-series numbers instead of the 400-series which one would expect. Syntus uses a numbering system by concession, with Overijssel using the 400/4000 series. When changing concessions buses are normally renumbered and receive the color of the new concession.
The ever increasing transport of students from the railway station to the Deltion College in Zwolle has been a challenge for years, with large numbers of full buses at peak times. In September 2015 Syntus transferred MAN Lion's City G 5249 from the Veluwe concession to support route 9. But Syntus has been looking for even larger buses with additional capacity and tested a Mercedes-Benz CapaCity L during the school year 2016/2017. The allover white bus, numbered 4160 with registration ZZ-98-05, built in 2015, performed well though was unable to board at the normal bus stops and a special stop was created opposite the railway station, which meant that hordes of students have to cross the busy road. Evidently this can not be a permanent situation and the layout of the area will be adapted. At the beginning of the new school year, 4 September 2017, Syntus started using eight new 21 meter long Mercedes-Benz CapaCity L in the blue concession livery, numbers 4201-4208. These buses carry ZZ registrations which are required for vehicles that do not conform to standard regulations. It means they are restricted to service on that specific route and otherwise are only allowed to go to and from the garage.
As there was a reduction in regional services from 2012 onwards there was a number of surplus buses and 4151-4154 were transferred to the Veluwe concession in 2012, and were renumbered 5155, 5156, 5153, 5154. Beginning of 2013, 4148-4150 and 4155-4156 went to Twente concession, became red and received numbers 3248-3250 and 3255-3256 (the latter two shortly carried 3155-3156 but that clashed with other buses). 4147 followed beginning of 2016 and became Syntus Twente 3247. In December 2016, numbers 4049, 4050, 4052, 4142-4146 went to Utrecht as temporary buses and received an allover white wrap. As they were all replaced by new buses by July 2017 they were returned, but if and how they will re-enter service in Overijssel remains to be seen. So far 4142 is in Overijssel, 4049 and 4144 are in the Veluwe concession. Bus 4051 was withdrawn after an accident in September 2012, when it completely burnt. The current fleet thus consists of 401 and 403 / 826-835 / 4001-4050 and 4052 / 4101-4146 and 4201-4208, with whereabouts of the buses that temporarily went to Utrecht to be confirmed.
Not mentioned above have been two temporary buses, 4198 and 4199, that VDL made available before delivery of the new 4155-4156.
The network consists of:
city service Zwolle: routes 1, 2, 3, 4, 5, 6, 7, 8, 9, 12 (7, 8, 9 are school routes, 12 is a rush hour service)
city service Deventer: 1, 2, 3, 4, 5, 6, 7 (7 rush hours only)
regional services: 29, 30, 40, 83, 160, 161, 162, 165, 166, 167, 267 (rush hour service)
school services: 629, 649, 660, 664, 668
neighborhood services: 503, 563, 568, 590, 591, 592, 597, 598, 599.
More details on services, also historic, can be found on: http://wiki.ovinnederland.nl/wiki/Concessie_Midden_Overijssel and current schedules can be found on the company website.
The large number of neighborhood and school services and the small number of regular regional services is indicative for the transport flows in this rural region, with many smaller towns and villages and the two urban attraction poles.
The system of "Regiotaxi's" in Overijssel provides supplementary service to the public transport system. Its verhicles, minibuses and taxi's, are in the same livery as the Syntus buses but they are operated by taxi companies.
Buses
small buses
307, 309: Mercedes-Benz Sprinter
401-403: Renault Master
451-457: Renault Master
461: Mercedes-Benz Sprinter
826-835: Mercedes-Benz Sprinter
836: Mercedes-Benz Sprinter
837-838: Mercedes-Benz Sprinter
standard buses
4001-4052: VDL-Berkhof Ambassador 200
4052: VDL-Berkhof Ambassador 200 (white)
4101-4154: VDL-Berkhof Ambassador 200
4142-4146: VDL-Berkhof Ambassador 200 (white)
4155-4156: VDL-Berkhof Ambassador 200
21-meter buses
4160: Mercedes-Benz CapaCity L
4201-4208: Mercedes-Benz CapaCity L
temporary buses
4198-4199: VDL Citea CLF120.250
articulated buses
5249: MAN NG313 CNG Lion's City G
4301-4303: Mercedes-Benz Citaro G