The buses of Udon Thani.
In north-eastern Thailand, 570 kilometers from Bangkok, lies Udon Thani (227.200 inw.), the capital of the province with the same name. Udon Thani (Udon or Udorn) is a busy place and the most 'urban' of the cities in teh Isaan, as this region is also called.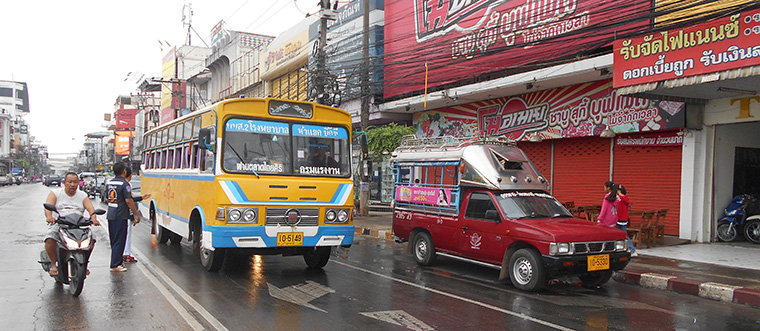 Bus transport in the city is provided by two lines, the white and yellow line for which 10 to 30 baht must be paid. The yellow line runs up and down Thanon Posri (road) and Thanon Nittayo (Road), with the terminus on the city side near the Udon Thani Hospital on Thanon Pho Niyon (Road). Near this terminus a circle is made through Thanon Sitthisiri (Road), Thanon Si Suk  (Road) and Thanon Pho Niyon (Road), near Talad Thetsaban. The other terminus lies along exit road 22 near Bang Chiang, Sakon Nakhon and Nakhon Phanom, near km 8. The white line runs over Thanon Thahan (Road) = main street nr.2. and Thanon Udon Dutsadi (Road) and on its way passes various markets, such as Talad Ban Huai and Tald Sawatdikan. At Tals Rangsina (Market) connection is provided with various regional bus lines. A number of Song-Taewlijnen (2, 5, 6, 7, 9, 10, 11, 12, 14, 15, 16, 22 and 44) assure a good access to the city, these services terminate around 8.00 PM. The Song-Taew services are supplemented with Tuk-Tuks, betsjas and taxis. There is a train service to Bangkok (10-11 hours), with the plane the country's capital can be reached within an hour. From two bus stations there are many bus services to all parts of the country, including a transborder service to Laos (Vientiane).