Citybus
Kuwait
company website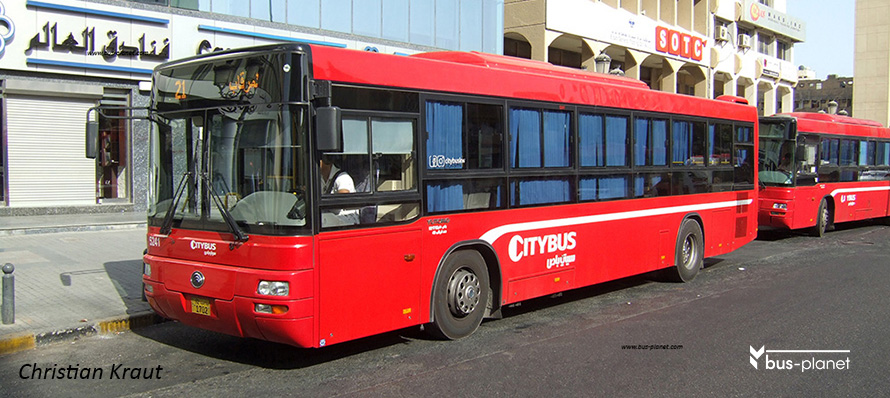 (for pictures of older series go to the old version of the site)
Update 2018-04-16: City Bus purchased double deckers in 2017/2018: 2 (or 3?) Yutong ZK6116HGS and then 56 King Long XMQ6111SG.
new as per the list below are:
5284-5285: Yutong ZK6116HGS double deckers, 2017
5286-5325 and further: Yutong ZK6118HGA Facelift, 2017-2018
5601-5618 and further: Yutong ZK6118HGA Facelift Airport Express livery, 2017-2018
7001: King Long XMQ6119G
7002: (not noted)
7003-7058: King Long XMQ6111SG double deckers, 2017-2018
———————-
Citybus was established in 2002. It has become Kuwait's second largest bus operator with a fleet of just under 600 vehicles. The group is expanding it's operations in the region, among others in Jordan (but already withdrew from Jordan).
Fleet details (from observations for vehicles withdrawn before 2010, from Citybus for current fleet in 2010, see list below). The first buses (around 2002) were bought from Marcopolo Brasil with some Japanese midibuses. They were numbered in 3-digit numbered series (though a trailing 0 was added to make most 4-digit!). In the period until 2007 the 8000-series buses followed: four or five Chinese prototypes (8000-8003), six secondhand coaches (8400-8405), one secondhand Neoplan doubledecker (8500) and hundreds of South Korean Daewoo, Hyundai and KIA buses in various lengths, door configurations and interior layouts. One series of Egyptian built Mercedes-Benz -MCV 400 buses was also bought (8300-series). The vehicles in the 8000/8100-series have only one door, the (similar) ones in the 83/85/86/87/8800-series have two doors. Then, in 2008, the switch to Chinese-built Yutong buses was made. In 2013 (?), two prototypes were added to the fleet: an Indian TATA -Marcopolo, number 7000, and a Chinese Guilin-Daewoo, number 8900. New doubledeckers from Elba in Jordan were announced but not yet seen in service.
Livery was initially white with a red front and rear end, later red skirts were added and the latest deliveries are allover red. Series 5227-52?? and buses 7000 and 9000 were delivered in the new red livery, most buses of series 5001-5175 have been repainted. Series 5601-56xx are in a special red-silver livery for the airport service.
In service by October 2017 are the various Yutong series, Daewoo BS106, BH090 and some BV120M. Prototype TATA-Marcopolo is used fro workers transport, prototype Guilin-Daewoo is in public service.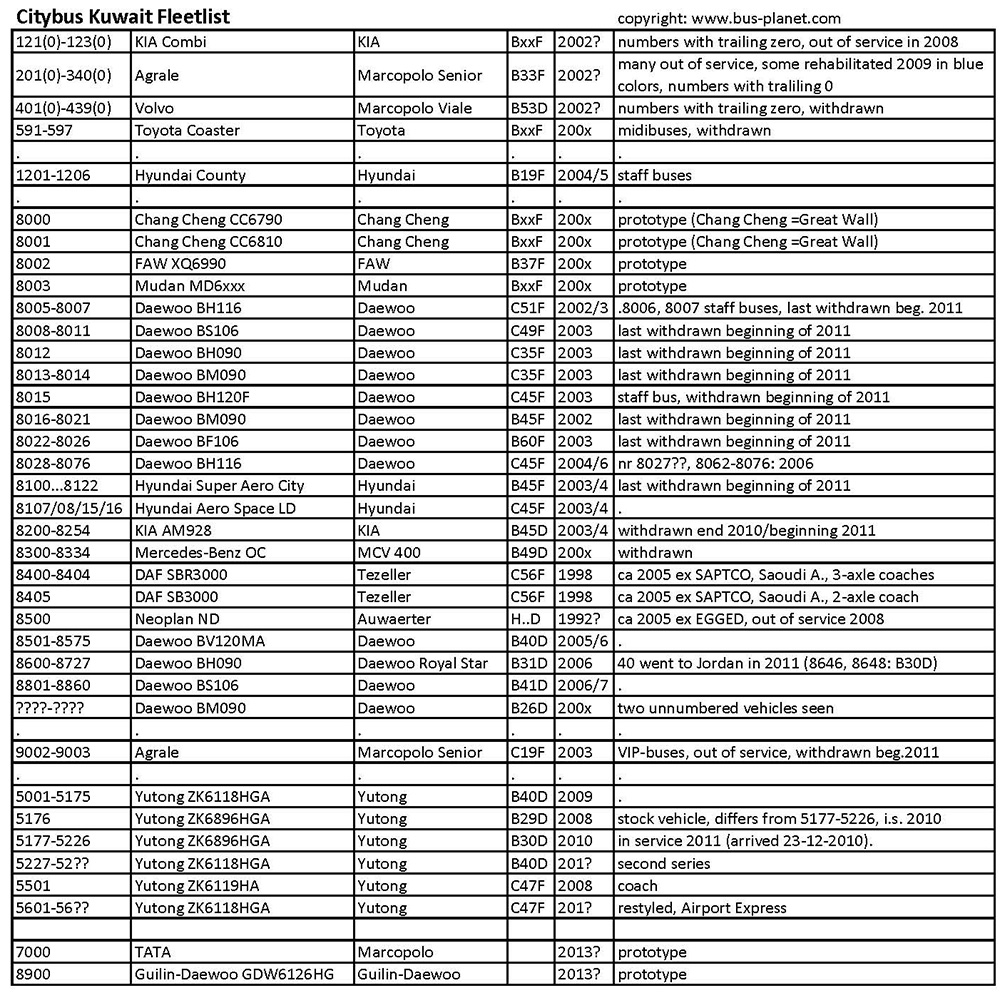 121-123: Kia Combi, 2002?
201-340: Agrale -Marcopolo Senior, 2002?
401-439: Volvo -Marcopolo Viale, 2002?
591-597: Toyota Coaster, 200x
1201-1206: Hyundai County, 2004/5
8000: Chang Cheng CC6790, 200x
8001: Cang Cheng CC6810, 200x
8002: FAW XQ6990, 200x
8003: Mudan MD6xxx, 200x
8005-8007: Daewoo BH116, 2002/3
8008-8011: Daewoo BS106, 2003
8012: Daewoo BH090, 2003
8013-8014: Daewoo BM090, 2003
8015: Daewoo BH120F, 2003
8016-8021: Daewoo BM090, 2002
8022-8026: Daewoo BF106, 2003
8028-8076: Daewoo BH116, 2004/6
8100…8122: Hyundai Super Aero City, 2003/4
8107/8/15/16: Hyundai Aero Space LD, 2003/4
8200-8254: Kia AM928, 2003/4
8300-8334: Mercedes-Benz OC -MCV 400, 200x
8400-8404: DAF SBR3000 -Tezeller, 1998
8405: DAF SB3000 -Tezeller, 1998
8500: Neoplan ND, 1992?
8501-8575: Daewoo BV120MA, 2005/6
8600-8727: Daewoo BH090 Royal Star, 2006
8801-8860: Daewoo BS106, 2006/7
8900: Guilin-Daewoo GDW6126HG
??: Daewoo BM090, 200x
9002-9003: Agrale -Marcopolo Seniot, 2003
5001-5175: Yutong ZK6118HGA, 2009
5176: Yutong ZK6896HGA, 2008
5177-5226: Yutong ZK6896HGA, 2010
5227-5282: Yutong ZK6118HGA, 201x
5284-5285: Yutong ZK6116HGS, 2017
5286-53??: Yutong ZK6118HGA FL, 2017
5501: Yutong ZK6119HA, 2008
5601-56??: Yutong ZK6118HGA
7000: TATA -Marcopolo
7001: King Long XMQ6119G, 2017
7003-7058: King Long XMQ6111SG, 2017/8

trucks/service vehicles