SETCAR
On the following pages SETCAR buses and coaches….just click on the pictures!

SETCAR was founded in 1976 and became Tunisia's second bus builder. In collaboration with Volvo it introduced its own line of buses and coaches. The company has a capacity of 400 buses and coaches per year. It has also exported buses, among others to Senegal and Gambia.

Company website:

www.setcar-group.com

Initially buses were built on the Volvo B57 front engine chassis. A 1977 example shows a more rounded appearance, another the square appearance that, with some modifications, would be built until around 2000. One bus was seen on the front-engine B7-chassis but none are known as a bus on the B10M mid-engine chassis. A (semi)coach was built since the beginning of the 1980's on the mid-engine Volvo B10M chassis. It was used by government-owned SNTRI and also became popular with private operators. The model was built until around 1995. One special high bus of this model was seen. Between around 1992 and 1995 this model was, somehat modified, also built on a Mercedes-Benz OH-chassis. Two older coaches on Mercedes-Benz O303-basis may also have been built by SETCAR.

Volvo B57 xx

Volvo B57 xx

Volvo B7

Volvo B10M

Volvo B10M

Mercedes O303

Mercedes OH

The vast majority of the square model buses were articulated vehicles for the government companies on Volvo B10MA chassis from around 1992 onwards. Around 2000 the model on the B10MA chassis was modernised and built until around 2010. When the European B10MA was not available anymore the Brazilian version was imported. Around 2010 this chassis was replaced by the B12MA, also a mid-engine chassis. The model of the buses was modernised again.

.

Volvo B10MA

Volvo B10MA

Volvo B10MA

Volvo B10MA

Volvo B12MA

.

Volvo recieved many orders from the government companies for articulated buses but standard lenght buses were procured from STIA. Around 2000 SETCAR used the new model as built on articulated buses for a standard bus on the B7R-chassis. Some went to Bizerte and Sousse, with Tunis as the largest customer. It did not become widespread. One high bus with this bodywork model on presumably a B12-chassis.

Airport buses have been built mainly using the modern coach design on B10B-LE, B7R (?) and B10L chassis. The company website also shows a specially designed airport bus.

Volvo B7R

Volvo B7R

Volvo B12?

Volvo B7R?

Volvo B10L

Volvo B10B-LE

Volvo B?

New Volvo chassis became available beginning of the 1990's. At first the rear-engine B12 on which SETCAR built coaches to a new design. A few years later this design was somewhat redesigned and became available on Volvo B6 as a midicoach, Volvo B10M as a mid-engine full-size coach and on Volvo B12, later B7R chassis as a rear-engine coach. The B7R version is still built and is available in several variations. A completely new coach model, the "Sunliner" on B7R-chassis was introduced around 2012.

Volvo B12

Volvo B12

Volvo B6

Volvo B7R

Volvo B7R

Volvo B7R

Volvo B10M (1)

.

.

.

.

.

Volvo B10M (2)

.

.

.

.

.

Volvo B7R
"Sunliner"

.
ICAR, Société les Industries de Carrossage Automobile
Route Monastir sidi Abedlahmid Sousse Z.I Iben khaldoun,  Tunisie
company website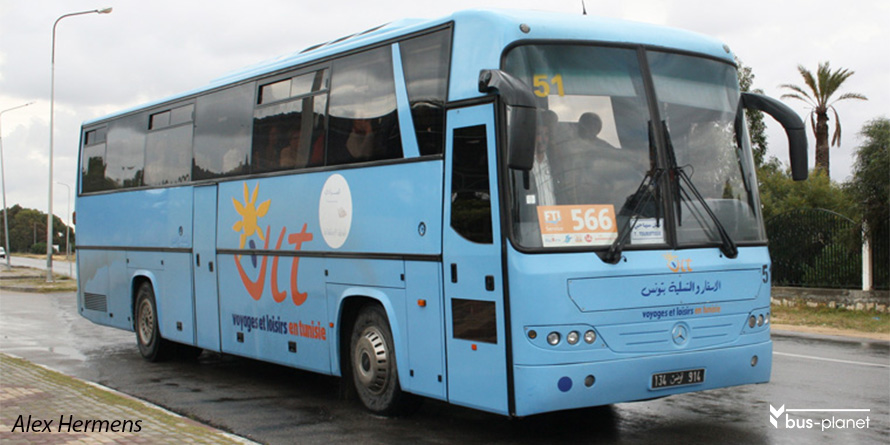 Francais ci-dessous
In 2009 the Tunisian Marbrouk group bought the Société Tunisienne des Industries Automobiles (STIA) from the Tunisian government. Marbrouk invested in the company and changed the name to ICAR (Société les Industries de Carrossage Automobile). Initially STIA models were continued but very soon new bus models were introduced. The factory and headquarters of ICAR are based in Sousse. So far one older STIA coach model on Mercedes-Benz OH chassis has beeen seen badged as ICAR but was modernised in 2013/4. Two new models: a coach on Brazilian Volkswagen Volksbus 18.320 chassis and an articulated bus on Mercedes-Benz O500MA chassis, also from Brazil, were introduced. The site (2014) shows the standard Irisbus coach as built for, for example, SNTRI, as still available though recent acquisitions appear to be on Volkswagen. Also on the site is the Irisbus EuroRider bus as previously built by STIA, but none have been seen so far.
En 2009, le groupe tunisien Marbrouk a racheté la Société tunisienne des industries automobiles (STIA) au gouvernement tunisien. Marbrouk a investi dans l'entreprise et a changé le nom en ICAR (Société les Industries de Carrossage Automobile). Au départ, les modèles STIA ont été maintenus, mais très rapidement de nouveaux modèles de bus ont été introduits. L'usine et le siège d'ICAR sont basés à Sousse. Jusqu'à présent, un ancien modèle d'autocar STIA sur châssis Mercedes-Benz OH a été considéré comme ICAR mais a été modernisé en 2013/4. Deux nouveaux modèles: un autocar sur châssis brésilien Volkswagen Volksbus 18.320 et un bus articulé sur châssis Mercedes-Benz O500MA, également du Brésil, ont été introduits. Le site (2014) montre l'autocar standard Irisbus tel que construit pour, par exemple, SNTRI, comme toujours disponible bien que les acquisitions récentes semblent être sur Volkswagen. Le bus Irisbus EuroRider tel que construit précédemment par STIA est également présent sur le site, mais aucun n'a été vu jusqu'à présent. .