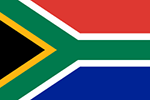 1,219,090 sq km.
Population 55 million
Large cities: Johannesburg, Pretoria, Cape Town, Durban
General information
The site is taking shape with pictures and pages on current and former bus operators.

Our pages for travellers, hobbyists and the bus industry:
Looking for public transport operators in South Africa, with descriptions and links to their webpages? Go to our current operators page! We also provide fleet overviews.
Looking for coaches and coach operators? Go to our current coach operators page!
Interested in the bus history, visit our former operators and special pages

Contributions were made by:
John Veerkamp
Kees van der Zwaard
Carice Both
a Flickr page
Koos Nienhuis
Leo Smallegange
Buses World Wide
Buses WorldWide