Rwanda regional bus services
click on the links in the columns to the right for the individual company pages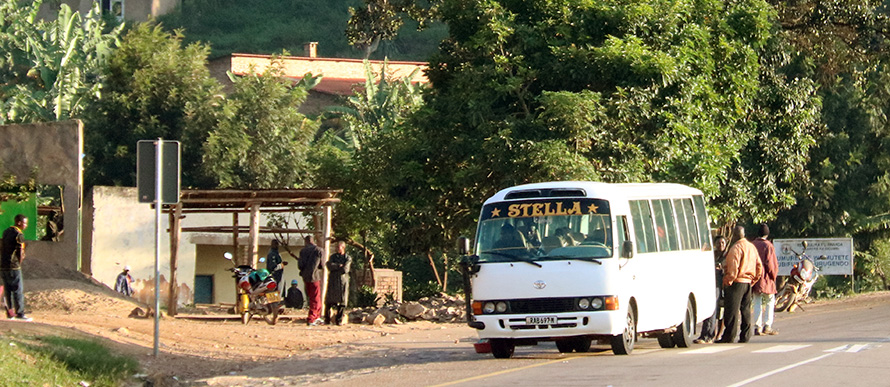 Find here a map of the regional transport corridors.
Find indicative tariff information on the RURA site (under the latest news column on the right).
Current (mid-2016) situation.
Express buses. Rwanda has a good network of regional buses plying the main, surfaced, roads with a variety of companies operating on the different braches. Kigali is the main departure point for almost all services. Virtually all buses used are white Toyota Coaster of the newer model. There are a few exceptions: Impala and Ugusenga use some Ashok-Leyland and Capital has two Yutong they bought from KBS. Every once in a while a secondhand bus shows up, but mostly they last only a very short time…… These services connect the main centers, mostly leave when full but tend to be very frequent. They are not allowed to carry standing passengers and have limited luggage capacity. Bus tickets are sold at the company offices in the bus stations. In Kigali most buses leave from Nyabugogo Taxi Park in the western part of the city, some services to the east leave from Remera Taxi Park. Other towns have bus stations in or near the town center.
Local and rural buses. RFTC is the Rwanda Federation of Transport Cooperatives, representing the four transport cooperatives, and is the successor to ATRACO (Association of Transport Companies), which was dismantled in 2011 because of management problems. RFTC now operates two urban concessions in Kigali using mainly Toyota Coaster and some Toyota Hiace (qv), and operates regional and rural services in addition to the express buses, using Toyota Hiace minibuses. It connects the larger towns with villages along the unsurfaced rural roads. These services stop everywhere along the route and take passengers (18!) plus luggage, also on the roof. They are slower and uncomfortable. As they leave when full getting on one in between the termini can be a challenge. The regional and rural RFTC buses are white with dark green "blocks". The rural buses depart from bus stations in the various towns and villages, where they connect to the express buses. In addition to RFTC a few other companies provide local services.
ONATRACOM was the national bus company. It started in the mid 1970's and at the time operated urban services in Kigali for civil servants and rural services. The company survived and now focused on rural services where no or few other buses came, plus some international services. But finally ONATRACOM buses were large, slow and very basic Isuzu with Kenyan LSHS bodywork, with in addition some Toyota Coaster. A large proportion of the fleet was out of service and most routes were only operated a few times a day. Losses and management problems led to the demise of ONATRACOM and it was liquidated in 2016. ONATRACOM buses were green. A new company in the form of a public-private partnership, RITCO was created and the first buses arrievd mid January 2017, a few months later than teh earlier announced starting date of September 2017.
RITCO. Rwanda Interlink Transport Company Limited (RITCO Ltd) recievd its first 20 buses mid-January 2017, with 30 more arriving soon after. The company is a joint venture between the Government of Rwanda and RFTC. More buses have been ordered (150 and 166 in total have been mentioned). Initially the 57-seater buses will be used on rural services.
Taxis and motorcycles. In the larger towns taxis connect with the bus stations and provide local transport. One can also rent taxis for long trips but this tends to be expensive. Motorcycles provide local transport in towns, villages and in the rural areas, penetrating even the most remote places. All taxis and motorcycles are registred, a helmet is mandatory for driver and passenger on the motorcycles.
Transport is under the responsibility of RURA (Rwanda Utilities Regulatory Authority, established in 2013). RURA issues licenses, sets tariffs and exercises controls. The country has been divided into 8 "corridors":
I: Kigali-Gicumbi
II: Kigali-Kayonza-Nyagatare
III: Kigali-Muhanga-Huye (Butare)-Rusizi
IV: Kigali-Muhanga-Karongi-Ruzizi
V: Kigali-Muhanga-Ngororero-Rubavu
VI: Kigali-Musanze-Rubavu
VII: Kigali-Mwaragana-Ngoma-Rusumo
VIII: Kigali-Bugesera-Zaza.
Find here a map of the corridors.
Tarifs are published on the RURA site (see under latest news in the right colum. The list provided is probably out of date but gives an indication of prices). Mid-2016 the cheapest trip is (according to the RURA site) RWF 200, the most expensive is Kigali-Kamembe with RWF 5,230 (around US$ 6.60).
Historical situation
The government company ONATRACOM started its services mid 1970's with Nissan buses donated by the Japanese government, providing urban (for civil servants) and rural services. After the war in the 1990's the company was rebuilt and continued to operate.
Other services were provided with mainly Japanese mini- and midibuses belonging to cooperatives under the umbrella of ATRACO (since 2011 RFTC). They were called "taxis" and had a licnese number in the form of a T and a number painted on their sides. The private express services mentioned above are a fairly recent phenomenon, which was also driven by the rapid growth of Kigali and some other urban centers in recent years.
Kigali Bus Services only operated regional services between Kigali and Gisenyi/Rubavu via Musanze/Ruhengeri for a short period in 2012/2013, when their urban operations were suspended. After having been awarded the main urban concession in Kigali they discontinued their regional services. In 2014 KBS operated a shuttle service between Kigali Airport and Gisenyi with buses in a dedicated livery but this didn't last long.
In addition to the express companies mentioned above and in the list, some companies have ceased operations, one of them being Okapi.