Rwanda international bus services
Rwanda international bus services
Rwanda has international bus services to Burundi, Uganda, Kenya and Tanzania.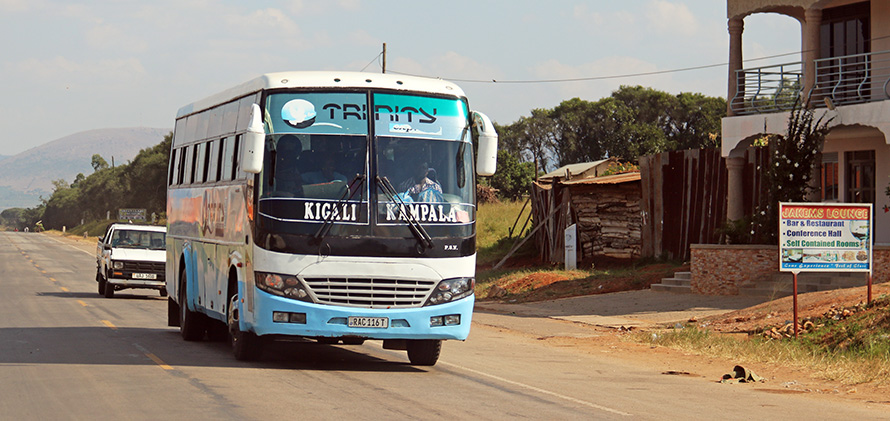 Situation February 2021
Because of border closures and travel restrictions, international services are largely restricted.
Current situation (mid 2016)
Burundi: cross-border international services to Burundi have been (partly) suspended because of the political and security situation in the country. Passengers have to cross the border on foot and take a local bus on the other side of the border. Several companies provided long distance services Bujumbura-Rwanda-Uganda (Horizon Uganda, Gaagaa Coach) and direct services from Bujumbura to Rwanda (Volcano, Belvedere, Yahoo Car Express). It is unclear when these will be re-established.
DR Congo: the two large cities in DR Congo bordering with Rwanda are Bukavu, the capital of South Kivu, and Goma, the capital of North Kivu. There are no cross-border services, all passengers cross on foot and take local transport on the DR side. The exception is (was) a cross-border shuttle (one Congolese midibus) connecting from Bukavu to the daily Rwandair flight Kigali-Kamembe, though this hasn't been observed for some time. However, taxi's are readily available. Buses connect Kamembe to Kigali, with Impala also using large vehicles. Some international services (Trinity) started in Kamembe to go to Kampala via Kigali, but those may not be operational.
The border post at Bugarama in the south-west of Rwanda connects to the Ruzizi plain. The connection from Rwanda is made on foot. Rwandese express (Tripartite) and local (RFTC) midi and minibuses connect Bugarama to Kamembe. Local Congolese minibuses can be taken on the DRC side of the border. One will see many Congolese minibuses in Rwanda between the Kamembe/Bukavu and Bugarama/DRC border posts and the Kamembe/Bukavu –Bugarama/Burundi border posts. These vehicles only cross Rwanda as the road from Bukavu south in DRC is unsurfaced, mountainous and often unsafe.
From Gisenyi, on the border with Goma in DR Congo, there is a number of regular international services going to Kampala in Uganda (Jaguar, Trinity, Gaagaa, Horizon Uganda, Baby Coach). They leave from a rather disorganized bus station at the border post called "petite barrière". They cross the border to Uganda between Musanze and Kisoro and then continue to Kampala via the recently upgraded Kabale and Mbararara route. The trip takes some 10 hours.
Tanzania: There are currently no direct buses to Dar-es-Salaam from Kigali. The services provided by Taqwa (Tanzania) and Trinity (Rwanda) have been suspended, though Trinity plans to re-open the service soon. To cross the border at Rusomo Falls one needs to take a midibus from Kigali (Matunda), and take another local bus on the Tanzanian side of the border. Alternatively one can take a bus to Nairobi and take one of the regular coaches to Dar-es-Salaam there.
Uganda and Kenya: Coach services to Uganda and Kenya are provided by several long distance companies. The services from Gisenyi to Kampala via Musanze and Kisoro have been mentioned above. Most coaches from Kigali for Kampala cross the border at Gatuna and continue via Kabale to Kampala or further to Nairobi, though some coaches use the border at Kagitumba in the north-east of Rwanda. With the opening of the one-stop border post in Kagitumba and the paving of the remaining stretch of 37 km of road on the Uganda side of the border use of the Kagitumba border post is expected to increase. The trip takes 7-10 hours. The companies providing the services have been changing over the years though Jaguar from Uganda has been there a long time and still is the largest foreign company. Trinity Express from Rwanda has been expanding rapidly since 2013. Other companies are Gaagaa Coach, Horizon Uganda and Baby Coach from Uganda, and Kampala Coach, Simba, Mash Poa and Modern Coast from Kenya. The latter two are recent additions. Beginning of 2016 Volcano from Rwanda started operating the service with new Hyundai coaches. Several companies have their own websites/facebook pages which are given in the company pages. All buses to Uganda leave from Nyabogogu bus station in Kigali or from the DRC border post in Gisenyi/Rubavu.
Though sometimes tickets can be booked online this mostly is difficult. Best is to go to the company offices in Nyabogugo bus station in Kigali or to the respective offices in Dar-es-Salaam, Kampala, Nairobi or Bujumbura a day in advance and buy the tickets. As services, especially to Kampala, are frequent, this should pose no problem.
The coaches used are built on Nissan or Isuzu chassis assembled in Kenya or Scania chassis assembled in Tanzania with coachwork by Kenyan manufacturers Choda Fabricators, LSHS, KCI, KVM, Banbros and Master Coach Builders. Only Trinity employs imported Yutong coaches and Volcano uses Hyundai coaches. Except for the Hyundai all coaches are front engined, high floor with ample luggage space and have high-backed luxury seats. Seating is mostly 2+3 though some companies offer luxury services with 2+2 seating. Music and video's come free, snacks and soft drinks are mostly provided. The Burundi cross-border services by Volcano, Yahoo and the like are not considered long-distance services and the standard Toyota Coaster is used.
Historical
On May 17, 2004, ONATRACOM, Rwanda's national bus company, started the international service to Kampala. At the time the other companies on this route were Jaguar Express, Regional Coach Services and Gaso Transport Services. ONATRACOM used, especially the past years, very basic and rather run-down vehicles, though at lower prices than the private coaches. These services have been currently suspended while the company is restructured. OTRACO, Burundi's national bus company, provided direct services from Bujumbura via Kigali to Kampala, but these too have been suspended. Several private companies have been operating coaches on the Kigali-Kampala route, for example Bahama Blessings and Kigali Bus Services, but those have been discontinued.