Kigali Bus Services, Rwanda
KBS News.
Read full text
End of July 2016 a new hourly airport shuttle was inaugurated in Kigali. The seven remaining Yutong ZK6741HGA9 are available for this service.
Close
Kigali Bus Services
Kigali, Rwanda
company webpage        facebook page           map of bus routes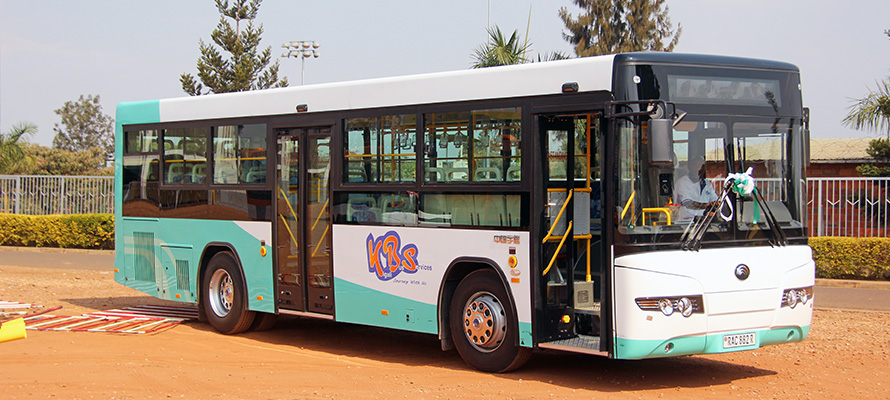 KBS was established in 2006 as an urban transport company, intending to modernize public transport in the capital Kigali which had been suffering from a minibus-based system with privately owned (organized in cooperatives) vehicles competing heavily for passengers during rush hours but with very much reduced services in between and on less interesting routes.
KBS bought a few secondhand large buses and some Toyota Coasters and started trial services. Those were satisfactory and in 2011, after the government had announced its intention to modernize city transport, a batch of 20 new Zonda city buses was bought from China, followed by 20 Yutong city buses in 2012.  However, there was quite some opposition from the vested interests of the cooperatives and there were operational difficulties caused by the competing (small) vehicles and even by police who did not allow large buses to stop at the designated bus stops.
KBS withdrew from the urban services, waiting for further decisions, and used its buses on the regional service to Rubavu/Gisenyi via Musanze, with a few old secondhand Hino's providing some services around Rubavu. 10 New 9 meter Yutong coaches were bought in 2012 and used on the regional service. They were more comfortable than the city buses and had an underfloor luggage compartment. One was unfortunately written-off after it overturned.
This situation lasted until the new urban system in Kigali was launched in August 2013, in which KBS had won the tender for zone 1. KBS started the services in Zone 1 with the existing fleet of Zonda and Yutong city buses, Toyota Coaster minibuses which were owned and rented, and a few rented large buses.
The nine coaches were not suited for the urban services. Two were sold to Capital who uses them on regional services. One was used on an unsuccessful airport shuttle between Gisenyi and Kigali Airport and an international service to Kampala was operated for a short while, for which the small buses were not well suited either. Some were let to Impala Express for services to the south of the country, but most if not all were let to Belvedere Lines who used them in a fully white livery for various contracted services, among others for the UN. New employment was found for the seven vehicles in July 2016, when an hourly airport shuttle service in Kigali was opened.
In 2014 30 more Yutong city buses were added, in two batches, bringing the fleet of large city buses to 70 though many Zonda buses were (temporarily) out of service. Beginning of 2015, 25 more city buses were added, but of a smaller model. In addition some Toyota Coaster are still employed.
KBS started using smart cards in 2011 from TaptoPay in Hong Kong but these have now been replaced by the new Tap & Go cards from AC Group, a Rwandan company. KBS also lead the way in installing Wi-Fi in its buses.