Société des Transports Abidjanais
Period 2016-current
company website    company facebook page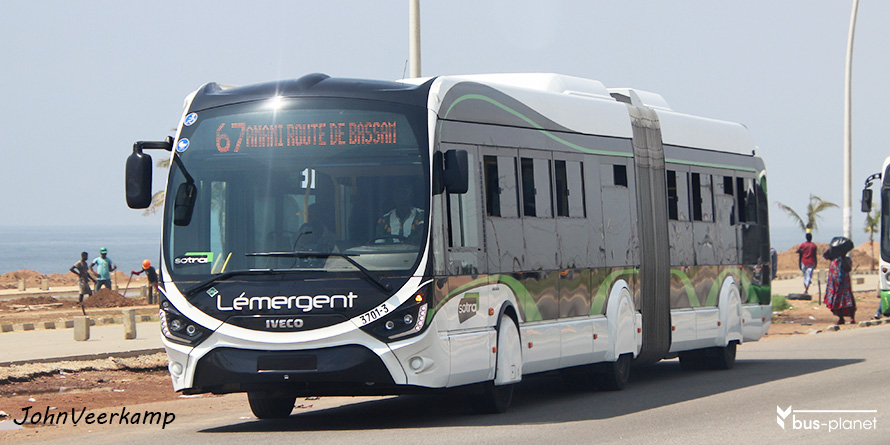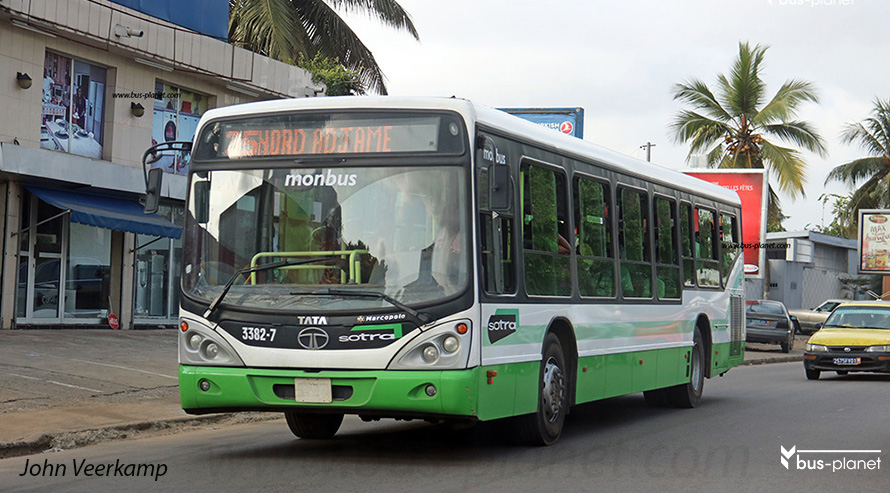 On 10 December 2019 SOTRA signed an agreement with Sweden for the delivery of 500 Scania buses (probably 400 12-meter and 50 articulated). See SOTRA message.
Le 10 décembre 2019, SOTRA a signé un accord avec la Suède pour la livraison de 500 bus Scania (probablement 400 de 12 mètres et 50 articulés). Voir le message SOTRA.

On 26 November 2019 a financing agreement with the Belgian KBC Bank for 100 Million Euro was signed, which will be used for the acquisition of the third batch of 500 IVECO buses.
Le 26 novembre 2019, un accord de financement d'un montant de 100 millions d'euros a été signé avec la Banque belge KBC, qui servira à l'acquisition du troisième lot de 500 bus IVECO.
On 13 December 2018 the new IVECO Crealis CNG buses were presented, see message.
Le 13 décembre 2018, les nouveaux bus IVECO Crealis GNC ont été présentés, voir le message.

End of January 2018 SOTRA signed a contract with IVECO for the delivery of 400 IVECO Crossway LE buses and 50 IVECO Crealis CNG BRT buses, further modernising the fleet and bringing the total of new buses acquired since the end of 2015 to over 1,100. The first batch of 20 new IVECO Crossway LE arrived in country on 12th August 2018 (click for news article).
Fin janvier 2018, SOTRA a signé avec IVECO un contrat portant sur la livraison de 400 bus IVECO Crossway LE et de 50 bus IVECO Crealis CNG BRT, ce qui a permis de moderniser le parc et de porter à plus de 1 100 le nombre total d'autobus neufs acquis depuis fin 2015. Le premier lot de 20 nouveaux IVECO Crossway LE est arrivé dans le pays le 12 août 2018 (cliquez pour l'article de presse).
On 3 August 2018 the start of the new assembly line of SOTRA for IVECO minibuses was given. The first bus will leave the assembly line within six months. Annual production will be 500 vehicles (see news article)
Le 3 août 2018, le lancement de la nouvelle chaîne de montage de SOTRA pour minibus IVECO a été annoncé. Le premier bus quittera la chaîne de montage d'ici six mois. La production annuelle sera de 500 véhicules (voir article de presse)
————–
Version française ci-dessous.
The secondhand Den Oudsten Alliance, Berkhof Ambassador and Volvo buses from the Netherlands that were bought to modernise the fleet, did not last long. Lack of spare parts, maintenance problems and the unsuitability of buses for the local conditions, and their age made that the fleet rapidly deteriorated and more and more services were suspended.  The Express services were cancelled alltogether.
SOTRA then embarked on a program of fleet renewal with new buses, aiming at a fleet of 2500 new buses by 2020. A first batch of 25 (23 were announced) Irisbus Crossway LE arrived in September 2015 and entered service in November 2015. Numbers noted are 2872…2893 (series 2872-2896?).
In December 2015 a protoype TATA -Marcopolo city bus was presented in Abidjan. Contrary to the TATA's delivered in 2017, this bus sported the overall green livery as used on the Den Oudsten Express buses.
On 17 March 2016 a fleet of 127 new buses was presented (given numbers noted it appears only 26 Irisbus entered service), consisting of:
-71 Hyundai County for the new Wibus local network in Cocody (numbers noted 2902…2967, series 2897-2967?)
-2 Hyundai County VIP buses, numbered 2968-2969;
-50 Irisbus Crossway LE (numbers noted 2970…2989, series 2970-2995?)
-4 Hyundai Universe Express Luxury coaches, numbered 2996-2999.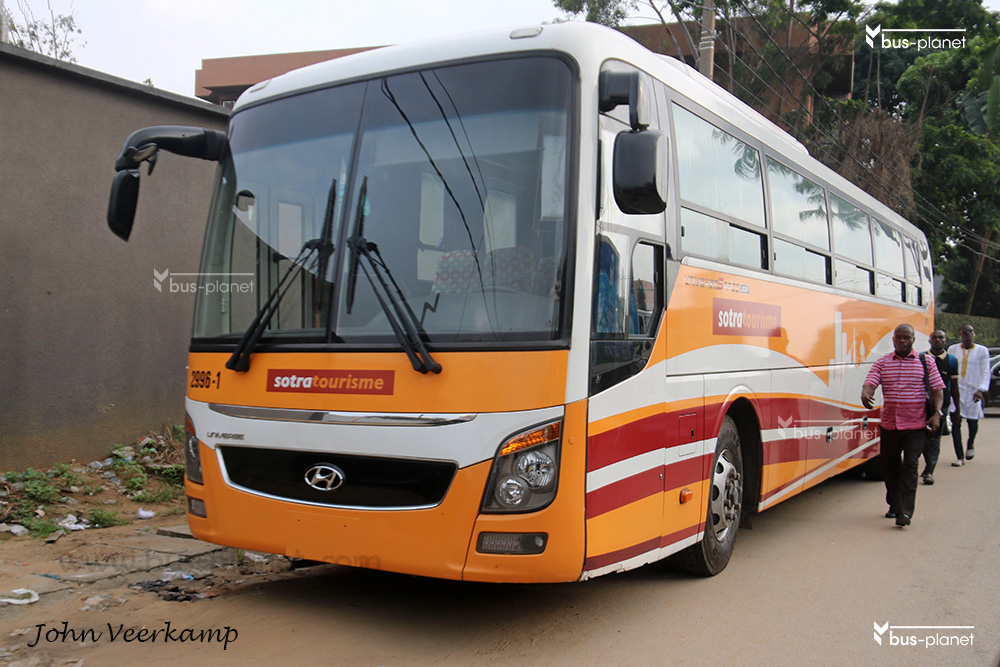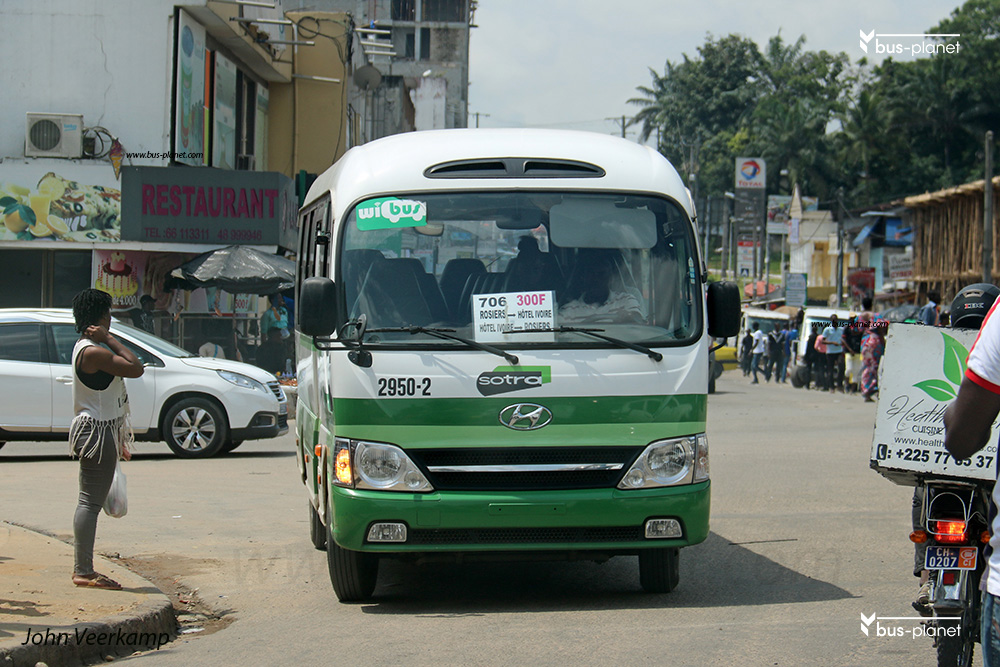 A contract with TATA was signed for the delivery of 500 new buses. The first batch arrived 29 March 2017 and consisted of 117 buses. That numbering started with 3000 is probably a mere coincidence as SOTRA numbers all buses in one series (3000-3116?). A second batch of 40 buses arrived 27 April 2017 (3117-3156?), a third batch of 50 buses came 8 June 2017 (3157-3206?), the fourth batch of 93 buses and 6 service vehicles came 1 July 2017 (3207-3299?), the fifth batch arrived 18 July 2017 and consisted of 12 large (3300-3311?, seen 3307, ..) and 13 midibuses (3312-3324?, seen 3322, ), the sixth batch would have been 21 vehicles (3325-3345?), the seventh delivery arrived 1 August: 94 buses, of which 11 (seen 3410, 3412) Express and 83 Monbus (3346-3439?) and the last batch arrived on 13 August 2017 and consisted of 60 buses (3440-3499?), of which 49 Express (seen 3451, 3456, 3462).
Another batch of around 20 buses arrived somewhere in October 2017 and consisted of small and large TATA buses with air-conditioning and in a blue and white livery. These vehicles are used for contracted services for (among others?) the Société Ivorienne de Raffinage (the Ivorian Oil Refinery Company). Numbers noted are 3500-3517. The midibuses delivered earlier (3322 and others) are also in the blue-white livery.
None of the old buses appears to be still in regular service by mid 2017 and the garages noted were cleaned with wrecks gone and just a few old buses present, though out of service. Sme Berkhof Ambassador are used daily for driver training and personnel transport. One Den Oudsten and a TATA were also used for these services. 
By the end of 2017 SOTRA has a fleet of some 650 new buses. Normal services have green-white buses, express services purple-white vehicles and the SIR contracted services have blue-white vehicles. The Wibus Hyundai buses are in a different green-white livery.
The Express services operated by the secondhand Den Oudsten buses had been suspended because of a lack of operational vehicles. With the arrival of the new TATA Express buses in September 2017, Express services were re-instated. The Wibus system with Hyundai County buses operates in Cocody municipality. Express and Wibus buses only carry seated passengers and have outlets to charge mobile phones. The Wibus buses also have Wifi on board. The Wibus system was inaugurated in April 2016.
————————————-

Les bus d'occasion Den Oudsten Alliance, Berkhof Ambassador et Volvo, achetés pour moderniser le parc, n'ont pas duré longtemps. Le manque de pièces de rechange, les problèmes de maintenance et l'inadéquation des bus aux conditions locales ont rendu la flotte rapidement dégradée et de plus en plus de services suspendus. Les services Express ont été totalement annulés.
La SOTRA s'est ensuite lancée dans un programme de renouvellement de la flotte avec de nouveaux bus, visant une flotte de 2 500 nouveaux bus d'ici 2020. Un premier lot de 25 (23 annoncés) Irisbus Crossway LE est arrivé en septembre 2015 et est entré en service en novembre 2015. Les numéros relevés sont 2872… 2893 (séries 2872-2896?).
En décembre 2015, un prototype d'autobus urbain TATA-Marcopolo a été présenté à Abidjan. Contrairement aux TATA livrés en 2017, ce bus arborait l'ensemble de la livrée verte utilisée dans les bus Den Oudsten Express.
Le 17 mars 2016, une flotte de 127 nouveaux bus a été présentée (d'après les numéros notés, seulement 26 Irisbus sont entrés en service), consistant en:
-71 Hyundai County pour le nouveau réseau local Wibus à Cocody (numéros notés 2902… 2967, séries 2897-2967?)
-2 bus VIP du comté de Hyundai County, numérotés 2968-2969;
-50 Irisbus Crossway LE (numéros notés 2970… 2989, séries 2970-2995?)
-4 autocars Hyundai Universe Express Luxury numérotés 2996-2999.
Un contrat avec TATA a été signé pour la livraison de 500 nouveaux bus. Le premier lot est arrivé le 29 mars 2017 et était composé de 117 bus. Cette numérotation commencée par 3000 est probablement une simple coïncidence puisque la SOTRA numérote tous les bus d'une même série (3000-3116?). Un deuxième lot de 40 autobus est arrivé le 27 avril 2017 (3117-3156?), Un troisième lot de 50 autobus est arrivé le 8 juin 2017 (3157-3206?), Le quatrième lot de 93 autobus et 6 véhicules de service est arrivé le 1 er juillet 2017 (3207 -3299?), Le cinquième lot est arrivé le 18 juillet 2017 et était composé de 12 grands (3300-3311 ?, vus 3307, ..) et de 13 midibus (3312-3324?, Vus 3322,), le sixième lot aurait été 21 véhicules (3325-3345?), la septième livraison est arrivée le 1er août: 94 bus, dont 11 (vus 3410, 3412) Express et 83 Monbus (3346-3439?) et le dernier lot arrivé le 13 août 2017 et composé de 60 autobus (3440-3499?), dont 49 Express (vu 3451, 3456, 3462).
Une autre série d'environ 20 bus est arrivée quelque part en octobre 2017 et était composée de petits et de grands bus TATA avec climatisation et livrés bleu et blanc. Ces véhicules sont utilisés pour des services contractuels (entre autres?) pour la Société Ivorienne de Raffinage (SIR). Les numéros notés sont 3500-3517. Les midibus livrés plus tôt (3322 et autres) sont également en livrée bleu-blanc.
Aucun des anciens bus ne semble être encore en service à la mi-2017 et les garages ont été nettoyés, les épaves ont disparu et seuls quelques anciens bus sont présents, bien que hors service. Quelques Berkhof Ambassasor sont utilisés quotidiennement pour la formation des conducteurs et le transport de personnel. Un Den Oudsten et un TATA ont également été utilisés pour ces services.
À la fin de 2017, la SOTRA dispose d'un parc de quelque 650 nouveaux autobus. Les services normaux comprennent les bus vert-blanc, les services express les véhicules violet-blanc et les services sous-traités du SIR les véhicules bleu-blanc. Les bus Wibus Hyundai sont dans une autre livrée vert-blanc.
Les services Express assurés par les bus d'occasion Den Oudsten avaient été suspendus en raison du manque de véhicules opérationnels. Avec l'arrivée des nouveaux bus TATA Express en septembre 2017, les services Express ont été rétablis. Le système Wibus avec les bus Hyundai County fonctionne dans la municipalité de Cocody. Les bus Express et Wibus ne transportent que des passagers assis et disposent de points de vente permettant de recharger les téléphones mobiles. Les bus Wibus ont aussi le Wifi à bord. Le système Wibus a été inauguré en avril 2016.