Société des Transports Abidjanais
Period 2016-current
period 1994-2015    company website    company facebook page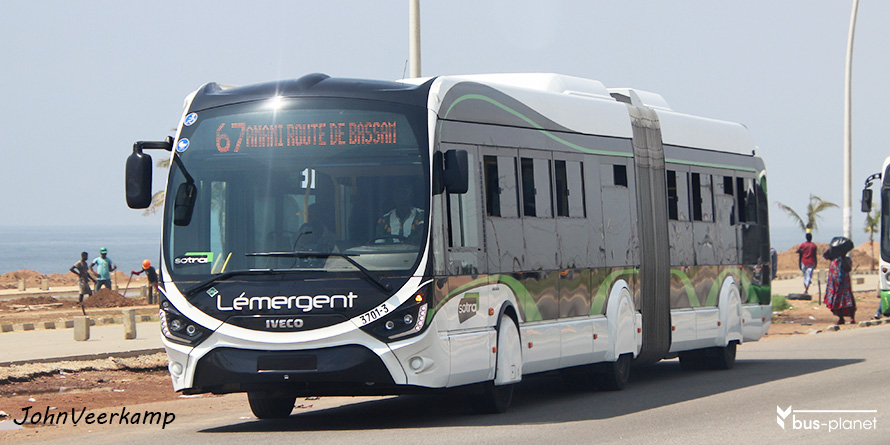 (pour le français voir ci-dessous)
After a very difficult period due to economic problems and the civil war, SOTRA started by the end of 2015 a new phase in its history. During the period 2015-2021 over 1500 new buses were acquired, with around 1200 in regular service. The old fleet of secondhand vehicles was completely withdrawn by 2017, with the exception of a few training vehicles that stayed a bit longer. Garages and workshops were cleaned, wrecks removed, maintenance equipment was renewed and personnel trained. By 2020 SOTRA had become a modern company with a generally well-maintained fleet. New routes have been added and an electronic ticketing system has been introduced.
SOTRA's main operational challenge remains traffic with the daily traffic jams and a limited number of free busways (which are not always respected). The development of an urban rail line largely on existing tracks does not advance. However, a BRT system should be operational by 2023 and some large infrastructure works (especially the "fourth bridge") should help to eliminate some major bottlenecks. The new buses for the BRT system will be Scania -Marcopolo. See this article or click on the picture below. For a second article click here.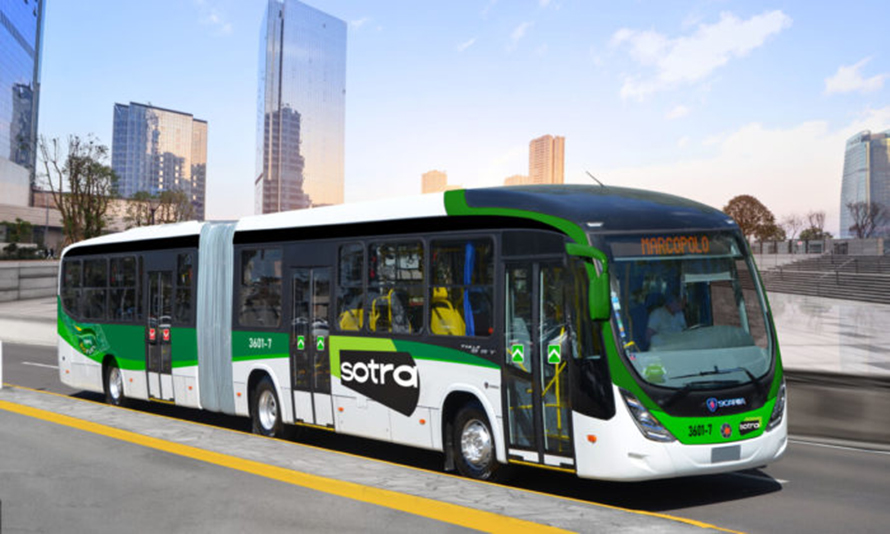 By mid-2021 the fleet consist of (information from observations and press releases):
2872-2896: (2015) 25 Irisbus Crossway LE (apparently out of service or used as driver training vehicles).
2897-2967: (2016) 71 Hyundai County midibuses used on "Wibus" services in the Cocody commune. They carry only seated passengers and have air-condition and Wifi (though it seems with years going by airconditioning and Wifi stopped working on many buses).
2968-2969: (2016) 2 Hyundai County midibuses used for private hire.
2970-2991, 2993-2995: (2016) 25 Irisbus Crossway LE (apparently out of service or used for driver training).
2992: (2015) TATA Starbus –Marcopolo, the prototype for the TATA fleet, not used in regular service. It was presented in December 2015 but numbered only later. The livery is the old allover green Express livery.
2996-2999: (2016) 4 Hyundai Universe Express coaches for SOTRA Tourisme.
3000-3538: (2017) 539 TATA Starbus –Marcopolo. There are green-white buses for regular Monbus services, purple-white buses for Express services (no standing passengers) and blue-white airconditioned buses for contract services for the refinery. Among the latter are some 40 smaller buses. The contract buses are used on a route network for workers of the SIR refinery in Vridi. The Express buses are used on 200-series Express routes which can be found all over the city.
3539-3999, 10000-10438?: (2018-2021), 800 IVECO Crossway LE for Monbus regular services and 100 IVECO Crealis CNG "Lémergent". The Crealis were presented on 18 December 2018. They were employed on route 67 but were withdrawn from service beginning of 2020. By May 2021 they started reappearing on routes starting at Plateau.
8600-8609: 10 Irisbus Magelys Pro (secondhand) in 2019/2020 for SOTRA Tourisme. 8608 is a three-axle, long vehicle.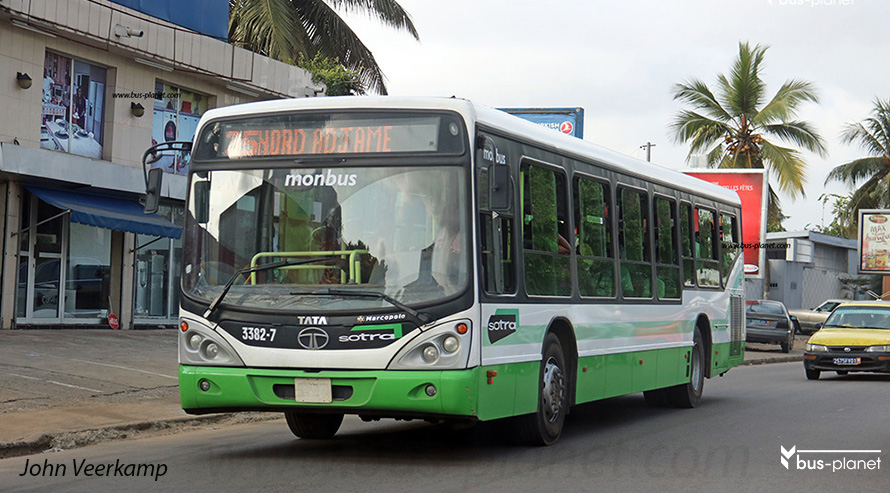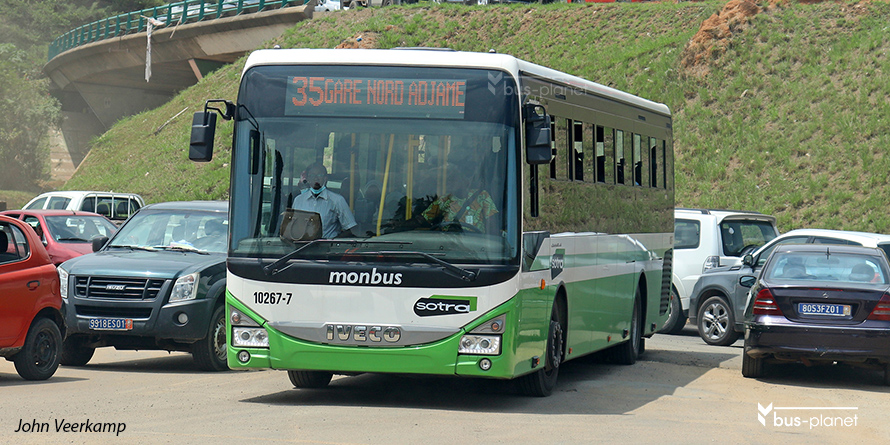 From the start of its services in 1961, SOTRA numbered its new buses in one single series, apparently starting with 1. Buses are numbered in chronological order, not by series. The IVECO Crealis are thus completely mixed within the IVECO Crossway series. The numbers 2872-2886 of the first Irisbus Crossway LE buses continued the numbering of the last batch of newly acquired buses in 2010, 2807-2871, Mercedes-Benz O457-Irankhodro.  When the 3000-series was full, a new series was started with number 10000. Service vehicles are numbered in the 19000-series.
On 26 November 2019, a financing agreement with the Belgian KBC Bank for 100 Million Euro was signed, which will be used for the acquisition of the third batch of 500 IVECO buses (which would probably be 400 Crossway LE and 50 Crealis CNG again). However, there is no sign of these buses being delivered and even the second series is not fully complete by June 2021.
On 10 December 2019, SOTRA signed an agreement with Sweden for the delivery of 500 Scania buses (in reality 400 12-meter and 50 articulated vehicles). This was supposed to be the fourth batch of "500" buses. See SOTRA message. In the meantime the strategy seems to have developed and the Scania buses will be introduced as part of a new BRT network.
SOTRA also operates some 20 boats (bateau-bus) that ply the lagune. It has four "Gares lagunaires": Abobodoumé, Treichville, Plateau and Blockhaus. Private competition on the ferry services was introduced in 2019, and two private companies (STL and Aqualines) now also provide ferry services to other destinations with modern and faster ships.
SOTRA has some 120 bus routes, two large bus stations (Plateau Sud and Adjamé Nord) and nine smaller ones. There are seven bus "departments" with garage and workshop. These are numbered and the number of the department to which a bus is assigned is added to the fleet number (i.e. 2982-5 is bus number 2982 assigned to department 2. In addition, the number 1 is assigned to SOTRA Tourisme vehicles. Department 6 is also the SOTRA headquarters. There is no department 4 (anymore).
SOTRA also has an industrial center, which previously produced buses and now is building IVECO minibuses. On 3 August 2018 the start of the new assembly line of SOTRA for IVECO minibuses was given. The first bus will leave the assembly line within six months. Annual production will be 500 vehicles (see news article).
SOTRA has its own training center (Institut SOTRA) and seven health centers. Communication is through the website (not updated and not functioning well) and facebook page.
---
Après une période très difficile due aux problèmes économiques et à la guerre civile, la SOTRA a entamé fin 2015 une nouvelle phase de son histoire. Au cours de la période 2015-2021, plus de 1500 nouveaux bus ont été acquis, dont environ 1200 en service régulier. L'ancienne flotte de véhicules d'occasion a été complètement retirée d'ici 2017, à l'exception de quelques véhicules d'entraînement qui sont restés un peu plus longtemps. Les garages et ateliers ont été nettoyés, les épaves enlevées, le matériel de maintenance renouvelé et le personnel formé. En 2020, la SOTRA était devenue une entreprise moderne avec une flotte généralement bien entretenue. De nouveaux itinéraires ont été ajoutés et un système de billetterie électronique a été introduit.
Le principal défi opérationnel de la SOTRA reste la circulation avec les embouteillages quotidiens et un nombre limité de voies réservées (qui ne sont pas toujours respectées). Le développement d'une voie ferrée urbaine en grande partie sur des voies existantes n'avance pas. Cependant, un système BRT devrait être opérationnel d'ici 2023 et quelques grands travaux d'infrastructure (notamment le « quatrième pont ») devraient permettre d'éliminer certains goulots d'étranglement importants. Les nouveaux bus du système BRT seront Scania-Marcopolo. Consultez cet article ou cliquez sur l'image ci-dessus dus bus Scania.

À la mi-2021, la flotte se compose de (informations provenant d'observations et de communiqués de presse):
2872-2896 : (2015) 25 Irisbus Crossway LE (apparemment hors service ou utilisé comme véhicule de formation à la conduite)
2897-2967 : (2016) 71 midibus Hyundai utilisés sur les services « Wibus » dans la commune de Cocody. Ils ne transportent que des passagers assis et disposent de la climatisation et du Wifi (bien qu'il semble qu'avec des années, la climatisation et le Wifi aient cessé de fonctionner dans de nombreux bus).
2968-2969 : (2016) 2 midibus Hyundai County utilisés pour la location privée.
2970-2991, 2993-2995 : (2016) 25 Irisbus Crossway LE (apparemment hors service ou utilisé pour la formation des conducteurs)
2992 : (2015) TATA Starbus – Marcopolo, le prototype de la flotte TATA, non utilisé en service régulier. Il a été présenté en décembre 2015 mais n'a été numéroté que plus tard. La livrée est l'ancienne livrée verte Express.
2996-2999 : (2016) 4 autocars Hyundai Universe Space Luxury pour la SOTRA Tourisme.
3000-3538 : (2017) 539 TATA Starbus – Marcopolo. Il existe des bus vert-blanc pour les services réguliers Monbus, des bus violet-blanc pour les services Express (pas de passagers debout) et des bus bleu-blanc climatisés pour les services contractuels de la raffinerie. Parmi ces derniers figurent une quarantaine de bus plus petits. Les bus contractuels sont utilisés sur un réseau de routes pour les travailleurs de la raffinerie SIR à Vridi. Les bus Express sont utilisés sur les lignes Express de la série 200 qui peuvent être trouvées dans toute la ville.
3539-3999, 10000-10438? : (2018-2021), 800 IVECO Crossway LE pour les services réguliers Monbus et 100 IVECO Crealis CNG « Lémergent ». Les Crealis ont été présentés le 18 décembre 2018. Ils étaient employés sur la ligne 67 mais ont été retirés du service début 2020. En mai 2021, ils ont commencé à réapparaître sur les lignes commençant au Plateau.
8600-8609 : 10 Irisbus Magelys Pro (occasion) en 2019/2020 pour la SOTRA Tourisme. 8608 est un véhicule long à trois essieux.
Depuis le début de ses services en 1961, la SOTRA a numéroté ses nouveaux bus en une seule série, commençant apparemment par 1. Les bus sont numérotés par ordre chronologique et non par série. Les IVECO Crealis sont donc complètement mélangés au sein de la série IVECO Crossway. Les numéros 2872-2886 des premiers bus Irisbus Crossway LE ont continué la numérotation du dernier lot de bus nouvellement acquis en 2010, 2807-2871, Mercedes-Benz O457-Irankhodro. Lorsque la série 3000 était pleine, une nouvelle série a été lancée avec le numéro 10000. Les véhicules de service sont numérotés dans la série 19000.
Le 26 novembre 2019, un accord de financement avec la banque belge KBC pour 100 millions d'euros a été signé, qui sera utilisé pour l'acquisition du troisième lot de 500 bus IVECO (qui seraient probablement à nouveau 400 Crossway LE et 50 Crealis CNG). Cependant, il n'y a aucun signe de livraison de ces bus et même la deuxième série n'est pas entièrement terminée d'ici juin 2021.
Le 10 décembre 2019, la SOTRA a signé un accord avec la Suède pour la livraison de 500 bus Scania (en réalité 400 véhicules de 12 mètres et 50 articulés). Ce devait être le quatrième lot de « 500 » bus. Voir le message SOTRA. Entre-temps, la stratégie semble s'être développée et les bus Scania seront introduits dans le cadre d'un nouveau réseau BRT.
La SOTRA exploite également une vingtaine de bateaux (bateau-bus) qui sillonnent la lagune. Elle compte quatre « Gares lagunaires » : Abobodoumé, Treichville, Plateau et Blockhauss. La concurrence privée sur les services de ferry a été introduite en 2019, et deux sociétés privées (STL et Aqualines) fournissent désormais également des services de ferry vers d'autres destinations avec des navires modernes et plus rapides.
La SOTRA compte quelque 120 lignes de bus, deux grandes gares routières (Plateau Sud et Adjamé Nord) et neuf plus petites. Il y a sept "départements" de bus avec garage et atelier. Ceux-ci sont numérotés et le numéro du département auquel un bus est affecté est ajouté au numéro de flotte (p.e. 2982-5 est le numéro de bus 2982 affecté au département 2). De plus, le numéro 1 est attribué aux véhicules de la SOTRA Tourisme. Le département 6 est également le siège de la SOTRA. Il n'y a pas de département 4.
La SOTRA dispose également d'un centre industriel, qui produisait auparavant des bus et construit maintenant des minibus IVECO.Le 3 août 2018, le démarrage de la nouvelle ligne d'assemblage de la SOTRA pour les minibus IVECO a été donné.Le premier bus quittera la chaîne de montage dans les six mois.La production annuelle sera de 500 véhicules (voir article de presse).
La SOTRA possède son propre centre de formation (Institut SOTRA) et sept centres de santé. La communication se fait via le site Web (non mis à jour et ne fonctionnant pas bien) et la page facebook.