to return to the African bus builders page, click here.
Thelen SA (Mistral, Jetcar)
Boulevard Antanarivo, Abidjan, Côte d'Ivoire
company website

Thelen SA started in Abidjan, Ivory Coast, in 1998. The company builds, maintains and repairs truck and bus bodies and represents various brands, among others Ashok-Leyland and Thermo-King.
The company offers three sizes of buses, with 34, 44 amd 65 seats, built on a variety of chassis. The brand "Mistral" is used for normal vehicles, te brand name "Jetcar" for large, air-conditioned buses. The capacity is around 40 bus bodies per year. Clients are the large local regional companies, with some export in the West African region.
Thelen produces its own fiberglass molds and seats and has a modern spray booth. Buses are built for durability in the rough operating environment of Ivory Coast.
————————————————
Thelen SA a débuté ses activités à Abidjan, en Côte d'Ivoire, en 1998. La société construit, entretient et répare des carrosseries de camions et d'autobus et représente diverses marques, notamment Ashok-Leyland et Thermo-King.
La société propose des autobus de trois tailles, avec 34, 44 et 65 sièges, construits sur une variété de châssis. La marque "Mistral" est utilisée pour les véhicules normaux, la marque "Jetcar" pour les grands autobus climatisés. La capacité est d'environ 40 caisses de bus par an. Les clients sont les grandes entreprises régionales, avec certaines exportations dans la région ouest africaine.
Thelen fabrique ses propres moules en fibre de verre  et sièges et dispose d'une cabine de peinture moderne. Les autobus sont construits pour durer dans l'environnement opérationel difficile de la Côte d'Ivoire.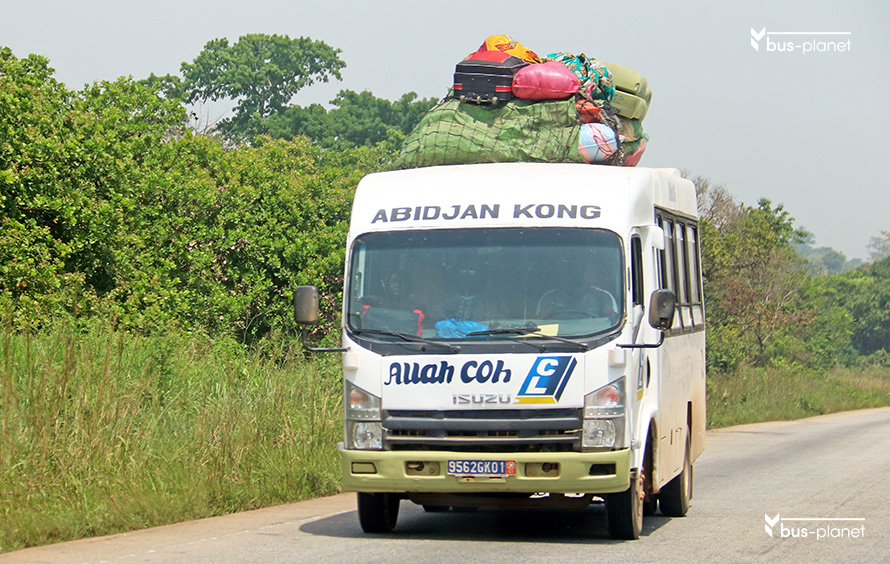 Click on links to go to picture pages
Shacman -Jetcar
Renault -Jetcar
MAZ -Jetcar
DAF CF -Jetcar
DAF TB2175 -Jetcar
Isuzu -Jetcar
Mercedes-Benz  -Jetcar
JAC -Jetcar
Isuzu -Mustral
Mitsubishi -Mistral
Hyundai -Mistral
Ashok-Leyland -Mistral