Go George website:
http://www.gogeorge.org.za/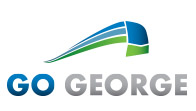 Go George is an example of the revival of organised public bus transport in South Africa. The municipality decided that improvements to the taxi system were needed in order to provide proper services to its citizens. A thorough process led to the establishment of Go George in which the taxi owners play a major role. The service was inaugurated on December 14, 2014 and will be gradually expended. The initial fleet consists of some 18 Mercedes-Benz O500U buses with Busmark 2000 bodywork. With the expansion midi- and minibuses will be added.
There are currently (beginning of 2015, Phase 1) four routes, all within the city of George. The network will be expanded in 6 phases. In addition there will be "inter-town" routes to Oudtshoorn, Mossel Bay and Knysna. Routes start at the bus station at Cradock CBD.

The company website gives ample information on the company, its services, routes and tariffs.