CLICK ON THE PICTURES TO GO TO THE SUBPAGES

A city bus service is provided in Addis Ababa by the government controlled Anbassa City Bus Services Enterprise ACBSE. ACBSE was created in July 1994 and was one of three successors to the Ethiopian Public Transport Company PTC (presumably part of the National Road Transport Corporation - General Ethiopian Transport, GET). The other successors were Waliya Intercity Bus Service Enterprises, providing intercity bus services, and Abbay Tecnical Enterprises for mintenance and repair services. "ANBASSA" is the Amharic word for "Lion", the national symbol. The logo on the buses and tickets is a lion encircled by the word "Anbassa" in Latin script and "Lion" in Amharic script! Bus tickets have amharic and english text, but the english only sayd "Addis Ababa City Buses" or "Addis Ababa Surrounding".
ANBASSA: Addis Ababa city buses fleet list
Mercedes-Benz O321
Mannheimer?
withdrawn
521 (106 buses)
Ikarus 260
Ikarus
1975-1978, withdrawn
8xx-8xx
FIAT 331A
Borsani
seen 836...845, withdrawn
872
MAN 16.240
?Van Hool
withdrawn
875, 877
Mercedes-Benz OF
Ethiobus-Asmara
withdrawn
201-2xx
Volvo B7F
Borsani
seen 202...248, withdrawn
251-275
Mercedes-Benz OF1621
Jonckheere
276-2xx
Mercedes-Benz OF1621
Jonckheere
highest nr seen 288
5001-5xxx
Mercedes-Benz OF1621
Jonckheere
highest nr seen 5056, ca 1986
5061-5xxx
Mercedes-Benz OF1621
Jonckheere
highest nr seen 5097
6001-6xxx
Mercedes-Benz OF1621
Jonckheere
highest nr seen 6020
200
DAF TB2100
Neoplan Ghana
prototype
60xx-6xxx (266 buses)
DAF TB2100
Berkhof
delivered Dec 1995 - Oct 1997
63xx-64xx (150 buses)
DAF TB2100
Berkhof
2003-
7000-series
Huanghai
Huanghai
2011-
8000-series
Huanghai (articulated)
Huanghai
2011
The folllowing are observations from 1994/1995: No route maps were available in 1994/1995, nor did stop signs provide information. Buses often, but not always, displayed a route number. The price of a single journey within the city limits was 0.15 Birr, the equivalent of 0.03 US$, in 1994 and 0.25 Birr in 1995. Prices were higher for suburban trips; a ticket found said 0.30 Birr. Tickets were torn off a pad and were some 4 by 9 cm. They were in different colors; yellow with red text, blue with red or green with black text, etc. Tickets are sold by a conductor (often a woman) seated in a "cage" just before the most rearward door, which is the entrance door. The center and front doors were used as exits. I saw one conductor selling her tickets through the window to passengers before they could board, apparently to avoid too much pushing inside! Buses carried good numbers of passengers, though overloading with passengers clinging to doors did not occur. A central bus station for city buses could be found in Adis Ketema, north-west of the city center and near a large market.
According to Jane's Urban Transport Systems 1983, there was a network of 34 routes covering 341 kilometers. There were 106 buses, mainly Mercedes Benz O321. In 1994 and 1995, buses of 4 different models were seen, all painted bright orange-red with yellow window surroundings and roof. The oldest were FIAT 331A with Borsani bodywork. They had three doors, two between the axles and one behind the rear axle. These buses had a definite Italian look about them, but most were in a terrible state, especially the bodywork. Only a dozen or so seemed to be in service, numbered in the 800-series, the ones seen from 836 to 845.
Another old bus was a Mercedes Benz OF, probably also with an Italian bodywork, numbered 877. It ran empty during rush hour and was also in a bad state. The door layout was the same as that of the FIATs.
Somewhat newer was a series of Volvo B7F with Borsani bodywork of largely the same model and door layout as the FIAT buses. Most of the Volvo's had the completely worn out look over them with missing lights, holes in the bodywork and rust everywhere. One, however, had just been repainted and looked very neat. The problem really seemed to be the bad quality of the Borsani bodywork, which rusted very easily. The Volvo's were numbered in the 200-series, the ones seen from 202 to 248. Some 25 seemed to be in service.
The bulk of the fleet belonged to five (according to license plate series) batches of nice and modern looking Mercedes Benz OF1621 with Belgian Jonckheere bodywork, delivered around the middle of the nineteeneighties. These buses also had three doors, but the front door was placed before the front axle. The model was of Jonckheere's standard somewhat squarish export model, with large windows and reminiscent of the belgian standards of the late seventies and eighties and known as the "Pacific". The five batches were numbered in the 251, 276, 5001, 5061 and 6001-series (seen: 252-275, 276-288, 5002-5056, 5061-5097, 6002-6020). The total number delivered was 160 (135 accoring to another souce).
According to a DAF advertisement, a DAF TB2100-Neoplan Ghana bus was delivered to GET for Addis Ababa city services. A picture showed a bus with folding doors and a front door in front of the first axle.
A newspaper of February 2, 1995, announced that 35 German Mercedes buses had arrived and would soon be put into service, bringing the total number of buses to 200. No further information was given and no picture included, the exact model of the buses remains unknown and none were reported in 1998 so this batch may have been used elsewhere.
-----------------------------------------------------------------------------
The Government of the Netherlands provided DAF TB2100 buses and support twice through a grant. A first batch of 266 buses came between December 1995 and October 1997, a second batch of 150 buses was delivered around 2003. The bodywork of these buses was identical to the Mercedes-Benz with Jonckheere bodywork delivered a decade earlier. In 2013 a program to refurbisch these buses started. This includes the installation of a Euro 2 engine coming from Egypt. 40 buses had been done by March 2014. They recieve, in addition to their existing fleet number, a number in the format R-xxx.
------------------------------------------------------------------------------
Earlier models included Mercedes-Benz O321 and Italian FIAT. Between 1975 ad 1978 a total of 106 Ikarus 260 were delivered. Several other models have been identified from pictures, though no other infotmation has been obtained so far.
------------------------------------------------------------------------------
Geopolitical developments are refelcted in the latest deloveries, which consist of Chinese built Huanghai buses. These are numbered in the 7000 series for standard vehicles nad 8000-series articulated vehicles. The buses are assembled in Ethiopia.
------------------------------------------------------------------------------
The map below dates from around 1998.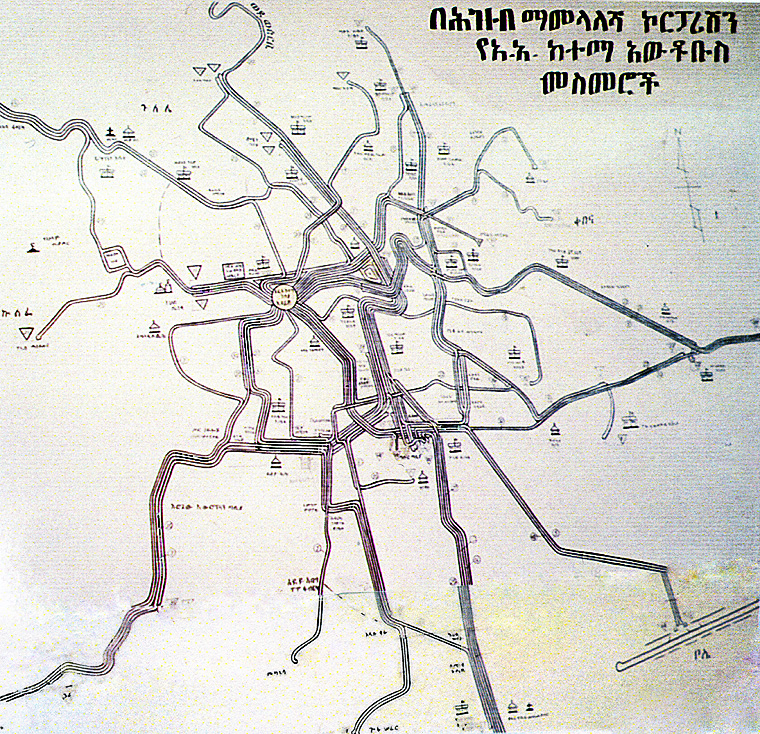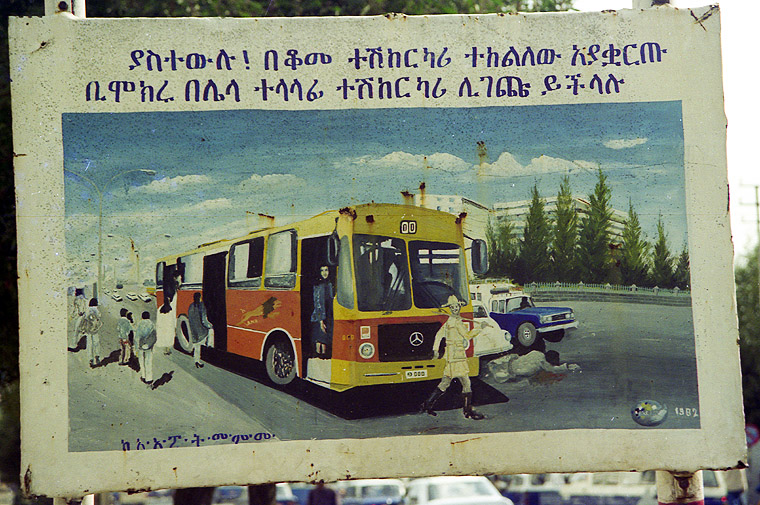 Traffic education on a large sign in Addis Ababa city centre.