Bolloré Bluebus
8 Rue Nicolas le Marie, 29500 Ergué-Gabéric (Quimper), France
company webiste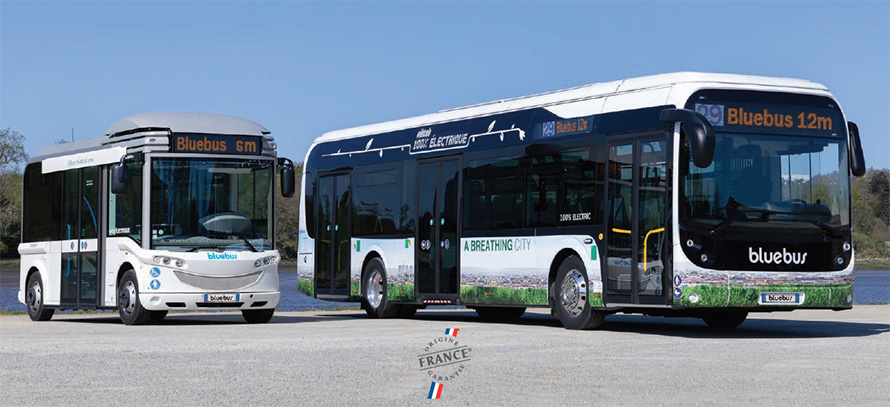 BLUEBUS
Since 2011, the Bollore Group has been producing a 6-meter electric bus, listed by UGAP (Union des groupements d'achats publics) and AGIR (Association pour la gestion indépendante des réseaux de transport public), with capacity for 22 passengers. Running on LMP® batteries, the 6-meter Bluebus has a minimum range of 120 km. It has already become part of the public transportation networks in places as varied as Tours, La Reunion, Rambouillet, Laval, the Grand Duchy of Luxembourg, Bayonne and Tarbes…  (text: Boloré). See brochure Bluebus.

Boloré is also demonstrating the bus in Yaoundé, Abidjan and Dakar.
Launched at the end of 2015, the 12-meter Bluebus is a clean public transport solution with a capacity of 100 passengers. Fully electric, it runs on 8 LMP® batteries, which give it a range of between 180 and 250 km. (text: Boloré). See press release launch in Paris
In October 2018 the first of Five 12-meter buses was delivered to Brussels. See press release.

BLUETRAM
Running on tires and entirely electric, Bluetram is a clean public transport solution that needs neither rails nor overhead power lines.
The first Bluetram was inaugurated on the Champs-Elysees in Paris at the beginning of December 2015 for the Paris Climate Conference (COP21). It was piloted for the rest of the winter, transporting visitors, free of charge, between the Arc de Triomphe and Place de la Concorde. (text: Boloré)