----------------------------------------------------------------------------------------------NEWS----------------------------------------------------------------------------------------------
-in March 2019 the outline of a new transport plan to be implemented in 2020 was published -beginning of December 2018 Pouw received 10 (?) minibuses in full U-OV livery.
-by the end of August 2018 secondhand articulated buses were added to cope with the heavy traffic to the Uithof. They will be withdrawn when the new light rail line is opened in 2019.
-On 21 August 2017 three new routes 14, 15 and 16 started operating, connecting Kanaleneiland, Leidsche Rijn and the city center (Janskerkhof), without passing by the central busstation. They provide directer connections between some neighborhoods, the center and the new location of the Antonius Hospital in Leidsche Rijn. Three Mercedes-Benz Sprinter 77, number 4360-4362, are used. These came from the Syntus Utrecht temporary fleet and had been traded in with EvoBus by Qbuzz Groningen.
-on 21 August 2017 the frist two EBUSCO electric buses, numbers 4602 and 4603, of a series of ten, were put into service on route 1.
-a new temporary route 22 started 4 February 2017 to serve stops of Utrecht inner city route 2 that cannot be served because of road works. This will last until April 2017, possibly longer. The route is served by a midibus rented from Pouw.
Close
Qbuzz Regio Utrecht (08-12-2013 to 09-12-2023)
Utrecht
company website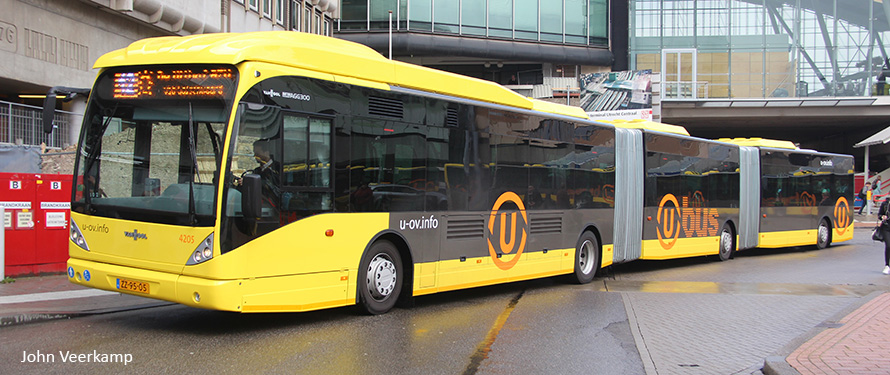 Fleetnews:
new buses for end of 2019:
-35x Heuliez 18m
-20x EBUSCO 12m
-14x Setra 15m
Old vehicles to be refurbished:
24x Mercedes-Benz Citaro G C2 (ex Groningen)
50x Mercedes-Benz Citaro
50x VDL Berkhof Ambassador 200
11x Mercedes-Benz Citaro G
(unclear which vehicles and models exactly)
News: a new transport plan was published in March 2019 to be implemented in 2020. See
————————————-
Fleetnews: Qbuzz ordered 55 electric buses for the Utrecht region for delivery in 2020. Heuliez articulated buses will be used on the urban network (routes 3, 7 and 8) and Ebusco 12-meter buses will be used on urban routes.
————————————-
The Utrecht urban and suburban services provide for a dense and busy network. One light rail line connects the central station with Nieuwegein where it splits into two branches, one to Nieuwegein Zuid (60) and one to IJsselstein Zuid (61). A second light rail line is under construction with the opening delayed until the end of 2019. It will connect the central railway station with the Uithof area where the university and the university hospital are located. This route is now operated as number 12 with double articulated buses that run all day at a 2 to 5 minutes interval.
Inner city route 2 is operated by three electric Optare Solo buses used inductive charging.
Since mid 2017 route 1 is operated by ten Ebusco electric buses.
A route map can be found here.
Route schedules can be found here.
Buses
4001-4066: Mercedes-Benz Citaro C2, 2013
4101-4166: Mercedes-Benz  Citaro G C2, 2013
4167-4172: Mercedes-Benz Citaro G C2, 2014
4173-4176: Mercedes-Benz Citaro G C2, 2015
4201-4217: Van Hool New AGG300, 2014
4218-4220: Hess Lightram 3 Hybrid, 2013, ex GD
4251-4258: Van Hool New AGG300, 2002, ex GVU
4259-4270: Van Hool New AGG300, 2003, ex GVU
4301-4303: Optare Solo SR, 2013
4320-4332: Mercedes-B. Sprinter City, 2018 (Pouw)
4351-4360: Mercedes-Benz Sprinter Mobility, 2014
4361-4362: Mercedes-Benz O513CDi, 2011, ex CTS
4363: Mercedes-Benz Sprinter City 35, 2014
4370-4372: MB Sprinter City 77, 2017, ex Qbuzz
4373-4375: Mercedes-Benz Citaro G, ex Connexxion
4376-4381: Mercedes-B. Citaro G, ex XX (Pouw)
4385-4387: Mercedes-Benz Sprinter, 2019 (Pouw)
4401-4499: VDL-Berkhof Amba. 200, 2008, ex XX
4500-4531: VDL-Berkhof Amba. 200, 2008, ex XX
4551-4561: Mercedes-Benz Citaro G 2, 2008, ex XX
4601-4610: EBUSCO, 2017
4611: EBUSCO, 2019, ex demo
3111…3316: Mercedes-B. Citaro LE, 2009/10, ex GD
6675: Mercedes-Benz Sprinter
temporary buses
demo electric buses
Pouw (not in Qbuzz-livery)

trams
blue = withdrawn