Hermes (breng) Arnhem-Nijmegen

Hermes (breng) Arnhem-Nijmegen (9 December 2012 to 10 December  2022)
Netherlands
company website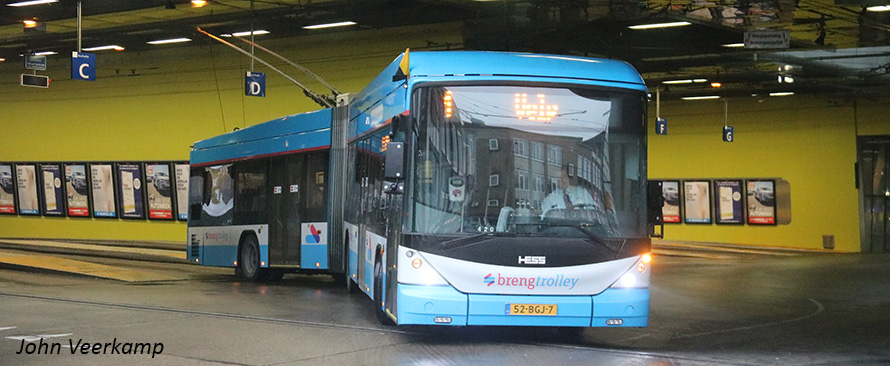 The start of the new concession in December 2012 was a continuation of the existing concession, with Connexxion subidiary Hermes as the opeartor, using the branding "Breng" without an operator name on the buses. Part of the existing fleet, mainly the newer buses, was retained.
Arnhem is the only city in the Netherlands that still has a trolleybus fleet. Most of te other buses are CNG buses, for which biogas is used.
The buses in Arnhem are white with a blue roof (or blue-white for the trolleybuses), the buses in Nijmegen white with a pink roof (boys and girls….). While initially this was well adhered to, over time some shifts occurred because of differences in kilometers run in each city.
Part of the services are subcontrated. TCR runs services east of Arnhem, for which they received 20 of the new MAN buses (though one, 5379, later returned to Breng/Hermes). In addition to those TCR started to assign some of its own old buses to Arnhem. The 1000-series small buses are operated by Noot (until 2018-03), Rothoff and Linsen (each one bus) and TCR for the new Brengflex services wich started in December 2016.
Buses

Trolleybuses
5177, 5180: Volvo B10M -Den Oudsten
5201: Van Hool AG300TD
5202-5209: Van Hool AG300T
5210-5211: Berkhof Premier AT18
5212-5221: Berkhof Premier AT18
5222-5231: Berkhof Premier AT18
5234-5242: Hess BGT-N2C Swisstrolley 4
5243-5253: Hess BGT-N1D Swisstrolley 4
5253-5258: Hess BGT-N1D Swisstrolley 4
5259-5263: Hess BGT-N1D Swisstrolley 4
5264-5273: Hess BGT-N1D Swisstrolley 4
CNG buses
4455-4461: Mercedes-Benz Citaro 2
4462-70, 72-4512, 14-24: Mercedes-B. Citaro 2
5300-5364: MAN Lion's City
5365-5379: MAN Lion's City (TCR 520-534)
5380-5400: MAN Lion's City
5401-5423: MAN Lion's City
5424-5343: MAN Lion's City
9275-9280: Mercedes-Benz Citaro G
Diesel buses
Small buses
Brengflex
Trains
5041-5049: Stadler GTW 2/8