----------------------------------------------------------------------------------------------NEWS, latest update 2017-09-28---------------------------------------------------------------
-End of September 2017: new neigborhood buses are 6481-6482 (and more?), presumably to replace the temporary vehicles in non-concession colours and the FIAT buses that are prone to dilures.
-Keukenhof 2017: The famous Keukenhof flower exhibition is open from 23 March to 21 May 2017 and as usual attracts large numbers of visitors, many of which come by coach or use the Arriva shuttle buses from Leiden (route 854) or Schiphol (route 858). Arriva employs extra buses during this period. Three Berkhof Ambassador buses, numbered 0085-0087, are rented and received a special Keukenhof livery. They are ex Connexxion 4241-4243. From Friesland came Citea LLE 8515-8517, two of which, 8515 and 8517, received the Keukenhof livery, number 9516 received normal ZHN colours. Also from Friesland came demonstration buses 0044 (Mercedes) and 0045 (Setra). There were also two articulated vehicles: 227 and 7809. After the Keukenhof ended 8516 and 227 stayed in ZHN.
Close
  Arriva Zuid-Holland Noord

Arriva, concession Zuid-Holland Noord (9 December 2012 to 12 December 2020)
Netherlands
company website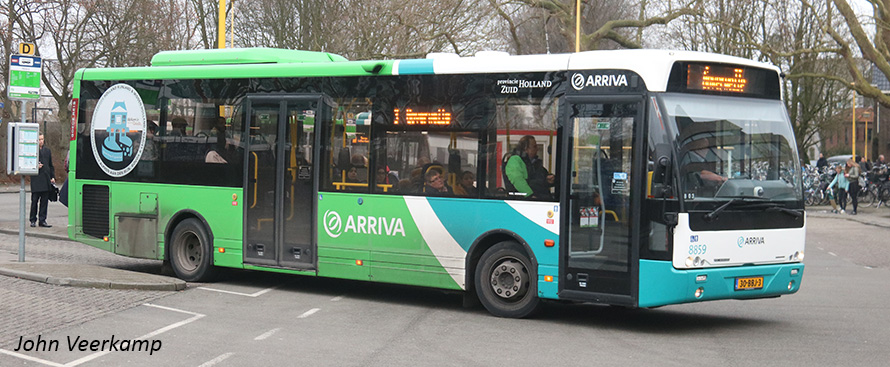 Arriva won te concession Zuif-Holland Noord, with Leiden, Alphen aan den Rijn and Gouda as the main urban centers, in 2012. Initially, services consisted of urban services in the three cities, regional services, Qliner express services and neigborhood buses. On 14 December 2014 one Qliner service was rebranded as R-net and the buses painted red instead of blue.
The initial fleet consisted of:
6511-6515: FIAT Ducato –Tribus Civitas neigborhood buses
4832-4851: Van Hool A300-HYB, ex Connexxion, Leiden city services
4883-4886: Van Hool A300-HYB, ex Connexxion, Leiden city services
7701-7760: Volvo B7R-LE –Volvo 8900, Qliner buses
7771-7777: Volvo B7R-LE –Volvo 8900 15 m, Qliner buses
8701-8827: VDL LLE120.225 Citea, regional and urban services
8851-8860: VDL-Berkhof Ambassador ALE106, 10.6 m for Alphen aan den Rijn and some Gouda urban services.
The Van Hool Hybrid buses were taken over from Connexxion, which was a condition of the province.
With the introduction of the R-net services in December 2014 buses 7701-7718 became R-net red.
A few buses from the Friesland concession, 8506, 8516, 8538 and 8539, identical to the 8700-series, were added over the years to the fleet.
In October/November 2016 four old Berkhof Ambassador, ex Veolia, were added to the fleet as a temporary measure to replace buses that went to VDL for guarantee work. However, they stayed much longer than the several months foreseen. They kept their Veolia Brabant red-ligh grey livery and received numbers 50-53.
Bus 6044, Heuliez GX127, is a small and narrow bus which comes from the DAV concession. It is used in Alphen aan den Rijn on route 184 in the morning (one return journey) and 101 in the afternoon.
Bus 227 is an articulated vehicle, temporarily transferred for the 2017 Keukenhof services. It stayed in Leiden and is used to reduce pressure of students on part of route 30 by providing a morning rush hour shuttle service from the railway station to the Bio Science Park.
7761-7762 are Volvo Qliners. They originally come from Veolia and were used on the Brabantliner services. Arriva bought them as a temporary measure for the last few months of the HWGO concession. However, instead of leaving after the end of the concession they stayed and finally went to ZHN.
At the start of the concession not all Volvo Qliner and Tribus neighborhood buses were available and buses were rented as a replacement for a few weeks. Ex Arriva Brabant 7348 is a spare neighborhood bus and 6088 is a new neighborhood bus added for the new project route 727. Several older Mercedes Sprinter are used as replacement buses, among other ex Arriva Brabant 7348 and ex Arriva Achterhoek 6415 and 6419.
An annual event is the world famous Keukenhof flower show, from March to June. It attracts millions of visitors. Arriva provides shuttle services from Leiden and Schiphol to the show grounds, for which buses are transferred  temporarily from other concessions and/or rented. TCR often is involved in this.
Buses are in a variation on Arriva's corporate livery with white, green and light blue.  Most buses have an emblem on the side windows behind the centre doors. There are different versions of this emblem. Buses 4883-4886 have a different livery; the blue is also green. The Qliner buses are blue, the R-net buses red and dark grey.
The route network consists of:
City service Alphen aan den Rijn: 1, 2, 3, 4 (series 8851-8860)
City service Gouda: 1, 2, 3, 4, 6 (series 8701-8827 and 8851-8860)
City service Leiden: 1, 2, 3, 4, 5, 6, 9 (Series 4832-4851, 4883-4886, 8701-8827)
Regional services: 20, 21, 221, 30, 31, 37, 38, 43, 44, 45, 50, 250, 56, 57, 90, 101, 147, 165, 169, 269, 175, 575, 178, 182, 183, 184, 186, 187, 190, 194, 195, 295, 196, 197, 292, 293, 294 (series 8500/8700)
Phone bus: 510 and evening services on some other routes
Qliner: 361, 365, 366, 370, 380, 381, 382 383, 385 (blue buses 7719-7760, 7761-7762, 7771-7777)
R-net: 400 (red buses 7701-7718)
Neigborhood buses: 722, 723, 724, 725, 726, 727 (6511-6515, 6088, and older vehicles)
Keukenhof seasonal routes: 854, 858 (8500/8700 and temporary buses).
For details on routes see: http://wiki.ovinnederland.nl/wiki/Concessie_Zuid-Holland_Noord and of course the schedules on the operator website.
Buses

50-53: VDL-Berkhof Ambassador 200, ex Veolia
227: Mercedes-Benz Citaro G, ex Arriva
6044: Heuliez GX127, ex Arriva DAV
4832-4851: Van Hool A300-HYB, ex Connexxion
4883-4886: Van Hool A300-HYB, ex Connexxion
7701-7718: Volvo B7R-LE -Volvo 8900, R-net red
7701-7760: Volvo B7R-LE -Volvo 8900, Qliner blue
7761-7762: Volvo B7R-LE -Volvo 8707, ex Veolia
7771-7777: Volvo B7R-LE -V. 8900 15m, Qliner blue
7771-7777: Volvo B7R-LE -V. 8900 15m, R-net red
8506, 8516, 8538, 8539: VDL Citea LLE120,225, ex Frl
8701-8827: VDL Citea LLE120.225
8851-8860: VDL-Berkhof Ambassador ALE 106
Neighborhood buses
6088: Mercedes-Benz Sprinter
6415, 6419: Mercedes Sprinter
6481-6485: Mercedes Sprinter
6511-6515: FIAT Ductao -Tribus Civitas
7348, 7354: Mercedes Sprinter
Temporary buses for Keukenof services March-June
Keukenhof 2013
Keukenhof 2014
Keukenhof 2015
Keukenhof 2016
Keukenhof 2017
Temporary buses at start of concession
390….413: Volvo -Berkhof, ex AMZ
9901: Volvo B7RL-E -Volvo 8900
315, 1002-1005, Mercdes-Benz Sprinter, ex Noot