Société des Transports Abidjanais
Period 2016-current
company website    company facebook page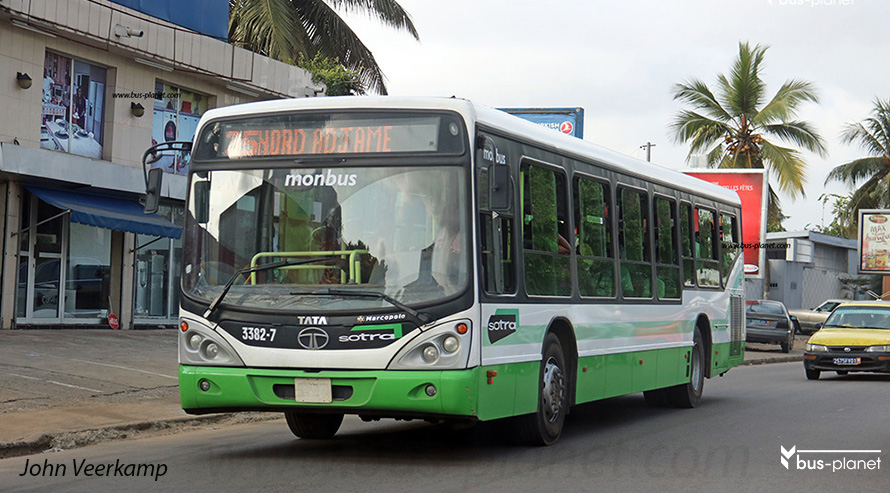 End of January 2018 SOTRA signed a contract with IVECO for the delivery of 400 IVECO Crossway LE buses and 50 IVECO Crealis CNG BRT buses, further modernising the fleet and bringing the total of new buses acquired since the end of 2015 to over 1,100. The first batch of 20 new IVECO Crossway LE arrived in country on 12th August 2018 (click for news article).
On 3 August 2018 the start of the new assembly line of SOTRA for IVECO minibuses was given. The first bus will leave the assembly line within six months. Annual production will be 500 vehicles (see news article)
————–
The secondhand Den Oudsten Alliance, Berkhof Ambassador and Volvo buses from the Netherlands that were bought to modernise the fleet, did not last long. Lack of spare parts, maintenance problems and the unsuitability of buses for the local conditions, and their age made that the fleet rapidly deteriorated and more and more services were suspended.  The Express services were cancelled alltogether.
SOTRA then embarked on a program of fleet renewal with new buses, aiming at a fleet of 2500 new buses by 2020. A first batch of 25 (23 were announced) Irisbus Crossway LE arrived in September 2015 and entered service in November 2015. Numbers noted are 2872…2893 (series 2872-2896?).
In December 2015 a protoype TATA -Marcopolo city bus was presented in Abidjan. Contrary to the TATA's delivered in 2017, this bus sported the overall green livery as used on the Den Oudsten Express buses.
On 17 March 2016 a fleet of 127 new buses was presented (given numbers noted it appears only 26 Irisbus entered service), consisting of:
-71 Hyundai County for the new Wibus local network in Cocody (numbers noted 2902…2967, series 2897-2967?)
-2 Hyundai County VIP buses, numbered 2968-2969;
-50 Irisbus Crossway LE (numbers noted 2970…2989, series 2970-2995?)
-4 Hyundai Universe Express Luxury coaches, numbered 2996-2999.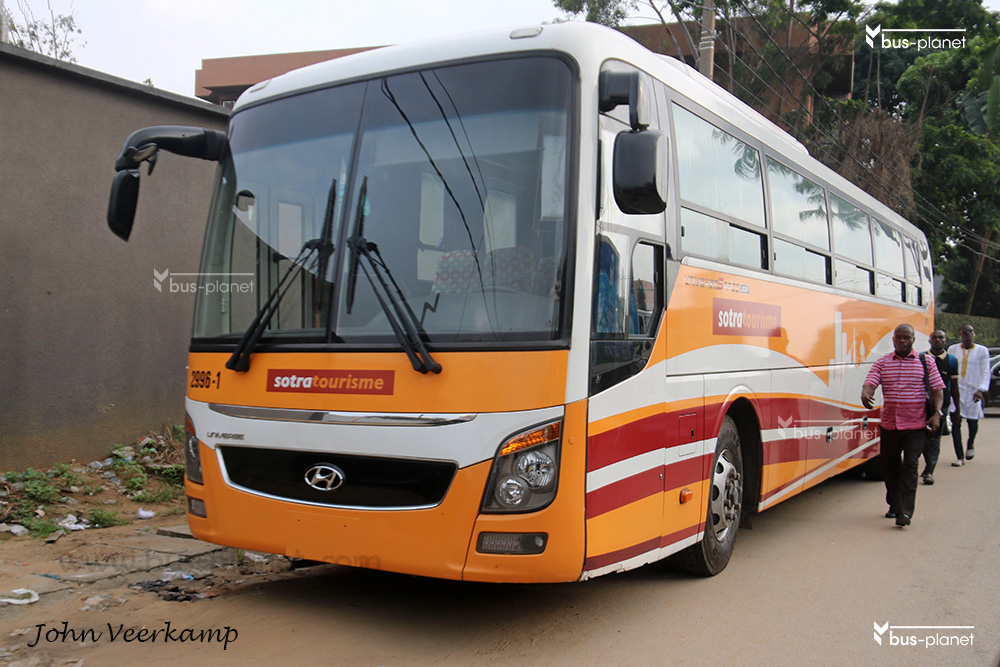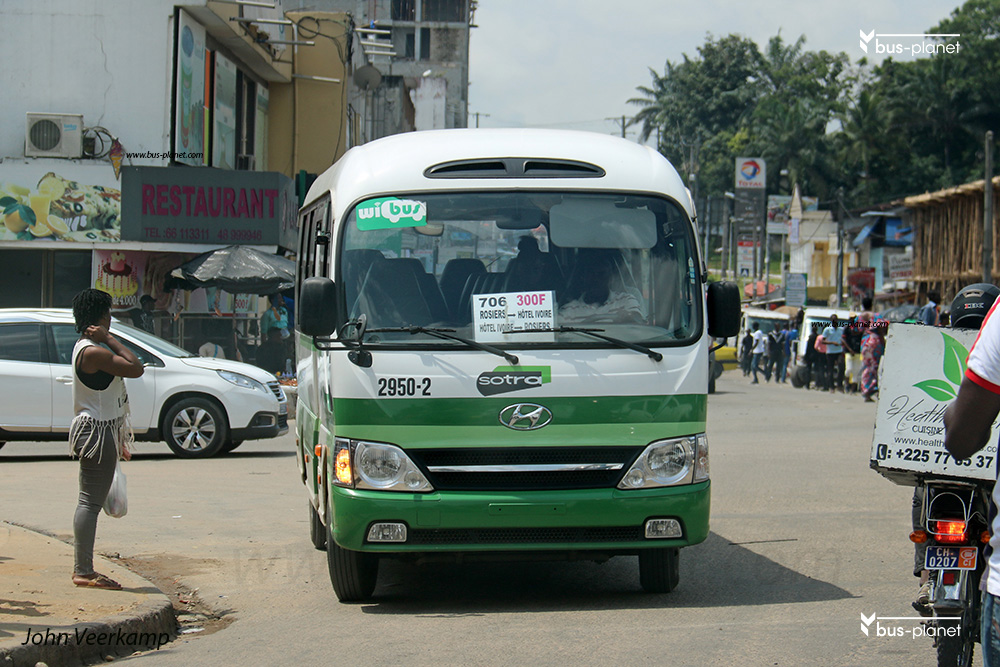 A contract with TATA was signed for the delivery of 500 new buses. The first batch arrived 29 March 2017 and consisted of 117 buses. That numbering started with 3000 is probably a mere coincidence as SOTRA numbers all buses in one series (3000-3116?). A second batch of 40 buses arrived 27 April 2017 (3117-3156?), a third batch of 50 buses came 8 June 2017 (3157-3206?), the fourth batch of 93 buses and 6 service vehicles came 1 July 2017 (3207-3299?), the fifth batch arrived 18 July 2017 and consisted of 12 large (3300-3311?, seen 3307, ..) and 13 midibuses (3312-3324?, seen 3322, ), the sixth batch would have been 21 vehicles (3325-3345?), the seventh delivery arrived 1 August: 94 buses, of which 11 (seen 3410, 3412) Express and 83 Monbus (3346-3439?) and the last batch arrived on 13 August 2017 and consisted of 60 buses (3440-3499?), of which 49 Express (seen 3451, 3456, 3462).
Another batch of around 20 buses arrived somewhere in October 2017 and consisted of small and large TATA buses with air-conditioning and in a blue and white livery. These vehicles are used for contracted services for (among others?) the Société Ivorienne de Raffinage (the Ivorian Oil Refinery Company). Numbers noted are 3500-3517. The midibuses delivered earlier (3322 and others) are also in the blue-white livery.
None of the old buses appears to be still in regular service by mid 2017 and the garages noted were cleaned with wrecks gone and just a few old buses present, though out of service. Sme Berkhof Ambassador are used daily for driver training and personnel transport. One Den Oudsten and a TATA were also used for these services. 
By the end of 2017 SOTRA has a fleet of some 650 new buses. Normal services have green-white buses, express services purple-white vehicles and the SIR contracted services have blue-white vehicles. The Wibus Hyundai buses are in a different green-white livery.
The Express services operated by the secondhand Den Oudsten buses had been suspended because of a lack of operational vehicles. With the arrival of the new TATA Express buses in September 2017, Express services were re-instated. The Wibus system with Hyundai County buses operates in Cocody municipality. Express and Wibus buses only carry seated passengers and have outlets to charge mobile phones. The Wibus buses also have Wifi on board. The Wibus system was inaugurated in April 2016.